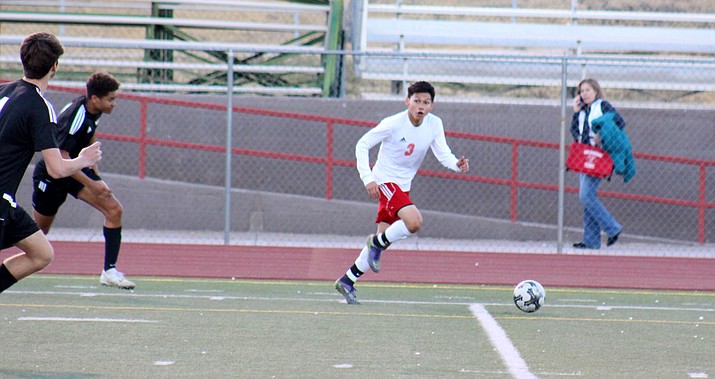 Originally Published: January 6, 2018 2:14 p.m.
Mingus Union boys soccer returned to action on Friday night to beat Lee Williams.
The No. 29 Marauders (3-3-1, 1-1 Grand Canyon) defeated the No. 36 Volunteers 2-1 Friday night at home.
Mingus head coach Calvin Behlow said the Volunteers are good team despite being pretty new. The school opened in 2012-13.
They feature players in the Olympic Development Program.
"Lee Williams is good this year, I'm really impressed," Behlow said. "They're a newer school but their coach is doing some good things. He's got some kids playing on the ODP. Believe it or not, I don't think the better team won (Friday night) I think they were a better team that us on the pitch.
"It came down to us working really hard and desire I mean we were able to get two goals just off of kids working their tails off and that's huge. I never walked off a Mingus soccer field and thought 'wow, we got out played' and that's the same thing (Friday), they might have been a better team but we didn't get out played."
The win came despite the Marauders missing almost half their starters. Senior Ezekiel Behlow was lost for the season, along with senior goalkeeper Andrew Kulis. Sophomore defender/midfielder Chance Densmore was injured, junior defender/midfielder Jordan Finger was sick and junior Jovany Garcia was at a tournament.
Photo Gallery
Mingus Union Boys Soccer Lee Williams Jan 5 2018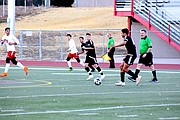 Mingus Union beat Lee Williams 2-1 at home (VVN/James Kelley)
"We're playing with six starters, we just worked harder," Behlow said.
Junior goalkeeper Levi Kjerstad made his varsity debut and impressed Behlow.
"He played really, really well," Behlow said. "He put himself in a good position, made a couple saves that he had to make and then he did a really good job. He was patient, I don't think he ever got caught out of position, so I'm happy with how well he played."
The Marauders took a 2-0 lead into halftime and held on to win. Lee Williams goal came after Mingus Union surrendered the ball on a bad throw in and then committed a foul right away and the Volunteers scored on the ensuing free kick in the 65th minute.
Junior forward Bradley Howard said he though the Marauders did well despite practicing less than normal during the break.
"We responded well," Howard said. "We play really good together and we miss those guys obviously but we can still win games."
Sophomore Angel De La Cruz opened the scoring with a goal in the 15th minute.
Behlow said getting the lead first was huge because they have been playing from behind so much.
"The first goal was just pure will power," Behlow said. "Angel De La Cruz gets around the corner, I always teach the players 'if you can beat the outside back on the wing, go right at the post because you're either going to draw defenders or you're going to be one on one with the keeper and he just did and it was just pure will power, just kept going going going and pretty soon gets an open look and pokes it in the back of the net."
Then Howard scored the game winner with a couple second left in the first half.
Senior defender Cayden Ontiveros passed the ball to Howard with the clock ticking down with what Behlow said was a "perfect ball." He said both goals were "sheer hustle."
Howard said it was his first buzzer beater goal but he almost got one earlier in the season.
"The clock was running down and I tried to put it in and the goalie deflected it and spun and I just saw it at the last minute and I poked it in," Howard said.
The Marauders' next game is Tuesday at 5 p.m. when they host Prescott at 5 p.m.
Behlow said they took a lot of time off during the winter break to heal physically and mentally. Their last game was Dec. 18 when they lost 2-0 at Mohave.
"We took a lot of time off, wanted to heel some bumps and bruises and we wanted to heal mentally," Behlow said. "We had lost some games that I think we should have won earlier in the season and even more so I think we were down emotionally with all the losses, just every week we lost another person and key players and so every time it happened, it happens it happens it happens. We just needed some time away, just to kinda regroup and just focus on family, just kinda relax."