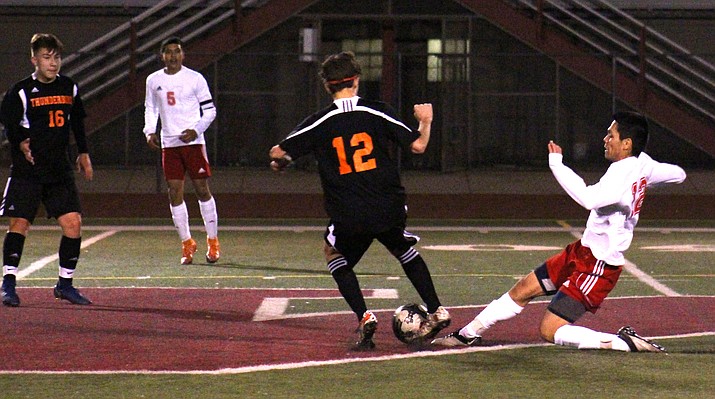 Originally Published: January 13, 2018 1:15 p.m.
Mingus Union boys soccer dropped its last non region game of the season on Thursday night.
The No. 29 Marauders (3-4-1) lost 3-1 to Phoenix Thunderbird at home.
Though the No. 18 Chiefs (7-4-0) entered the game ranked 24th, Mingus Union head coach Calvin Behlow said they'll be ranked high by the end of the season.
"It's a good Thunderbird team," Behlow said. "Their coach said he's got some injuries, lost a couple games early that he should have won. They're ranked 24 but they'll be a top 15 team by the end of the year. They've got some skilled, very mature players, they have a striker that scores a lot of goals, I think he had a hat trick (Thursday) night and they have a center mid that is just so poised with the ball."
Thunderbird scored two goals in the first half and then one in the second. The loss is Mingus Union's first since Dec. 18 but they've only won one of their last five games.
Mingus Union's goal came in the 24th minute when junior midfielder Kevin Tautimer drew a foul in the penalty are and junior midfielder Jovany Garcia converted the penalty kick.
"We started with two strikers to try and get a goal early and then I went with a solo striker to try and win the midfield and with more speed up front," Behlow said.
The Marauders were more short handed than usual. Senior forward Ezekiel Behlow suffered a season ending injury and junior forward Bradley Howard was out on Thursday.
"We're missing both of our speed up front so we literally came to the game with nothing up front," Behlow said. "So we just moved some people around, tried to generate an offense when we could, kinda take our time, so go when we can, know when we can't."
As of press time, the Marauders are tied for third in the Grand Canyon with a 1-1-0 record in the region. Mohave and Flagstaff are in first with 3-0 marks.
The Marauders close out the season with No. 20 Prescott at home, at No. 22 Bradshaw Mountain on Wednesday, at No. 28 Coconino on Thursday and with No. 15 Flagstaff at home on Jan. 23.
Behlow thinks they can still make it to the postseason if they win out.
"If you start beating those teams, you're in business," Behlow said. "Sadly, it's everybody left in the Grand Canyon Region."
The 4A state tournament is a 16-team affair, with a round of play in games featuring the teams ranked ninth through 24.
"We've got four games left, all of them Grand Canyon Region, all of them top 25 teams," said Behlow on Thursday before Saturday's Prescott game, which was not available at press time. "We might get in as 20, 22, it'd be nice to see us back in the bracket one time."