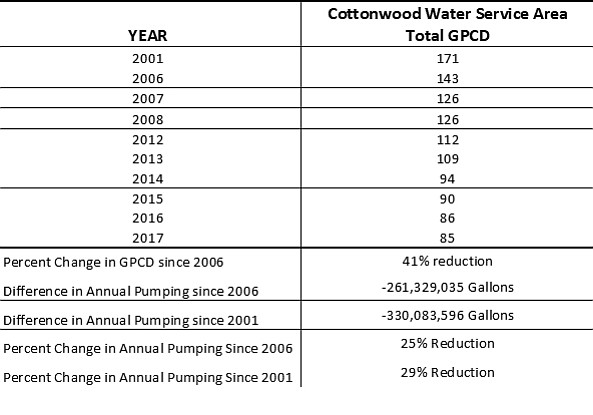 Originally Published: January 16, 2018 12:24 p.m.
COTTONWOOD –The Arizona Department of Water Resources annually tracks the rate of water usage for water providers around the state and one way of measuring the efficiency of a water provider is by calculating and tracking the Total Gallons Per Capita Daily Use (GPCD).
Total GPCD is calculated by dividing the total water pumped for all uses (residential, commercial, and industrial) by the population served and then dividing that number by the number of days in a year.
At the end of 2017, the total GPCD for the Cottonwood water service area had dropped to 85 gallons of water use per person per day, according to a news release from the City of Cottonwood. This represents one of the lowest total GPCDs for a municipality in the state of Arizona.
Cottonwood has experienced a continual reduction in the total GPCD since the private water companies were purchased in 2004 and 2006, according to the release.
This reduction can be attributed to conservation efforts implemented by the city and the city's continual investment in upgrades to the water delivery system, which has improved the efficiency of the system and reduced the lost and unaccounted for water associated with faulty meters and system leaks.
The release stated that the lost and unaccounted for water in the Cottonwood Water Service area has been reduced from more than 40 percent in 2005 to less than 10 percent in 2017.
"Our customers also play an integral part in this effort and are to be commended for their efforts in reducing their water use and for their growing awareness to the importance of conserving water. The K - 8th grade water conservation education program adopted by the city is also laying the groundwork for our youth and future generations to come of the importance of conserving water. The combined efforts of the city and its customers in conserving water will play a significant role in ensuring the Verde River continues to flow," stated the release.
Cottonwood Natural Resources Director Tom Whitmer said a total GPCD of 85 for a municipality in the State of Arizona is almost unheard of and the city's customers and maintenance staff are to be commended for their efforts.