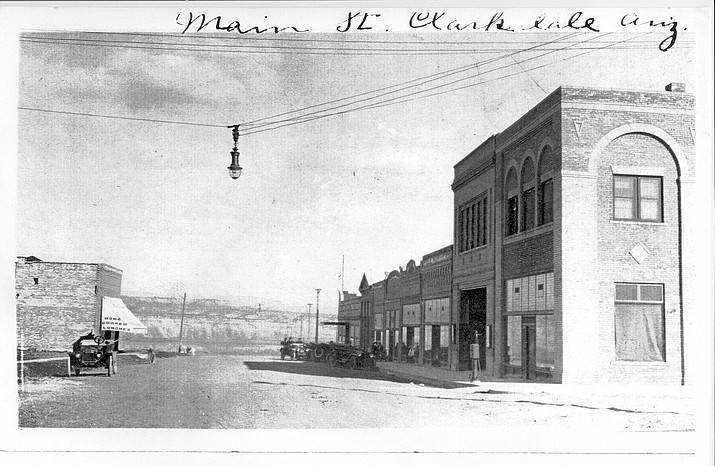 Originally Published: January 16, 2018 11:32 a.m.
Unique exhibit on display at Clarkdale Historical Society annual meeting
The Clarkdale Historical Society and Museum will hold its annual meeting at Clark Memorial Clubhouse Ladies Lounge on Jan. 20, from 9:30 a.m. to 11 a.m.
Along with free admission, a light breakfast with coffee and tea will be served, and those present will be entered into a raffle.
"CHSM is proud to invite all members and non-members for our very special 10th annual meeting. A unique exhibit of some of the "treasures" which have been gifted to us for preserving will be on display. We catalog and preserve the one of a kind items donated to us and now we would like to share a few of them with you," said the Society in a news release.
Thanks to the tireless efforts of two loyal members/volunteers, oral histories of some of Clarkdale's past residents and current ones will be presented. These histories and interviews are available in DVD form in the CHSM archives and some are in transcript form free to members.
For a complete list, visit clarkdalemuseum.org.
"We want your input at this meeting. As part of our strategic plan, we are looking forward to the next 10 years. We want to share our goals and objectives with you and listen to your comments and suggestions as we begin the next decade of collecting Clarkdale's history. We are thinking big and we need you to help us design our future. We have even outgrown our 100-year-old clinic building. Where do we look for a larger one? How do we continue to grow? We need your help in this discussion and other areas," said the organization in the release.
Clarkdale Historical Society and Museum is a 501(c) 3 and is located 900 First North St. For more information, call 928-649-1198.
Nominations now accepted for the Yavapai Healthy School Award
Yavapai Healthy Schools (YHS) Coalition defines a healthy school as an environment where a school strives for best practices in school wellness policy, nutrition, worksite wellness, emotional, mental and physical health and caring for the whole student.
Do you know of a school who is going above-and-beyond to meet the health and wellness needs of their students? If so, nominations for the Yavapai Healthy School Award are now open. Simply visit www.YavapaiHealthySchools.com and share the school you believe is deserving of the Yavapai Healthy School Award and why.
The nominating period for submissions is now through the month of January 2018. Schools must be within Yavapai County to be eligible. The schools nominated by the public will receive notice in mid-February, and schools who receive the most nominations have the opportunity to apply for the award with the winners announced in mid-April 2018.
The Yavapai Healthy Schools Coalition's goal is to empower teachers, staff and students in making healthy choices. YHS Coalition is a partnership of over twenty partners who work to promote healthy living in our county schools.
'Meet the Press' at the Library Jan. 17
Camp Verde Community Library hosts a monthly chat with Bugle Reporter, Bill Helm and CEO/Publisher, Pam Miller. How do you know if you can trust the press? Well, first you should meet them in person and find out for yourself. Don't form an opinion without all the facts. Join us, Wednesday, Jan. 17 at 3:30 p.m. in the Fireside Room for an off-the-record chat with representatives from our local press and get the real scoop.
The national press gets a lot of "bad press" these days. But, what about our local press? Participate in Let's Talk: Meet the Press and ask those burning questions that you've been unable to ignore. Mr. Helm and Ms. Miller are available to both listen and inform. They will give tips on how to best utilize the services the local papers offer and help you understand how to insure your true voice is heard amongst the clang and clatter of the weekly presses.
Camp Verde Community Library is located at 130 Black Bridge Road, Camp Verde AZ. For more information about computer classes coming to the CVARP Learn Center at the Library, stop by the PC Help Desk or call 928-554-8380.
Library and Adult Learn Center computer classes
Camp Verde Community Library is partnering with the Camp Verde Adult Reading Program and Learn Center (CVARP) to offer two levels of free computer classes. Level 1, or the Basic Computer Class, is for anyone with little to no computer experience. Level 2 classes are designed for computer users who want to learn new techniques, explore new software or upgrade their work skills.

The Basic Computer Class, taught by Library Specialist, Gerry Laurito, starts Wednesday January 17 and runs for three weeks at 2:00p in the CVARP Learn Center. Gerry covers topics from how to use the mouse and what you see on the screen to how to navigate the World Wide Web and setup an email account. With a limited number of computers, classes will be small to allow for personalized attention. If this sounds like the class for you, please call Gerry to sign-up at 928-554-8380.
Level 2 computer classes could range from learning how to write a letter, make a flyer or create a résumé to how to setup a budget, use social media, or create a Power Point slideshow to name a few. These classes may be custom designed to meet the needs of people interested in learning new skills for fun or work. We plan to run Level 2 classes in series of three on Fridays beginning January 26 at 9:30a. The first class is scheduled for January 26, February 2 and February 9. The topic of the first class will depend on the responses we get from those interested in learning new computer skills.

There are two ways that you can help us offer the Level 2 computer classes that you want. Go to the website, www.cvlibrary.org, click on the Computer Classes – Short Survey and answer ten general questions about the types of computer skills you would like to learn. Or, for a more detailed and specific options, stop by the library. Visit the PC Help Desk, fill out the paper survey and drop it in the survey collection box. Your response will make a difference as we decide where to focus our resources.
Camp Verde Community Library is located at 130 Black Bridge Road, Camp Verde AZ. For more information about computer classes coming to the CVARP Learn Center at the Library, stop by the PC Help Desk or call 928-554-8380.
'A taste of Olli' Winter 2018 Open House Jan. 18
OLLI (Osher Lifelong Learning Institute) is hosting an Open House, Thursday, Jan. 18 from 9:30 a.m. – 1:30 p.m., Room M-137, Yavapai College, Verde Valley Campus located at 601 Black Hills Drive, Clarkdale. This event is open to everyone, bring a friend and come sample classes and meet and talk to the facilitators in mini-sessions, decide and enroll in classes that interest you, enjoy good food and drink while meeting and visiting with new and former OLLI members.
For more information, call OLLI at 928-649-5550 or 928-649-4275.
Be smarter than your smartphone class Jan. 18
Did you get a new smartphone over the holidays and have no idea how to use it? Cottonwood Public Library staff is here to help. Do you have an iPhone? Pick up some iPhone tips and tricks with library staff member Rose on Thursday, Jan. 18 at 3 p.m. If you don't have an iPhone then your smartphone is probably using some version of the Android operating system, and staff member Jeff will be on hand at 4:30 p.m. to guide you through the basics. Both classes will be held in Library Meeting Room B. Registration is required and seating is limited, please call 928-634-7559 to sign up. The library is located at 100 S 6th St in Cottonwood.
Community Child Development Screenings Jan. 18
Don't miss this opportunity to receive a FREE developmental screening for your child - ages one month to five and a half years. These screenings are sponsored by Arizona's Children Association and will be held at the Cottonwood Public Library on both Tuesday, Jan. 16 and Thursday, Jan. 18 from 9 a.m. to 12 p.m. in Library Meeting Room B.
Developmental screenings during your child's early years help you to make sure your child is on track and identifies areas where your child may need additional support. Did you know that 90 percent of the child's brain is developed by age 5? Take advantage of our free screening to give your child the best start. When children meet developmental milestones, they enter Kindergarten ready to learn!
What is ASQ? – Ages and Stages Questionnaire (ASQ-3) is a screening tool for parents which helps highlight the growth in your child, as well connect to early intervention services and community resources. ASQ-3's five key focus areas are fine motor skills, gross motor skills, communication skills, problem-solving skills, and personal–social skills.
To RSVP, or find out more, please call us today at 602-708-2966. We will reserve a half-hour time slot for each child. Screenings are available in English or Spanish. Visit www.arizonaschildren.org for more information.
The library is located at 100 S 6th St in Cottonwood.
Big Band Echoes at the Library Jan. 19
Big Band Echoes, a nostalgic look back to the Big Band Era of the 30's, 40's and 50's, will be meeting at the Cottonwood Public Library on Friday, Jan. 19 from 3:30 to 5 p.m. and will continue on the third Fridays of each month.
Hosted by Jim Ahlstrom, a former radio personality now living in Cottonwood, the program will feature music from the Big Band Era along with a special emphasis each month on a featured big band leader, a short bio and a sampling of their best known hits. Noted big band singers will also be featured. Ahlstrom said he'll conduct some trivia elements involving big band themes, song titles, and lyrics to challenge the audience.
The audience will also be introduced to foreign big bands, one or two novelty songs and portions of big band radio remotes recorded during that era. There will also be occasional videos of performers from this era. Current artists of the big band genre will also be presented. The host also said the audience will be encouraged to bring in their favorite song on cd or challenge him to find it in his vast collection of music. "I'm hoping that the attendees will not only enjoy listening to some long forgotten tunes but will also enjoy participating in the trivia portion of the evening," Ahlstrom added. This month Ahlstrom will be featuring Les Elgart as the Band of the Month and Keely Smith as Vocalist of the Month.
Other artists to be featured include Sammy Kaye, Dick Haymes, Phil Harris, Barry Manilow, and Enoch Light among others. The group will meet in Library Meeting Room B. The library is located at 100 S 6th St in Cottonwood.
Verde Valley writers group forming, meetings begin Jan. 19
Are you a published author looking to join a Verde Valley writers group that will fully critique your next work of fiction, memoir or creative nonfiction essay? The focus of the group is to give honest critiques in a positive climate of professionalism.
Weekly Friday morning meetings will begin on Friday, Jan. 19 from 10 a.m. to noon in the upper meeting room at Jerona Café, 677 E. Mingus Ave., Cottonwood. There is no charge for the meeting room with group food purchase, so please be prepared to order drinks and/or food.
Requirements to join: writing that has been traditionally published by trade publishers or literary magazines. For those writers who have self-published novels, memoirs or a collection of non-fiction essays, self-published work must have been professionally edited. Members accepted need to understand English fundamentals and the mechanics of final editing.
This is not a group for beginning writers or for those who write about religion, politics or science fiction. Attention during critique will be paid to stylistic techniques such as structure, flow, rhythm, voice, storyline, dialogue, metaphor and imagery; meetings will not focus on grammar.
Each writer should bring no more than 1,000 words to the weekly meetings with copies of the work to be supplied to the group of four to six writers.
Group leader is Geraldine Birch, a former newspaper reporter and editor for both small and metropolitan newspapers in the Los Angeles area, Birch moved to Sedona, Arizona in 1991 where she worked as a reporter and editor for a community newspaper and received a first place national award from the National Newspaper Association for her political column "Gerrymandering."
She is the author of two novels, Sedona: City of Refugees and The Swastika Tattoo. Her work has been published in the Arizona Republic, Christian Science Monitor, Fiction Attic Press, Six Hens, and Opium. Her essay "Taking the Census in Rural Arizona," received a finalist award in the 2016 Missouri Review Jeffrey E. Smith Editor's Prize competition and the 2016 Tucson Festival of Books writing competition.
"I'm hoping to form a group of published Verde Valley writers," Birch said, "who are seeking valued critique for new work, emotional support for writing projects, and encouragement when the writing process seems like it is going nowhere."
For more information, please email Geraldine Birch at talesbygeraldine@gmail.com.
Art of Marriage event Jan. 19-20
Jett Life Ministries founders, Jeff and Deanna Branaman are hosting The Art of Marriage event Friday, Jan. 19 from 6-9 p.m. and Saturday, Jan. 20 from 9 a.m. – 4 p.m. Join us at 49 Bell Rock Plaza in the Village of Oak Creek for this six session video event.
For more than three decades, FamilyLife has been helping couples understand God's plan for relationships. In this setting we will weave together expert teaching, engaging stories, man-on-the-street interviews, humorous vignettes and much more to portray both the challenges and the beauty of God's design.
We will explore God's purpose and plan, overcoming isolation, fulfilling our responsibilities, communication and conflict, experiencing real intimacy and leaving a lasting legacy.
The cost of the event is $40 which included materials, snacks and beverages. Scholarships are available to couples who may need financial assistance to attend.
For more information or to register, call Phyllis at 928-300-1874 or send us an email at thehousechurchvoc@gmail.com.
Chess Club at the Library Jan. 20
Are you an aspiring chess master? Join like-minded chess enthusiasts at the Cottonwood Public Library for a friendly game of chess on the third Saturdays of the month, beginning Jan. 20 at 10:30 a.m. Chess boards will be provided, and the club will meet in Library Meeting Room A. The library is located at 100 S 6th St in Cottonwood.
Sedona Women's March Jan. 20
Organizers of last year's Sedona Women's March have announced an anniversary March for Jan. 20 starting at 10 a.m. Marchers will gather at Creative Gateways, 45 Birch Blvd. off SR89A (across from Whole Foods) in West Sedona and march to Vino di Sedona, 2575 SR89A, to rally there, on the back patio.
Following last year's presidential election, 1500 people took part in Sedona's Women's March. Collectively, marches, rallies and events that took place around the country represented the largest protest in US history.
Since then, there has been a surge of activism that has resulted in new organizations being formed and in a record number of women and progressive candidates running for political office at every level - and winning.
In Virginia, women unseated a total of 11 Republican male incumbents in the House of Delegates. In Alabama, Doug Jones defeated Trump-backed Republican candidate Roy Moore.
Political and social activism has grown, notably the "Me Too" movement that has empowered women to speak out about sexual misconduct. As women increasingly recognize the power of their vote, attention is turning to the 2018 congressional mid-term elections, as well as to local and state elections. Every state office will be up for election in Arizona in 2018.
The march and rally will feature speakers from local organizations addressing a variety of issues and encouraging voter turnout. Voter registration information will be available. Box lunches can be pre-ordered by calling the restaurant. The march is open to everyone and signs will be available, although marchers are encouraged to bring their own, on issues that are important to them.
Get moving at Contra Dance Jan. 20
Get moving and have some fun at Contra Dance in Clarkdale, Saturday, Jan. 20. Contra dance is an energetic dance form with some similarities to square dance—see examples on Youtube. Michael Barraclough will call every dance to the live tunes of Just Desserts. Wear comfortable clothes and bring a snack to share if possible. Newcomers should be sure to come for the lesson at 6:30 p.m. and then dance 7-10 p.m. The venue is the Clarkdale Clubhouse (auditorium), 19 N. 9th St. (9th and Main.) If you can walk, you can contra! No partner or experience is necessary. Donation is $10 per dancer and $7 for students. This dance is sponsored by the Clarkdale Historical Society and the Flagstaff Friends of Traditional Music. Contact Sandy Boothe for more information: 928-634-0486 or sandy@ringsforever.com.
Spirit of Joy presents Rainbow Acres Choir Jan. 21
Spirit of Joy Lutheran Church, 330 Scenic Drive, Clarkdale, presents the Rainbow Acres Choir Sunday, Jan. 21, 2 p.m. Free admission. A freewill offering will benefit Rainbow Acres and those attending are invited to meet with the staff from Rainbow Acres after the show.
Griefshare Support Group runs through Jan. 25
Struggling with grief? GriefShare support groups are led by caring people who have experienced grief and successfully rebuilt their lives.
GriefShare seminars feature nationally recognized experts on grief recovery topics, such as "Is This Normal?" "The Challenges of Grief," "Grief and Your Relationships," "Why?", "Guilt" and Anger."
These session are open to both those who have had a recent loss of a loved one or an earlier loss.
We will also have a special "Surviving The Holidays" Session on Tuesday, Nov. 14. This GriefShare support group will meet at Calvary Chapel Camp Verde, Tuesdays through Jan. 25, 6 p.m. until 8 p.m.
Calvary Chapel Camp Verde is located at 514 S. Main St.
For more information contact Julie Scott at 928-963-1085.
Verde Valley Chapter of the Arizona Archaeological Society meets Jan. 25
The next monthly meeting of the Verde Valley Chapter of the Arizona Archaeological Society, will be held on Thursday, Jan. 25, in the Community Room at the Sedona public Library, 3250 White Bear Road, Sedona, at 7 p.m.
We are extremely fortunate to have William Reitze, Archaeologist for the Petrified National Forest who will explain about the archaeological research done in that area, especially the pueblos and ruins that have been recently discovered.
A fuller picture of Arizona's past is starting to emerge from the desert north of Petrified Forest National Park, a year after officials revealed that the park's newly expanded boundaries contained many unexplored and unexcavated ruins dating back to the days of Chaco Canyon and beyond. An act of Congress added about 125,000 acres to Petrified Forest in 2004, more than doubling the park's size, but the complicated land swap isn't complete yet, and researchers have only begun to get a glimpse at what the vast tracts hold in store. Although archaeologists have so far explored only 40 percent of the new land, this summer alone they've identified more than 70 structures and other features of ancient habitation, some of them salted with artifacts like turquoise pendants, seashell beads, rock art displays, and a surprising variety of ceramics.
For over 40 years, since 1973, The Verde Valley Chapter of the Arizona Archaeological Society (VVCAAS) has been actively involved in the archaeology of the Verde Valley and the greater Southwest.
We are a volunteer organization with a long history of supporting professional archaeology. We work hand-in-hand with the U.S. Forest Service, the Bureau of Land Management, National Park Service, Museum of Northern Arizona Research Center, and Northern Arizona University. Whether you are a novice or professional, the Verde Valley Chapter welcomes everyone with an interest in archaeology and anthropology. Please join us this month for this fascinating program. Admission is free. For additional information or questions, contact: Tom Cloonan @ 206-849-8476.
MATFORCE Lunch 'n Learn Jan. 25 – Stress, Depression, Anxiety: Why Youth are Using Drugs
MATFORCE is sponsoring a "Lunch 'n Learn" that will explore the reasons why youth report that they use drugs and alcohol. According to the 2016 Arizona Youth Survey, 44 percent of youth in Yavapai County who report using drugs and alcohol say the reason they use is to deal with stress. This lunch and learn will explore the causes of youth depression, anxiety and stress and how to teach children effective coping skills. .
This presentation will be a panel discussion of five professionals: Lisa Blythe, Regional Director, First Things First; Courtney Osterfelt, Executive Director, The Teen Launch Pad; Obsidian DeLau, Family and Child Counselor West Yavapai Guidance Clinic; and Stephanie Hillig, Principal, Prescott High School. The discussion will be facilitated by John Schuderer, Chair of the Suicide Prevention Coalition. Participants will be given the opportunity to ask questions to the panel members.
The presentation will take place on Thursday, Jan. 25 at 11:30 a.m. in the Verde Room, 2nd Floor Yavapai County Building, 10 S. 6th Street in Cottonwood and the Board of Supervisor Building, 1015 Fair Street in Prescott
The presentation is free and open to the public.
Friends of the Verde River celebrates 10th anniversary with open house Jan. 25
Friends of the Verde River (Friends) celebrates ten years as a leader in river conservation work in the Verde Valley with an open house on Thursday, Jan. 25 from noon to 7 p.m. The public is invited to visit the new office at 115 S. Main Street, #A, Cottonwood, AZ, 86326. The open house will kick off with a ribbon cutting ceremony provided by the Cottonwood Chamber of Commerce at noon. Visitors can stop in throughout the day to meet the new staff and learn about volunteer opportunities and the Friends' programs. An evening reception from 5:30 – 7 p.m. will cap off the event with presentations by board members and program managers.
Friends collaborates with partners to provide solutions to critical water issues in the Valley and throughout the state. Over the past year, Friends has merged with two other local conservation organizations, bringing multiple programs and projects under the leadership of Friends. Along with this growth, Friends has moved to a new office, hired new staff and developed a cohesive website presence that incorporates content from multiple partnerships, establishing Friends as the "go to" source for Verde River conservation efforts.
The key programs of the Friends are Sustaining Flow, Restoring Habitat, and Promoting Community Stewardship.
Friends of the Verde River, (Friends), formerly known as Friends of Verde River Greenway, is a 501(c)(3) nonprofit corporation that envisions a healthy, free-flowing Verde River and tributaries that support our unique environment, a vibrant economy, and quality of life for future generations.
2018 Cottonwood Chamber annual dinner Jan. 26
The 2018 Cottonwood Chamber of Commerce Annual Dinner and Board of Directors Installation Banquet/Dance will take place Jan. 26, 5-9 p.m., at the Verde Valley Moose Lodge #1449, 1051 S. Broadway, Clarkdale.
The evening begins with a 5 p.m. social hour, 6 p.m. dinner, 7 p.m. live auction and 8 p.m. dance.
Admission is $35 per person.
For additional information, contact Kristine or Karen, 928-634-7593.
Join Camp Verde Parks and Recreation for trips to Phoenix area
Join Camp Verde Parks and Recreation for fun-filled trips on a 14 passenger shuttle bus. Trips leave from the Community Center Gym at 9 a.m. and return at 4 p.m. unless otherwise specified. Participants must be at least 16 years old or have an accompanying adult. Explore the secrets of Arizona and relax with plenty of opportunity for you to spend the day the way you want. Must pre-register for all trips
Friday, Jan. 26: AZ Museum of Natural History & Mesa
Come tour the premier natural history museum in Arizona and learn about the natural and cultural history of the Southwest. Be amazed by Dinosaur Hall, explore ancient Seas, learn about Paleo-Indians and later Hohokam Native Americans. Explore the history of the Spanish Southwest and Territorial Arizona. Enjoy lunch at your choice of local restaurants, visit the Mesa Contemporary Arts Museum and local shops. Adult $22, Senior (65 +) $20, Student (13+) $18, Child (0-12) $15.
Friday, Feb. 9 Butterfly Wonderland & OdySea Aquarium (Mix & Match) in Scottsdale.
Trip leaves early at 8 a.m. and returns at 4 p.m. Your choice of one or both attractions. At Butterfly Wonderland, walk through America's largest butterfly atrium surrounded by thousands of beautifully colored butterflies! Learn about the fascinating life of butterflies in the 3D movie "Flight of the Butterflies." At OdySea Aquarium, see the Rivers of the World, Otter Banks, Penguin Point and walk through the Great Barrier Reef tunnel under the water! Check out two stories of restaurants and shops around the huge circular plaza.
Cost for Butterfly Wonderland: Adult $42, Senior $40, Student $40, Children 3-12: $33.
Cost for OdySea Aquarium: Adult $55, Senior $53, Student: $49, Children 3-12: $44
Cost for both attractions: Adult: $75, Seniors: $69, Student: $66, Children 3-12: $55.
Friday, Feb. 23 Scottsdale Arabian Horse Show
Watch your choice of several horse competitions at this premier event. This is the 63rd annual Scottsdale Arabian Horse Show, with over 2,400 horses, top owners, trainers, and breeders from around the world competing to be the best. Explore the vendor hall with 200 plus exhibitors and lots of food options. Adult $19, Senior (55 +) $16, Child (0-12) $15
Friday, March 9 Phoenix Art Museum
Enjoy the largest art museum in the southwest with art from around the world. Enjoy the permanent collections as well as temporary exhibits such as the current "Selections from the Schorr Collection" of Old World & 19th century masters. Bring a lunch or enjoy creations from Palette restaurant at the museum. Adult $28, Senior $25, Student $23, Child (6 – 17) $19.
Friday, March 23 Wrigley Mansion Lunch & Tour in Phoenix
Join us for this unusual opportunity. Enjoy a wonderful lunch with your choice of menu options and a great view. Then take a guided tour through the Wrigley Mansion. Built by the Wrigley gum magnate William Wrigley between 1929 and 1931. It has 24 rooms and 12 bathrooms, spanning 16,000 square feet. This tour includes your lunch. All ages - $45
Register at Camp Verde Parks and Recreation at 395 S. Main St. Or call (928)554-0829 for more information.
Celebration of Easter casting call Jan. 26
EF Productions presents the 19th annual Celebration of Easter.
This spectacular Easter production is a festive musical drama that takes the audience back to Jerusalem to Jesus' final days here on earth. The Triumphal entry, The Last Supper, Judas' betrayal in the garden, and many more scenes are portrayed including the crucifixion and resurrection of Christ; and as the grand finale, the glorious ascension of our Lord. It is the largest theatrical Easter production in Northern Arizona. Produced by Mikel Swank, Celebration of Easter requires a cast and crew of nearly 100 people.
There will be an open casting call to the community for anyone interested in being in the cast or crew. Auditions include speaking parts, non-speaking parts for extras, singing, choir, and dance/choreography. Participants should come prepared for their audition for acting, singing, and dancing. Script and music can be downloaded online as well as registration. For those interested in participating in the many technical crews, they should also stop by during the casting call times to meet with the directors and producer.
Casting call will be Friday, Jan. 26 from 5-9 p.m. and Saturday, Jan. 27 from 10 a.m.-7 p.m. and will be held in the auditorium of Emmanuel Fellowship. Participants should stop by anytime during the hours listed for an audition.
The official kickoff event for the production will be on Sunday, Feb. 4 at 1 p.m. This is a mandatory meeting for all cast and crew. The cast will be announced and scripts and rehearsal schedules will be issued. Rehearsals will begin that week.
For more information please call the production office of at 928-634-3034 ext 102 Monday through Thursday 9 a.m. to 3 p.m. Emmanuel Fellowship is located at 1580 East Fir Street in Cottonwood (one block west of Mingus Union High School).
Clarkdale's 2018 Concerts in the Park call for performers, lineup announced Jan. 29
The Town of Clarkdale is currently seeking professional musical acts to entertain diverse crowds for the 2018 Concerts in the Park season. Concerts are free to the public and are offered June through September Saturday evenings from 7-9 p.m. in the Clarkdale Town Park gazebo.

The requirements to be considered in the selection process are available on the Town of Clarkdale's website (www.clarkdale.az.gov) under the Concerts in the Park link. Interested bands/performers must submit all required materials and information no later than 8 a.m. on Friday, Jan. 5, 2018.
The 2018 Concerts in the Park band lineup will be announced on or before Monday, Jan. 29, 2018.
If you have any questions, please feel free to contact the Community Services Department at 928-639-2460 or by email: community.services@clarkdale.az.gov.
University of Arizona Yavapai County Cooperative Extension offers Master Gardener Volunteer Training in Camp Verde starting Feb. 6
The Master Gardener Volunteer training course provides research-based horticulture information you will use as a Master Gardener volunteer educator for the Yavapai County Cooperative Extension.
Topics include basic botany, soils, fruit tree care, planting, staking, pruning, ornamental trees and shrubs, water/irrigation, wildlife in the garden, insects, integrated pest management, vegetables, weed management, natural resources, plant diseases and pesticide safety.
The 16-week course runs from Feb. 6, 2018 to May 22, 2018 and will be held on Tuesday mornings from 9 a.m. to 12:30 p.m. at the Camp Verde Community Library.
The application and additional information is available on our website https://extension.arizona.edu/yavapai-county-master-gardener-volunteer-training-application or call Lydia at 928-445-6590 ext. 221.
Applications are required and must be postmarked by Dec. 1, 2017.
U of A Cooperative Extension offers fruit tree pruning demonstrations Feb. 10
It's fruit tree pruning season and the University of Arizona Cooperative Extension, Yavapai County is offering two free deciduous fruit tree pruning demonstrations conducted by Extension Agent, Jeff Schalau. Come and learn why, when, and how to prune your backyard fruit trees. Demonstrations will cover apples, pears, plums, peaches, nectarines, cherries, and more. Fertilization, irrigation and fruit thinning will also be discussed.
Two pruning demonstrations are scheduled. The first will be held on Saturday Feb. 10 at 10 a.m. at the Marmaduke Orchard, 3435 S Silver Rd, Camp Verde. The second will be held on Saturday Feb. 24 at 10 a.m. at the McLandress Orchard, 850 S. Maricopa St, Chino Valley. It is not necessary to register – just come and learn!
Maps and directions to these workshops are available on the Yavapai County Cooperative Extension web site: cals.arizona.edu/yavapai/pruning/. Signs will be posted prior to the workshops to help participants find the locations. Follow Extension Agent, Jeff Schalau on Twitter (@jeffschalau) for timely information such as cancellations due to inclement weather.
23rd Annual Early Childhood Education Conference held Feb. 23
Spencer Gorin, RN presents "Navigating Relationships" (two hours of professional development credit.)
Personal success is dependent upon how deeply we can connect with ourselves, others, and our communities. Student behavioral challenges that are brought to our attention as counselors, teachers, parents and youth-serving professionals almost all have a common thread of the lack of empathy and an inability to negotiate simple and complex relationships.
Our students now live in a world that often annihilates critical thinking, empathy, and face-to-face dialogue. This, in turn, fosters isolation, extrinsic motivation, loss of joy and drive creating a pathway towards "sensation" but not "connection."
However, the very good news is that when students feel deep genuine connections, with other students and the caring adults in their lives, they naturalistically gravitate towards wanting meaningful and healthy relationships.
All we need to do is gift them with simple foundational concepts on how to create healthy bonds and provide experiential opportunities for relevant and courageous conversations.
This is the key for personal happiness, optimizing life-long learning, empathy, and creating deep connections with others. More than ever learning how to navigate relationships with a strong foundation of empathy is how we best prepare our students, not only through K-12, but for college and post-secondary school life experiences.
Event Details
When: Feb. 23 from 6:30-8:30 p.m.
Location: Mingus Union High School Auditorium, 1801 East Fir Street, Cottonwood AZ, 86326
Pricing and Registration
Conference Attendee Price – Included in conference registration
Group Price– $10/person
Individual Price – $20 for online registration (below)
Event will include exhibitors to provide you with information about ways in which you can help strengthen education in your community.
Please contact us if you are interested in highlighting your organization as an exhibitor.
Questions?
Contact the Event Coordinator at 928-301-9105 or email: bailey.bvcs@gmail.com
Sign up for 'Looking Good Cottonwood,' begins Feb. 21
Sign up now for Looking Good Cottonwood 2018. LGC is your step-by-step lifestyle transformation journey. Beginning Wednesday, Feb. 21 through Wednesday, May 16, 2018 we offer a 12-week body transformation program which includes extra group exercise classes, health seminars and weekly weigh-ins. Participants will receive an LGC t-shirt (upon completion), discounts on recreation center memberships (three months and longer) and 10 percent off the Brian Mickelsen Memorial Race in April. Come by the Cottonwood Recreation Center to sign up. Fees: $20 for CRC members, $40 for non-members.
For more information, contact Trevor Faust at tfaust@cottonwoodaz.gov or call 928-639-3200. Must be 18 years old to participate.
VVMC Caregiver Support Group meets each Friday
Join other caregivers each Friday from 10 to 11 a.m. at Verde Valley Medical Center located at 300 Willard St., Education Rooms in Cottonwood. Join us for sharing those difficult moments to celebrating precious memories while learning self-care from others that are living it.

Enjoy snacks and materials while gaining access to available supportive services and programs in your community.

For more information about the VVMC Caregiver Support Group or to inquire about other programs and services, call Area Agency on Aging NACOG toll-free at 1-877-521-3500.
Free bird walks at Montezuma Well, Tuzigoot National Monument through April
Continuing through April 2018, Montezuma Well and Tuzigoot national monuments will host bird walks.
On the first and third Saturdays of each month, walks will take place from 9-11 am at Montezuma Well. Each walk will begin at the Montezuma Well Picnic area.

On the second and fourth Saturdays of each month, walks will take place from 9-11 a.m. at Tuzigoot National Monument.

Each walk will begin at the Tuzigoot Visitor Center parking lot. Due to the holidays, there will be no bird walks on Nov. 25 or Dec. 23.
Participants are encouraged to bring water, binoculars, a hat, and to wear comfortable shoes for walking. The trails can be steep, rocky and uneven.
Montezuma Well is located at 5525 Beaver Creek Road, Rimrock, AZ 86335.

For more information, call 928-567-3322, extension zero, visit www.nps.gov/moca or follow us at www.facebook.com/MontezumaNPS.
Tuzigoot National Monument is located at 25 Tuzigoot Road in Clarkdale.

For more information, call 928-634-5564 or visit www.nps.gov/tuzi.
Verde Valley Special Needs Support Group meets every third Thursday
The Verde Valley Special Needs Support Group - a core group of people personally connected to the autism community – has been expanded to welcome and offer support to parents, family members, and caregivers of people with all special needs.
A support group is the lifeline that can bring emotional respite and assistance to those struggling. Those in the support group are walking the path too, some of them have for several years, and can offer empathy, insight, and suggestions for professional help and resources.
The Group meets every third Thursday of the month at the Camp Verde Library from 6-7:30 p.m. We welcome you to join us. No family should have to walk this path alone. Come to a meeting and share, learn, and connect with others who understand.
Family Movies at Cottonwood Library
On every third Saturday of the month the Cottonwood Public Library hosts family movies in the Youth Services Department. Family friendly movies begin at 10:30 a.m. and are free and open to parents and children of all ages. Please check the Library website at www.ctwpl.info for this Saturday's family movie title. The Library is located at 100 S 6th St in Cottonwood.
Volunteers needed for upcoming tax season
Your local AARP Foundation Tax Aide sites are seeking volunteers for the upcoming tax season. We have sites in Camp Verde, Cottonwood, and Sedona.

We provide free, confidential tax service for seniors and low income families. Experience is not required as training is provided for counselors, client facilitators, and receptionists. This is a wonderful way to give back to your community.

Please call Pat at 928 567-9251 for more information.
Registration open for 2018 Sedona Mountain Bike Festival
The Sedona Mountain Bike Festival will be back March 2-4, 2018 and registration is now open. This year, organizers say they are ready "to put on another amazing event with the same recipe of three days of bike demos, music, breweries, food trucks and shuttles. We are excited to continue our partnerships with Vida women's skills clinic, as we are their first stop of the season, and with Hermosa Tours shuttle company."
The festival is put on by real riders. We know what makes an event fun and what doesn't. "Sedona Mountain Bike Festival is right in the middle of Sedona making it easy to access hundreds of miles of single track," said organizers.
There are group rides going out all day every day, some lead by famous athletes. Those who want to ride alone can take advantage of the many trails.

Now until Feb. 2, three-day passes are $80. For the first 1,000 people, this price includes a free event t-shirt by TASCO MTB as the official soft goods sponsor, and pint glass. Sign up at www.sedonamtbfestival.com.
Survivors of Suicide support group
For every person who completes a suicide there are friends and family members intimately affected by the death. There is utter bewilderment that the loved one made such a decision.
The survivors experience a sense of isolation, shock, anger, guilt, depression and often alienation due to the stigma attached to suicide.
Survivors of Suicide is a local support program for those whose common bond is the loss of a loved one to suicide. Meetings are typically the last Tuesday of each month at 6:30 p.m. at Christ Lutheran Church, 25 Chapel Rd, Sedona (the corner of 179 & Chapel).
For additional information call Barbara Litrell at 928-649-0135 or email bprats@cableone.net.
Library hosts Artist's Corner every third Tuesday
The Cottonwood Public Library's Artist's Corner program is an informal live-art demonstration held on the third Tuesday of the month from 9 a.m. to 12 p.m. The purpose of the program is to inspire patrons to create their own art while also promoting and supporting the wealth of talented local artists in the Verde Valley area. The library is located at 100 S 6th St in Cottonwood.
Verde Valley Parkinson Support Group meets second Fridays
Friday, January 12th, 3-4:30 p.m., at Verde Valley Medical Center Conference Room B, Bryana Merrell and Bree Branch, speech-language pathologists (SLP) at EntireCare Rehab & Sports Medicine at VVMC in Cottonwood, will share their expertise with those attending the Verde Valley Parkinson Support Group meeting.
Both Branch and Merrell possess Master of Science degrees and certificates of Clinical Competence from the American Speech Language and Hearing Association. Branch specializes in neurological disorders, dysphagia, and traumatic brain injury. Merrell specializes in adult stroke rehabilitation and treats adult swallowing and voice disorders.
With Parkinson disease, the voice may get softer, breathy, or hoarse, making it difficult for others to hear what is said. Speech may be slurred. Swallowing difficulties can occur at every stage of Parkinson disease and cause choking, aspiration of food and saliva into the lungs, and pneumonia. Special therapies can effectively address these symptoms and dramatic improvement in speech volume and clarity can be achieved.
Individuals with Parkinson disease, their family, care partners and friends meets the second Friday of every month, 3:00-4:30 PM, at the Verde Valley Medical Center, Conference Room B, 269 S. Candy Lane, Cottonwood, AZ. For more information, please contact group facilitator and Parkinson & Movement Disorder Alliance Program Director, Judy Talley at (928) 202-7952 or judy@pmdalliance.org.
American Legion invites Sedona high school students to compete in speech contest
High school students of Sedona are invited by Cornville American Legion Post No 135 to compete in the 2018 Annual American Legion High School Oratorical Scholarship Program. The invitation to enter the competition was extended today by Post Oratorical Chairman, Jim Strande.
The subject in the prepared oration portion of the contest must be about some phase of the Constitution of the United States, emphasizing the duties and obligations of a citizen to the United States government. The prepared oration must be the original effort of each contestant and must be 8-10 minutes in length.
Contestants will compete locally with the top contestants moving forward to the area contest held sometime late in Feb. 2018. At that contest, speakers will earn $300, $200, $100 respectively, for placing 1st through 3rd place.
The department contest which traditionally consists of six speakers from across Arizona will be held on March 3rd at the Ahwatukee American Legion Post 64 in Phoenix, AZ. Top speakers will walk away with $1,500, $1,000, and $750 respectively for 1st through 3rd place, all other speakers will receive $400, each.

In addition to the awards by winners of the various elimination rounds of competition, college scholarships of $18,000, $16,000, and $14,000 will be awarded to the first through third places in the national finals. Each state winner who competes in the first round of the national contest will receive a $1,500 scholarship. Participants in the second round who do not advance to the national final round will receive an additional $1,500 scholarship. The top three youth orators who have won all previous elimination rounds of the contest will vie for top honors in the national contest in April in Indianapolis.
The American Legion will pay the expenses of state winners and chaperone at the national contest.
High school students in Sedona who are interested in entering the competition will find complete rules and contest information by contacting Chairman Strande at 928-301-7273. Previous national winner of the contest may be viewed at www.legion.org/oratorical.
Verde Valley Voices begin rehearsals for Spring concert in April
"This spring we're singing a Broadway review of shows from the 1900s." Joy Simons is the director of the choir. "It's full of songs from shows the whole world loves!"
A list of shows includes; Fiddler on the Roof, Oklahoma, Les Miserables, Rent, West Side Story and Showboat. More composers like Cole Porter, Rogers and Hammerstein, Sondheim and George Cohan are also on the bill.
"These are the greats who wrote the shows that are still being performed all over the world. I can't wait to get started!" says Joy.
The Voices is a non-audition choir open to anyone who loves to sing. Rehearsals are every Tuesday evening from 6:30 - 8:30 p.m. in the balcony of Immaculate Conception Church on SR 89A. An elevator is available for members to use.
Registration opens at 5:30 p.m. on Tuesdays until Jan. 15. Semester dues are $45. Music and folders are provided. A limited number of partial scholarships are available. Come take a journey with us through some of Broadway's most memorable shows.
Movie Monday at the Library
The Cottonwood Public Library invites you to Movie Monday on the second Mondays of each month. This month's movie is based on a book and is a wonderful story of unconditional love depicting the experiences of an eccentric, resilient and tight-knit family. For more information visit www.ctwpl.info. The library is located at 100 S 6th St in Cottonwood.
More like this story