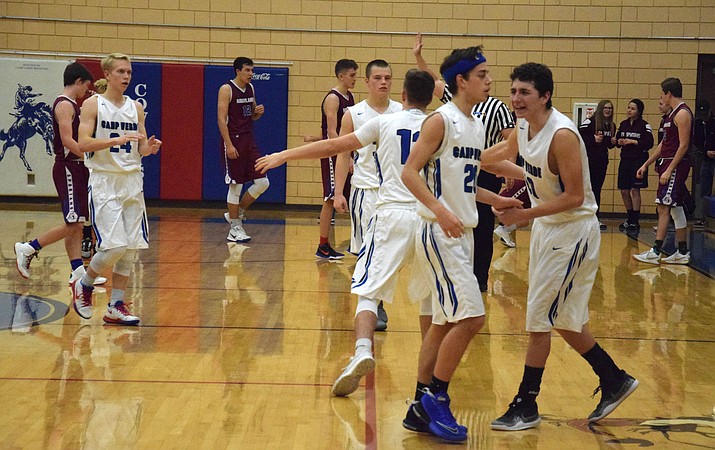 Originally Published: January 18, 2018 2:17 p.m.
Camp Verde High boys basketball came back to beat Northland Prep and snap its losing streak.
The No. 33 Cowboys (7-14, 1-3 Central) defeated No. 30 Northland Prep 55-52 on Tuesday at home.
It also ended Camp Verde's three-game losing skid and provided their first victory of 2018.
"It was a really big one for us to finish at the end," said CV head coach Daniel Wall. "It's been an up and down and a very testing about a week and a half for us and so it's really neat to see the guys be resilient (Tuesday) night, we talked a lot about that with our 'character matters words,' just staying in the moment and I thought they did a really good job (Tuesday) night to finish."
After the first quarter, the Cowboys and Spartans were tied 22-22 and NPA had a three-point lead at half time after they limited the Cowboys to four points in the second quarter.
Camp Verde retook the lead with 4:54 left in the third but then the lead started passing back and forth, with the Spartans lead 38-35 going into the fourth.
"We got a huge spark from Teson (Parker) to start the fourth quarter when he got that steal and finish early on and then he hit the 3 off the inbounds," Wall said. "In order to do those things, you've got to have kids set screens, you got to have kids make the right decisions with the ball and I thought (Tuesday) night we shared the ball better than we have all season, a huge, huge improvement for us there."
Sophomore shooting guard/small forward Abe Gonzalez said sharing the ball and Parker's steal were the keys to the comeback. Parker had four steals.
"We shared the ball a lot more," Gonzalez said. "First possession Teson got a steal and gave us a lot of confidence."
After the Cowboys turned the ball over with a traveling violation, Northland Prep called time out with 5:03 left and a six-point lead, which the Camp Verde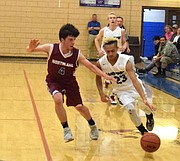 promptly erased with back-to-back 3s. the Cowboys would retake the lead and the Spartans wouldn't lead again.
"They helped us a lot," Gonzalez said about the 3s. "I think we were down by like six to start the fourth and it helped us a lot to gain confidence and to fight."
Sophomore guard Jason Collier led the Cowboys with 25 points, including four 3-pointers and six rebounds. Gonzalez had 10 points and seven rebounds.
"We went through a stretch in the second quarter where we didn't score 11 straight possessions," Wall said. "(laughs) So we kinda put ourselves in a hole. It wasn't taking bad shots, we just weren't hitting them, but the kids hit the big ones when we needed them down the stretch. And then we needed to get stops on the other end, so those two things were a huge difference maker."
The fourth quarter rally came after the Cowboys suffered a close loss to Glendale Prep to start 2018 and then two blowouts at No. 12 Sedona Red Rock and No. 3 Paradise Honors.
"This was gigantic," Wall said. "It speaks to the kids, how resilient they're being because it's easy just to lay down after getting thwhacked a couple times and losing a close one last week and a half Those were very tough losses for the group but it just shows their mental toughness and their ability to battle through."
Last Friday the Cowboys lost 84-47 at No. 3 Paradise Honors. The Panthers are 19-1 and have only lost to 4A No. 8 Cactus Shadows.
"We lost by 37, we didn't handle their pressure extremely well, their pressure is the best we've seen this year," Wall said. "They got some really good athletes, they got some really good shooters and they got a 6-8 kid that's really nice. They got a great team I think we'll be able to make some adjustments and compete a lot better with them the next time we see them."
Up next for the Cowboys is a trip to No. 25 Glendale Prep on Tuesday. Their next home game is next Friday when they host Sedona Red Rock at 7 p.m.