Originally Published: January 18, 2018 2:04 p.m.
Mingus Union wrestling shined at the Doc Wright Invitational last week.
Led by Lucas Svoboda, half of the Marauders that went to the prestigious tournament placed.
Svoboda was second, Eli Miller was fourth and Nick Doerksen and
Trent Miller took fifth.
"We took eight wrestlers and half of them placed, which is amazing," said Mingus head coach Klint McKean. "Seven out of the eight wrestled day two and that was another accomplishment that we were proud of. We finished with 110 team points."
The Marauders finished in 14th place out of 47 teams at the tournament at Winslow.
Ryan Griffin was one win away from placing and all of the Marauders had at least one win.
"Last year we finished with 42 team points, so it was close to triple, it was two and a half times the team points," McKean said, "so that was a great indicator of our improvement and that's what we've been talking about with the wrestlers all year is that it's about improvement. Every week we're getting a little better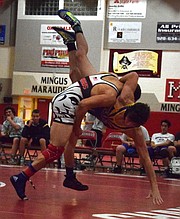 and a little stronger."
The tournament featured 47 teams this year for it's 54th edition. The teams came from all over Arizona, across all four divisions and also from Utah, Colorado, New Mexico and Nevada.
"It's one of the most prestigious and competitive tournaments in the state and this year it was the biggest tournament in the state, bigger even than Flowing Wells, it had the most teams, so finish 14th and to place four out of eight wrestlers, is a great accomplishment for us," McKean said.
Before they took the trip to Winslow, the Marauders went to Flagstaff where they beat Chinle 60-24 and fell to the host Coconino 44-33 after giving up 12 forfeit points.
"We did really well both duals," McKean said. "We lost a close one to Coconino, beat them head to head but ended up losing by 11 points and giving up 12 forfeit points. We really were happy with the kids' energy and effort for the entire dual. Coconino is always a solid team and we thought we could beat them, we know we could but to be that close with them makes us hungrier."
The Marauders close out the regular season at the Sand Devil Classic at Page starting on Friday morning