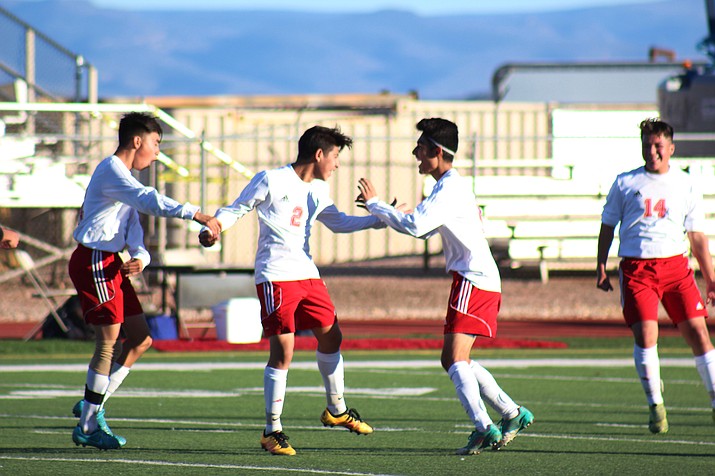 Originally Published: January 18, 2018 2:12 p.m.
Mingus Union boys soccer rallied to beat Prescott and pick up an important win.
On Saturday, the No. 26 Marauders (4-5-1, 2-2 Grand Canyon) beat the No. 25 Badgers 2-1.
"It's one step closer," said Mingus head coach Calvin Behlow. "I think we've got to win out to get to the bracket, that's the nature of the beast of the Grand Canyon conference. We'll probably send four teams, but you've got to be one of those top four."
The top 24 teams make it to the post season and Mingus Union has one game left. The results for the game at No. 30 Coconino were not available at press time.
"It's one step, one game at a time," Behlow said about the Prescott win. "Not to quote a great cliché but we had to win this one, we knew it too."
Sophomore forward Eduardo Lazaro said Behlow told them you practice how you play and so they trained hard.
"It's pretty big because our coach is a good coach, he tells us like 'we gotta practice how we play,' you know what I'm saying and last practice we tried hard because we knew this game was going to mean everything to us," Lazaro said. "This game was tough, good players, good team."
The Badger took an early lead but Behlow said it didn't deflate them. He said at the half they reminded the players to trust their passes.
"Trust that the pass you're making is the pass you should make, because five guys from our starting line up at the beginning of the year are gone," Behlow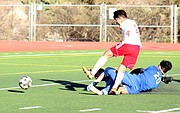 said. "Because those five are gone, we have guys out of position, we have guys that you've never played with, so you've got to trust that that's the pass you should make Those passes, we started putting three or four together. Our first half we actually had more possession then them I think they pressed closer to the goal quicker, but we actually had more possession and I think that goes without having our strikers Bradley (Howard) and Ezekiel (Behlow), we lose that offensive third, so we're doing a much better hob of possession between the 18s but we just don't that force up front to be able to put shots on goal."
In the 52nd minute, Lazaro drew a penalty kick and junior midfielder Jovany Garcia converted to score their first goal.
"The goals that we got were just hard work, well Eduardo's was absolutely ripped and the other one was just us beating them to the ball," Behlow said.
Then in the 65th minute, Lazaro scored a long distance goal to get the game winner.
He said his friends joke around with him about his speed so that when he gets the chance he needs to shoot.
"So I was like this could probably be the chance," Lazaro said. "I saw four people and I was like 'I gotta try it,' I just shot it and it went in, I was happy, I was very happy."
Behlow said that while the strikers Howard and Ezekiel Behlow were hurt, Lazaro is an offensive threat.
"Eddie's got good ball control, hits the ball well when he's facing the goal," Behlow said. "He's just a really poised player."
On Wednesday night the Marauders lost 3-1 at No. 22 Bradshaw Mountain. They close out the regular season when they host No. 14 Flagstaff on Tuesday.