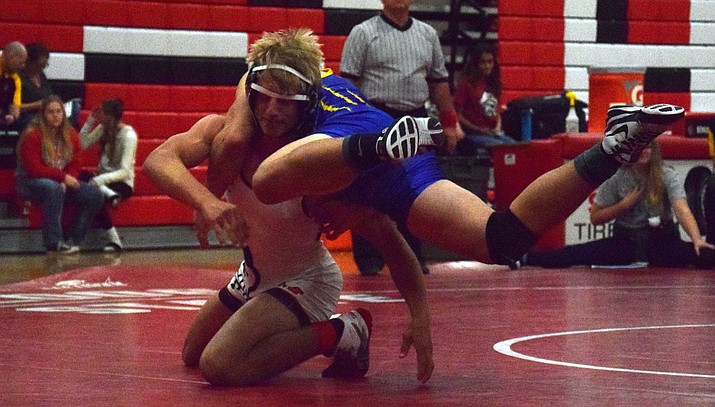 Originally Published: January 18, 2018 1:59 p.m.
Mingus Union wrestler Nick Doerksen has changed weight classes this year but continues to roll.
He has placed at every tournament the Marauders have been to this year.
"Nick has improved more than any of our wrestlers," said Mingus head coach Klint McKean. "His confidence has improved, he's really grown into his weight class, he's one of the bigger kids in his weight class, he's strong."
McKean said the senior is at his right weight class now, 154.
"He was doing well at 160, but he's almost an undersized 160 pounder, so now that he's at 154 pounds, it's the right weight class for him," McKean said. "He's strong and he's big, it's good competition."
Last year at the state meet, Doerksen lost in the first round 3-2 to the eventual third place finisher, then won 10-5, before losing 3-2 in his third match.
McKean said he's grown in several ways since he's started coaching him.
"One his technique has improved, but his confidence has also improved and also he's had the benefit of having a great workout partner in Lucas Svoboda, if you have a good practice partner, then that's going to help you at tournaments," McKean said.
Doerksen said he plans to go to NAU next year.
"He is polite and soft spoken and kind," McKean said. "He's just a great kid, he's the kind that you want on your team and the kind that you want representing your team."
VVN: How's the season gone for you so far?
Doerksen: I've made a lot of improvements from last season, it's looking good, I'm really hoping to do well at State and finish the year off really well.
VVN: What kinds of things have you been working on this year?
Doerksen: I've been working on my neutral position, I've gotten really good at moving around and creating shots from the neutral.
VVN: How have you grown through out your high school career do you think?
Doerksen: Probably just confidence, when I was a younger class man I didn't really the confidence but now since I've been doing better at tournaments I really believe in myself.
VVN: What's been your favorite tournament so far this year?
Doerksen: My favorite, probably either Mile High or Doc Wright
VVN: How come?
Doerksen: Just because it's pretty high competition and when you do well, it makes you feel pretty good about the work you've put in
VVN: Do you have a favorite move?
Doerksen: I like outside single.
VVN: How come?
Doerksen: Just because I flow with it pretty naturally and I get it most of the time.
VVN: Did you change your weight class this year?
Doerksen: Yeah I started out 160 and then after New Years I've going 54s.
VVN: Why the change?
Doerksen: Just because it would be too difficult for me to go 52s in the beginning of the year so after New Years is made it easier to make it.
VVN: With the season winding down and Sectionals and everything coming up, how well do you think you're doing? Do you think you're getting close to peaking.
Doerksen: Yeah, I should be peaking here pretty soon, I'm doing whatever I can before Sectionals and then State
VVN: How's school been going for you?
Doerksen: Doing good, I have four classes, so it's not too difficult, I'm not the busiest, but yeah, doing good.
VVN: Do you know what you're going to do after high school?
Doerksen: I'm going up to NAU.