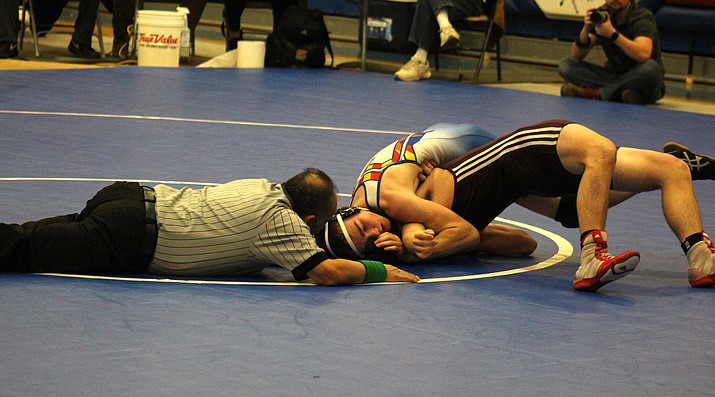 Originally Published: January 20, 2018 1:36 p.m.
Camp Verde High wrestling wrapped its home schedule with a near perfect night.
The Cowboys cruised through the Camp Verde Multi on Thursday night, winning all three of its duals and nearly taking every match.
Camp Verde head coach Tracy Tudor said it was a great night.
"We almost swept all three of them, I think we only lost a couple matches (Thursday) night, so out of three duals and just a couple JV matches, we did pretty well," Tudor said.
The Cowboys beat Division II Bradshaw Mountain, Mayer and Northland Prep on Senior Night.
"I think we did very well," CV senior Skyler Pike said. "I was impressed with the performance everyone put on (Thursday) I was happy to see some of our younger kids win (Thursday), so that was big for us."
Tudor said it will not just be the senior wrestlers that will be missed.
"Great group of kids," Tudor said. "The managers are some of the best, I'm going to really hate losing those managers, they're really good. Our boys, we're going to miss them man, they're champions. It's always sad to lose those guys because they help you every year, but we got some of the guys replacing them are very good and hope to continue this future with the winning."
Tudor said the Cowboys' superior conditioning helped them out a lot on Thursday.
"We're beating better wrestlers than we are, in a few instances some of those guys were better than us (Thursday) night, skill wise, but we outlasted them and were able to get pins out of it," Tudor said. "Our conditioning I think is the best in the state."
Pike, a defending state champion, said he liked how he performed. On Over the weekend the Cowboys went to the Last Chance Pre-Sectional Wrestling Tournament at Bourgade Catholic but results were not available at press time.
"I'm happy with the way I performed (Thursday) I just hope that we keep it up through the weekend and that we all stay strong," Pike said.
The Last Chance tournament is the Cowboys' last action of the regular season. Up next comes Sectionals on Feb. 3 Buckeye Youngker, followed by the state tournament.
"We're looking strong," Pike said. "We really picked it up the last couple of weeks, it's going to be a run."
Tudor said Morenci, St. John's, Arizona Lutheran, Yuma Catholic and Benson are the other state championship contenders in Division IV. Morenci is the defending state champion, while St. Johns and Camp Verde were second and third respectively.
"We're going to beat each other up at State, so it could be anybody's ballgame," Tudor said.
With the sweep, the Cowboys enter the post season on a high note.
"This is exactly where, because we weren't expecting to finish this strong," Tudor said. "We're finishing really strong, so the guys are really peaking at the right time, looking good, everybody's happy and I like that, it's really good."
More like this story