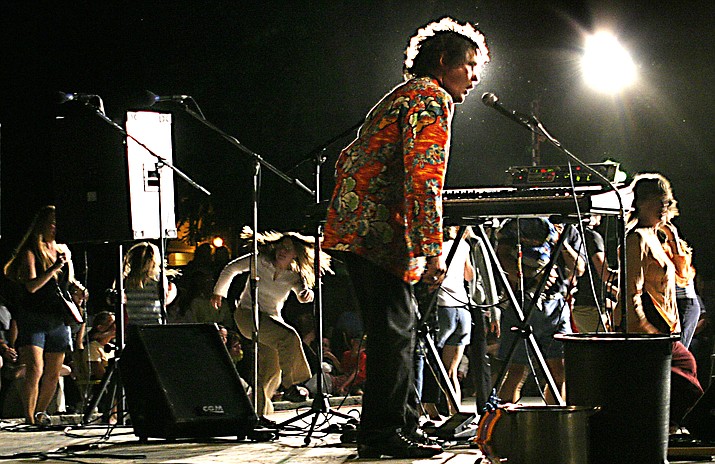 ---
---
After six weeks at the Sedona Hub, a beautiful inspiring art show is coming down, with two closing events – a panel discussion on Wednesday, Jan. 24 at 6 p.m. and a unique dance/concert on Friday, Jan. 26 at 7 p.m. with the Moving Edge Ensemble from Prescott. 
The Hub is located 525B Posse Grounds Rd.
Moderated by Bob Ellis (Program Director, Natural History Institute), this diverse panel will explore the role of nature in our good health and healing. Just how does that nature affect our wellness? Studies and personal experience indicate it is a pretty powerful force for good health.
The panelists include Bill McDorman (Rocky Mountain Seed Alliance); Richard Sidy (President, Gardens for Humanity); Sarah Twombly (Bereavement Coordinator, Good Samaritan Hospice); Tom Fleischner (Executive Director, Natural History Institute); and Patty West Garden (Liaison Field Trips & Projects, Verde Valley School).
Between them all, there are educators, writers, seed savers, community activists, a grief counselor, river guide and a botanist or two.
Join us for what is sure to be an inspiring conversation from such a range of people - ask questions and join the conversation beginning at 5 p.m. (Suggested donation is $10)
Something unique on Friday, Jan. 26. Co-create with musicians through dance when the lively energetic musical group Moving Edge Ensemble will bring their unusual improvisational style to the Hub. Building off the energy of the dancers in the room dancers, this collaboration between improvisational musicians, synthesizing elements of jazz, funk, rock, reggae, classical, salsa and world music, means that no two Moving Edge performances are ever the same because everything is created by and for the moment. 
Jonathan Best (keyboard/vocalist) says, "I always feel like I am walking on the edge of a precipice, never knowing what will happen next, except that I must always keep my attention completely on the moment and all the listeners, dancers and musicians."
Originally formed in 2002 to create music for a community-based improvisational dance performance, they've been playing, in slightly shifting configurations, for dancers and for dramatic events, ever since.  For this performance, the group will consist of Jonathan Best on keyboards and vocals, David Sorenson and Tom Fleischner on all manner of drums and percussion, and Charlie Myers on bass.
The performance/dance is described as the music coming from the movements of the dancers and from the cells of our bodies where all music from all time is stored. This particular improv music comes from the air of the moment.
So bring your dance shoes and come and make it happen. Experience interconnectedness as a complete organism fully alive, shifting and shaping across the room. This is an experience and opportunity to play for all ages.
Meet the artists – Adele Seronde, Edie Dillon, Cazaubon Seronde and Eveline Horelle Dailey - enjoy the art with a glass of wine and be a key part of creating the music at this special dance party 7-10 p.m. ($10 at the door.) For more information, visit www.sedonahub.org.