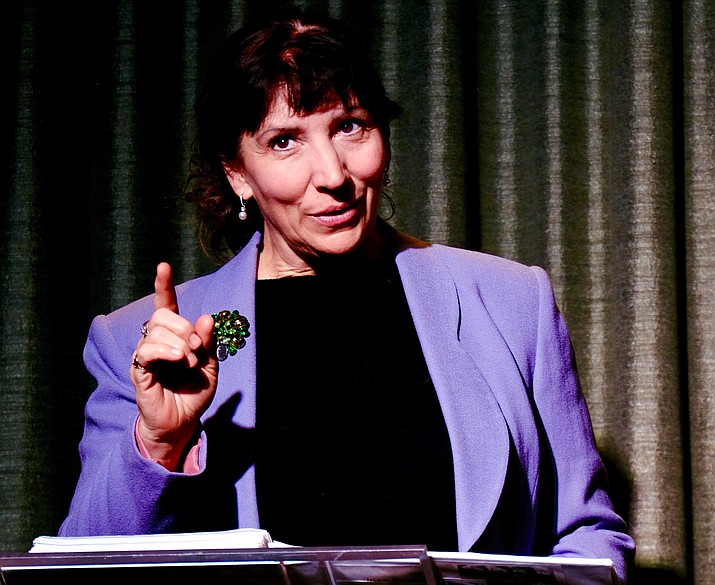 ---
---
Joan Chittister: Her Story, My Story, Our Story is a play about the Benedictine nun-turned controversial spokesperson for international peace and social justice - written and performed by Verde Valley resident Teri Bays. The one-woman show will be presented at St. Andrew's Episcopal Church on Sunday, Feb. 11, at 2 p.m. in the Sanctuary at 100 Arroyo Pinon Dr. in West Sedona.
Chittister has been interviewed by Bill Moyers, Timothy Russert, and Oprah Winfrey, among others. She is the author of more than 50 best-selling books, a regular blogger for the Huffington Post, and has appeared on 60 Minutes and Meet the Press.
Bays is a singer, writer, and actor who received her Bachelor's degree from the Hartt School of Music in Connecticut and performed leading roles in summer stock, off-Broadway musicals, and New York City cabarets. Combining her love of music with a desire to be of use to her church, she served as music and liturgy director at Catholic churches in New Jersey, California, and Arizona, and most recently for St. John Vianney in Sedona. She has recorded two CDs and authored Through Stained Glass, the Priests in My Life, a personal memoir about growing up Catholic.
The play introduces the audience to two women: Sr. Joan and the playwright herself. Bays has long been fascinated, and influenced, by Chittister, whom she calls "a prophet for our time. By 'prophet' I don't mean a predictor of the future. I mean someone who offers a countercultural voice and says the things that are not easily heard. Sr. Joan charges all of us to ask questions and challenge each other."
Throughout the performance Bays speaks in both women's voices, moving back and forth across the simple set, literally shifting between the perspectives of Sr. Joan, the public advocate for humanity, and herself, an everyday modern woman searching for her professional and spiritual place in the world.
Tickets are $20 general admission, $10 for students. They can be purchased in advance at brownpapertickets.com or at St. Andrew's between 10 a.m. and 12:30 p.m. weekdays. At the door on the day of the performance, tickets will be $25 and $12.50. Seating is limited.
For more information about the play, contact Bays at www.TeriBays.com or www.JoanChittisterThePlay.com. For questions about the performance, contact St. Andrew's at 928-282-4457 or office@saint-andrews.org.