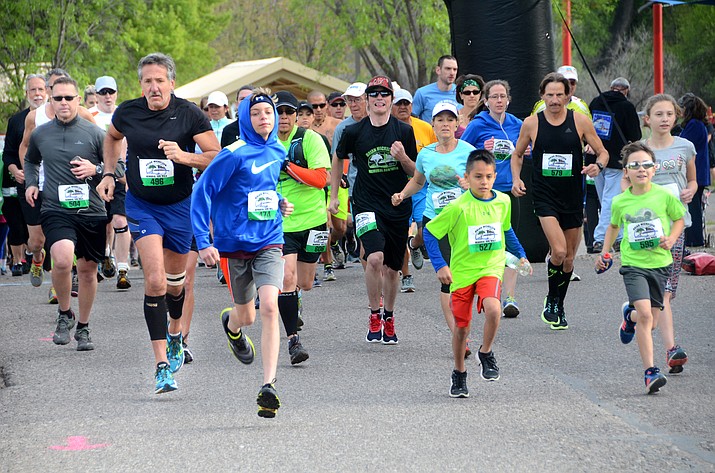 Originally Published: January 25, 2018 12:13 p.m.
Dream Run 5K at Verde Valley School March 3
Verde Valley School, an international high school in the Village of Oak Creek, announced its second annual, non-competitive 5K fun run on March 3rd. The 2018 VVS Dream Run will begin and end on the school campus, taking runners through the stunning red rock scenery of Coconino National Forest.
VVS campus is located at 3511 Verde Valley School Road in VOC and the race will start from Brady Hall at 9 a.m. Pre-registered runners should arrive before 8:45 a.m., while same-day registrants should arrive early, before 8:30 a.m. The event is open to all ages and abilities, and pets on leash are welcome.
Dream Run is a fundraiser with all proceeds going toward tuition fees for Native American students at Verde Valley School. Last year's inaugural Dream Run 5K attracted 85 runners and 105 donors, and netted $5,000 after event costs, money which has been applied 100 percent to Native American student tuition.
The registration fee is $30 per person and includes a T-shirt featuring the iconic Dream Run logo. There is also a reduced fee of $20 for students 19 and under. Registration details can be found online at http://conta.cc/2EUUoA6 or by contacting Dream Run organizer, Leigh Carter at lcarter@vvsaz.org or 520-234-6881.
Registration open for St. Patrick's Day 5K run
Now is the time to register to participate in Sedona's 48th annual St. Patrick's Day parade, and to sign up for a new addition to the celebration: a 5K street fun run.
Both events will be held Saturday, March 17.
The fun run, suitable for all ages, begins at 8 a.m. at Posse Grounds Park, located 525 Posse Ground Road.
The parade begins at 10:30 a.m. in Uptown Sedona at Jordan Historical Park, 735 Jordan Rd., and will travel its traditional route, south on Jordan Road, ending at Mesquite Avenue. Welcome to join, as always, are musicians, civic organizations, decorative floats and vehicles, and community businesses.
"We hope public participation will be great again this year, says Rachel Murdoch, parks and recreation manager, "and think the addition of the run will help extend the fun for families especially."
Fun run registration is $30 per person for all ages until Feb. 17, and $35 beginning Feb. 18.
The parade sponsorship deadline is Feb.15. The parade entry registration deadline is Feb. 26, and entry fees are $25 for individuals and nonprofits, and $100 for businesses. Entry spots are available on a first-come, first-served basis.
For details, including spectator maps and parade entry, sponsorship and fun run registration forms, visit sedonaaz.gov/stpatrick.
For more information contact the Parks and Recreation office at 928-282-7098 or email rmurdoch@sedonaaz.gov.   
Loven Family Run at Blazin' M Ranch March 24
Northern Arizona Healthcare's Loven Family Run & Walk will again take place at Cottonwood's Blazin' M Ranch Saturday, March 24.
The event benefits Valley View Care and EntireCare Rehab & Sports Medicine.
The Loven Family Run & Walk is designed for all ages and fitness levels. The 2K run/walk; 5K run/walk and 10K run takes participants on a looped course beginning at the historic Blazin' M Ranch and through scenic Dead Horse Ranch State Park. Following the race, participants are treated to a good old-fashioned country breakfast.  
WHEN: Saturday, March 24, 8 a.m. start
WHERE: Blazin' M Ranch, 1875 Mabery Ranch Road, Cottonwood.
Registration is open through March 21. Visit chronotrack.com or the Arizona edition of Running in the USA website.
Registration open for Feb. 3 Sedona Marathon
Register for the 13th annual Feb. 3 Sedona Marathon event at https://sedonamarathon.com/.
The course will take participants through the scenic Coconino National Forest District.
The Sedona Marathon features races over 5K, 10K, half marathon and the full marathon distances.
Brian Mickelsen Memorial Marathon April 21
The Brian Mickelsen Memorial Marathon returns to Cottonwood's Riverfront Park April 21. The event features 2-mile, 10K, half marathon and full marathon races. Both the marathon and half-marathon courses are USATF Certified, making the marathon a Boston qualifier. All four courses begin and end at the Riverfront Park ramadas, 1284 E River Front Road, Cottonwood. This event will be chip-timed by StartLine Racing.
The Brian Mickelsen Memorial Run/Walk has evolved from humble beginnings as the Verde/Mingus Blowout 10K to include four separate races: 2-Mile, 10K, half marathon and a new full marathon. In 1992 the City of Cottonwood held the first Verde/Mingus Blowout 10K/2 Mile. The original 10K course started at Riverfront Park, ran through Old Town Cottonwood, took Bent River Road and found its way back to the start line. Today this route compares more to the Marathon course than it does the current 10K route but you can see how the event in 1992 laid the foundation for the Brian Mickelsen Memorial Run/Walk. With Brian Mickelsen's tragic death in 2007, the City of Cottonwood decided the best way to honor their beloved city manager was to extend the Verde/Mingus Blowout to include a half marathon and to put Brian's name on the event. The inaugural event was a great success with over 400 runners and a tremendous tribute to Brian and all that he did for Cottonwood in his 23 years of service to the City.
To register visit the Arizona edition of Running in the USA or bmmcw.org/register.html.