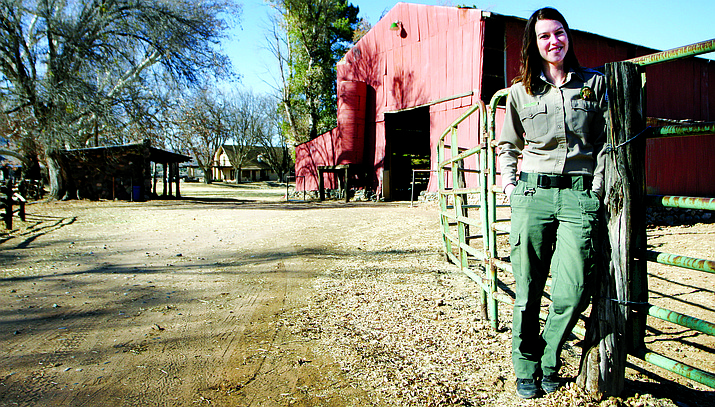 Originally Published: January 25, 2018 1:58 p.m.
CAMP VERDE – With a background in geology, it's safe to say that Courtney Bartlett likes the outdoors.
As Rockin' River Ranch State Park's new park manager, Bartlett is barely a year into her career with Arizona State Parks and Trails. But Sue Black, executive director for Arizona State Parks and Trails, says Bartlett is "the right person" to open the new Verde Valley state park later this year.
Not one to shy away from hard work, Bartlett says taking over leadership at the state park is a "lot of responsibility."
But it's work she went to school to do. Working in nature is what Bartlett says she wanted to do "at a young age."
"This facility is so beautiful," says Bartlett, who grew up in the Seattle area before she decided "18 years in the rain was enough."
On the job since Jan. 2, Bartlett's work will be a combination of development and operations as Arizona State Parks and Trails has targeted a December grand opening for the Verde Valley's newest state park.
"Once the park opens, she'll transition more into the operations part," Black says.
Black says that in Bartlett, she found someone with "knowledge and skills, but with a zealous attitude and communication skills."
With a Bachelor's Degree from Midwestern State University in Texas, then a Master's Degree from the University of Nevada at Las Vegas, Bartlett has already proven to be "organized and methodical," Black says.
A planner, Bartlett says she's focused from the start on building relationships along Camp Verde's Salt Mine Road.
"It's nice to call the neighbors and chat with them," Bartlett says. "I've felt welcomed by them."
For Bartlett, a typical day at Rockin' River Ranch State Park is really not typical, and one day really is different from another. But the tasks the new park manager is working on are mostly maintenance, such as the removal of stumps and cleaning gutters.
For Bartlett, there's also no shortage of meetings and communication with Arizona State Parks' Central Office staffers.
When she's not engulfed in manual labor, Bartlett also makes sure the park has all the "necessary permits."
And in the development end of preparing the new park, Bartlett says she's "making sure" she can answer the public's questions.
For Bartlett, all day, she's outdoors each day at a place she says is "pretty phenomenal."
"What needs to be done is what I get to do," Bartlett says.
-- Follow Bill Helm on Twitter @BillHelm42