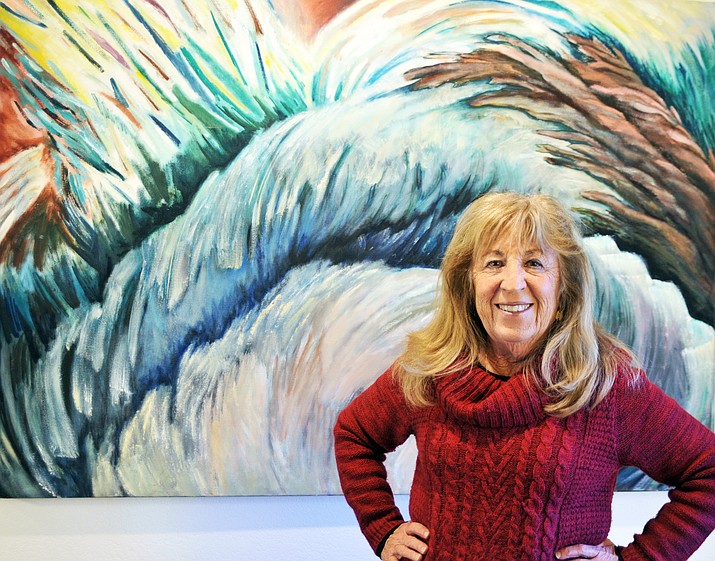 ---
---
The Special Exhibitions Gallery at the Sedona Arts Center will present a 40 Year Retrospective by the artist Bonnie Hartenstein.
The Exhibit is called "Playing With Possibilities," and runs Feb. 14-26 from 11 a.m. – 5 p.m. daily. Hartenstein hopes to engage the viewer in interacting with the paintings and installations so they can enjoy the process of discovery that is the making of art.
On Friday, Feb. 16 from 5-8 p.m., all are invited to the Opening Reception (with refreshments) to meet the artist and enjoy her bold, colorful exhibit. At 7 p.m., the Cantin-Miller Jazz Duo from Chicago will perform. On Sunday, Feb. 18, from 3-5 p.m., Hartenstein will give a Gallery Talk about her process as an artist, with a concert by local trio, Yarrow, at 4 p.m.
The viewer will be able to view large scale oil paintings about the shamanic experience; six foot acrylic and mixed media-textural constructions (think tea leaves, coffee grounds, paper hole punch pieces, coconut husk hair, netting, cork); a 27 piece configuration of paintings embedded with photographs and drawings depicting Hartenstein's travels to a villa in Tuscany; pastel drawings and handmade paper works from her Tantric Journeys Installation in Chicago; quirky-painted found-objects surrounded by red string; a ziggurat-shaped construction; and stackable paintings on wall easels that viewers can re-arrange to their liking.
Hartenstein, who studied and taught at the School of the Art Institute of Chicago, believes the artist inhabits the world of possibilities.
Hartenstein, represented for many years in Chicago by Jan Cicero Gallery and Judith Racht Gallery, has received numerous grants and awards including the Edward Ryerson Traveling Fellowship. Her work is represented in varied public and private collections. With many solo, group, and museum exhibitions including the Instituto de Arte in San Miguel de Allende and the Museo de Bellas Artes in Mexico City, she was also one of the co-founders of Chicago Paper, a pioneering group of women artists who exhibited internationally and taught handmade paper-making.
During her exhibition, Hartenstein invites the viewer to interact with her work, touch the art, move pieces, to find out how they might express themselves (and have some fun). Hartenstein wants the viewer to bring his or her trust and courage to the process of Life as an always unfinished and changeable state of being.
For information contact: bonnie.hartenstein@gmail.com.