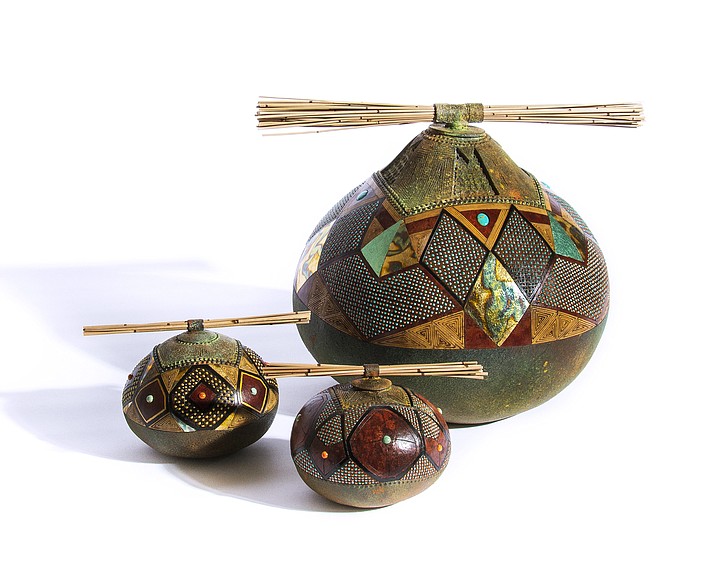 ---
---
Lanning, a Bryant Nagel Gallery in Sedona, welcomes award-winning gourd artist Bill Colligen to its 1st Friday reception on Feb. 2 from 5-8 p.m.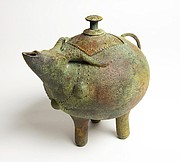 The artist offers what promises to be a fascinating Artist Talk at 6 p.m. that evening as he reveals his singular techniques and inspirations.
For Bill Colligen, a hard-shell gourd provides a unique canvas on which to perfectly express his creative vision. After studying for a career in art at the University of Arizona and Northern Arizona University, Bill Colligen chose instead to work in landscape design, specializing in small Zen gardens, while studying to be a Master Gardener. But he still "felt the need to express something deep within on a more personal level." That is when his seemingly disparate callings came together: Discovering the gourd's potential as a canvas became a perfect union of art and nature.
Beginning with a hard-shell gourd, Colligen engraves designs into the shell with a pyrographic pen before applying a variety of metallic and verdigris patinas on its surface. Gem stones lend a subtle inlaid presence and areas the artist calls 'faux burlwood' are actually a dye application made directly onto the gourd's surface. Reed, bamboo and a variety of metal and stone handles embellish the lids.
Bill Colligen calls his pieces "Zen Vessels" and for anyone who has inspected the hundreds of meticulously applied dots of paint that make up an element of each gourd's design, it is easy to understand the focused intensity this artist brings to each of his distinctive works. A newer style of gourd Colligen is creating replicate, with stunning accuracy, the look of ancient Chinese ritual vessels. These elaborately hand-carved pieces appear heavy with the weight of old bronze, well-marked with the patina of age – and yet are nearly as light as air.
Mark your calendar to attend the Artist Talk by Bill Colligen at 6 p.m. on Feb. 2 and get a view behind the curtain of these remarkable gourd transformations. This exhibition runs through Feb. 14.
For additional information and photos of the gourd art of Bill Colligen see Facebook.com/LanningGallerySedona or follow Instagram.com/LanningGallery.
Call 928-282-6865, email@lanninggallery.com, or visit www.lanninggallery.com. The gallery is located at Hozho, 431 SR 179 in Sedona. It is open daily 10 a.m. – 6 p.m. Monday through Saturday, and 11 .m. – 5 p.m. on Sunday.