---
---
In various guises, the human form endures as inspiration to artists across the globe. Some of the earliest artwork recorded features images of the human form and to this day are breathtaking and iconic such as Leonardo Da Vinci's "Vitruvian Man" and Michelangelo's "David."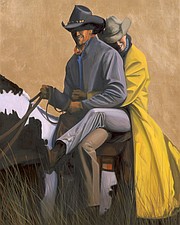 On Friday, Feb. 2, Goldenstein Gallery invites you to join them in celebrating the art of the human form at the opening reception of their 7th Annual "Body Language" show. Both classic and modern interpretations are included in this beautiful and thought provoking exhibition which features the renowned works of James Muir, Lucius Upshaw, Sherab Khandro, Mike Medow, Ben Wright, David DeVary, David Phelps, Carla Romero, SJ Shaffer, Orson Welles, Reagan Word, Upton Ethelbah and LauRha Frankfort.
Many of these stunning paintings and limited edition bronze sculptures reflect a freedom of movement, joy, and a celebration of the human spirit. Many of these pieces also invite the viewer be inspired and empowered and go within, perhaps to ask questions about life and themselves.
Goldenstein Gallery will also be featuring a special exhibit of renowned filmmaker Orson Welles' work during the Sedona International Film Festival Feb. 24 - March 4. As prolific as Welles was as an author and filmmaker, he was a visual artist first. Considered a child prodigy as a musician, painter and magician, his mother died when he was nine and at eleven he was enrolled in the progressive Todd School in Woodstock, Illinois where he first developed his voice as an artist. After graduation in 1930, he spent a summer at the renowned Chicago Art Institute. When his father died in 1930, the following August, Welles set out for a now infamous walking and painting tour of Ireland. He continued to paint and sketch throughout his career creating costume and set renderings, personalized Christmas cards, caricatures, illustrations and oil paintings.
The public is invited to meet local artists at the opening night reception for "Body Language" on Friday, Feb. 2 from 5-8 p.m. during the 1st Friday Galley Tour.
For more information on Artists, Artwork, Satellite Exhibits, Artists in Residence & Artists Coffee Talks please visit GoldensteinArt.com. Sign up for their monthly E-zine, Instagram and Facebook or call 928-204-1765. Open daily, Goldenstein Gallery's address is 150 State Route 179, at the corner of SR179 and 89A. Voted Best Gallery in Sedona 10 years running and recently named the best place to shop in Sedona by USA Today 10 Best, Goldenstein Gallery is known for its diversity of world-renowned local and regional artists in all media and styles.