---
---
Field Music – Open Here
Memphis Industries Records
The two years since Commontime have been strange and turbulent. If you thought the world made some kind of sense, you may have questioned yourself a few times in the past two years. And that questioning, that erosion of faith - in people, in institutions, in shared experience - runs through every song on the new Field Music album. But there's no gloom here.
For Peter and David Brewis, playing together in their small riverside studio has been a joyful exorcism. Open Here is the last in a run of five albums made at the studio, an unprepossessing unit on a light industrial estate in Sunderland. Whilst the brothers weren't quite tracking while the wrecking balls came, the eviction notice received in early 2017 gave the brothers a sense of urgency in the recording of Open Here.
Tracks include: Time in Joy, Count It Up, Front of House, Share a Pillow, Open Here, Goodbye to the Country, No King No Princess.
James Hunter Six – Whatever It Takes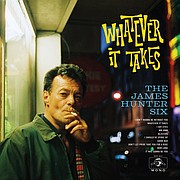 Daptone Records
Daptone Records will release Whatever It Takes, the sixth album by The James Hunter Six. Hunter had already established himself as a permanent fixture in the world of Rhythm and Soul with his five previous albums, each more poignant and well-executed than the last. However, this record has buried them all. His voice has never been more compelling, his songs never more elegantly crafted. Recorded to tape at Daptone's Penrose Studios in Riverside, California, Bosco Mann's production elevates Hunter's arrangements to the altitude they deserve.
Tracks include: I Don't Wanna Be Without You, Whatever It Takes, I Got Eyes, MM-Hmm, Blisters, I Should've Spoke Up, Show Her, Don't Let Pride Take You For a Ride, How Long.
Simple Minds – Walk Between Worlds
BMG Rights Management
Walk Between Worlds was produced by Simple Minds with Andy Wright and Gavin Goldberg, both of whom worked on Big Music.
Side One tracks such as "Summer" and "The Signal And The Noise" revisit the glassy guitars and new wave dance grooves of the post-punk era and the second half explores more cinematic sounds, with the title track and "Barrowland Star" both featuring dramatic orchestrations recorded at Abbey Road.
Tracks include: Magic, Summer, Utopia, The Signal and the Noise, In Dreams, Barrowland Star, Walk Between Worlds, Sense of Discovery, Silent Kiss, Angel Underneath My Skin.