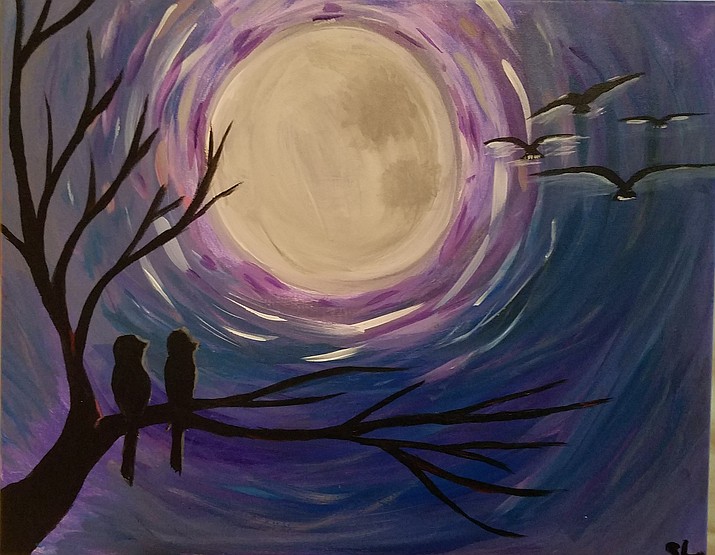 ---
---
Do you remember the joy of creating a piece of art and having your very proud parent tape your masterpiece in a place of honor on the family refrigerator?
IF YOU GO
• What: Paint-N-Party, a paint along (and sip) for fun event
• When: Friday, Feb. 2 at 6:30 p.m.
Saturday, Feb. 3 at 6:30 p.m.
Sunday, Feb. 4 at 3 p.m.
(Party is usually 2 -2.5 hours.)
• Where: 3 Kings Kasbar & Epiphany
102 East Pima Street (Old Town Cottonwood Pima at Main Street)
• How Much: $35 person includes your own painting plus one beverage (house wine, well cocktail, select beer, soda, or a non-alcoholic beverage.) *Please note: tax and gratuity are not included.
You might not have been Rembrandt but your family cherished your art from the heart.
Imagine feeling that same sense of joy and accomplishment as an adult when you create your artistic masterpiece at Epiphany's Paint-N-Party this weekend.
A successful local businesswoman, Denise M. Kelly, brought her dream to life at Epiphany: she repurposed a mid-century church to open as an interactive art venue where you can come to create your own masterpiece--a painting on canvas. Just as a church welcomes guests with unconditional love, the Epiphany art venue welcomes you to create art in a judgement-free zone.
An "epiphany" is an "illuminating discovery, realization."
When we were children, creating art was a joyful, effortless opportunity to express ourselves. As we became adults, that joy in artistic expression often faded in the harsh light of making a living.
Encouraged by a local artist at Epiphany--a patient teacher of art techniques--you may have a simple and striking moment in which you intuitively grasp that art and creativity are an integral part of your life.
What Epiphany art venue allows you to do is to find the joy of expressing yourself through art. Making the illuminating discover and having the realization that making art is an act you enjoy is your epiphany at Epiphany.
Whether you make a reservation for Paint-N-Party on Friday, Saturday, or Sunday (or all three), you will mingle with tourists and locals alike who just want to see if they can rediscover their childhood joy in painting.
And, you get to walk away with a great painting or another art piece.
To enhance the creative process, a libation is included—a glass of wine, a well cocktail, a select beer, or a non-alcoholic beverage.
Call 928-639-4433 to make your reservation.
The only question is: Do you want to hang your new cherished art from heart masterpiece on your refrigerator or your wall?
For more info: 928-639-4433, info@3kingskasbar.com, www.3kingskasbarcom, Facebook: https://www.facebook.com/3kingskasbar/