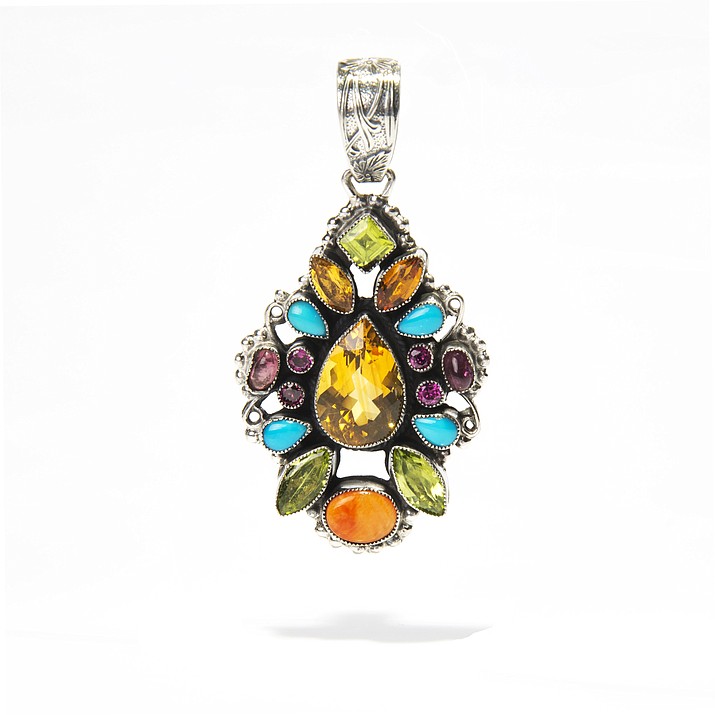 ---
---
Just in time for Valentine's Day Turquoise Tortoise, a Bryant Nagel Gallery, opens "Leo Feeney: Jewelry with Heart" to showcase its vibrant collection from this masterful jeweler. A reception Feb. 2 from 5‑8 p.m. opens the new exhibition.
IF YOU GO
• What: Leo Feeney "Jewelry with Heart" showcase
• When: Reception Feb. 2 from 5-8 p.m. Showcase runs through Feb. 14.
• Where: Turquoise Tortoise, located 431 SR 179 in Sedona
• More Info: 928-282-2262, www.TurquoiseTortoiseGallery.com, www.Facebook.com/TurquoiseTortoiseGallerySedona
Leo Feeney creates with a particularly sparkling blend of opaque, semi-precious and precious stones; with intricate cluster designs, set in sterling silver. Feeney gives us necklaces, earrings, link bracelets, cuffs and rings.
Original Leo Feeney designs may be composed of turquoise, in both blues and greens, gaspeite, spiny oyster, red coral, peridot, garnet, amethyst, citrine, topaz, or any number of other stones. Custom pieces that feature birthstones is a unique specialty of the artist.
"I begin at the center and work out," Leo Feeney says, describing his creative process for beginning a new design. "There is such variation in individual stones that when you get them laid out, certain stones are just drawn together. Once you get the right blend of stones to work with, once you determine the size of the design, you can begin the silver work." Feeney generally builds several of one design at a time, altering the stone combinations, to make the most efficient cuts from his sheets of sterling silver.
Every piece is touched with the smallest of fine details. And Feeney works seven days a week: "If I'm home and it's daylight, I'm in the shop," he says – a devotion that goes a long way in explaining the artistry and success of Leo Feeney.
Mark your calendars and stop by Turquoise Tortoise on 1st Friday evening, Feb. 2, to select your perfect Valentine's Day treasure.
In Sedona, "Leo Feeney: Jewelry with Heart" runs through Feb. 14.
For more information, call 928-282-2262 or visit www.TurquoiseTortoiseGallery.com.
The gallery is located at Hozho, 431 SR 179 in Sedona. It is open daily: 10 a.m. – 6 p.m. Monday through Saturday, and 11 a.m. – 5 p.m. on Sunday.