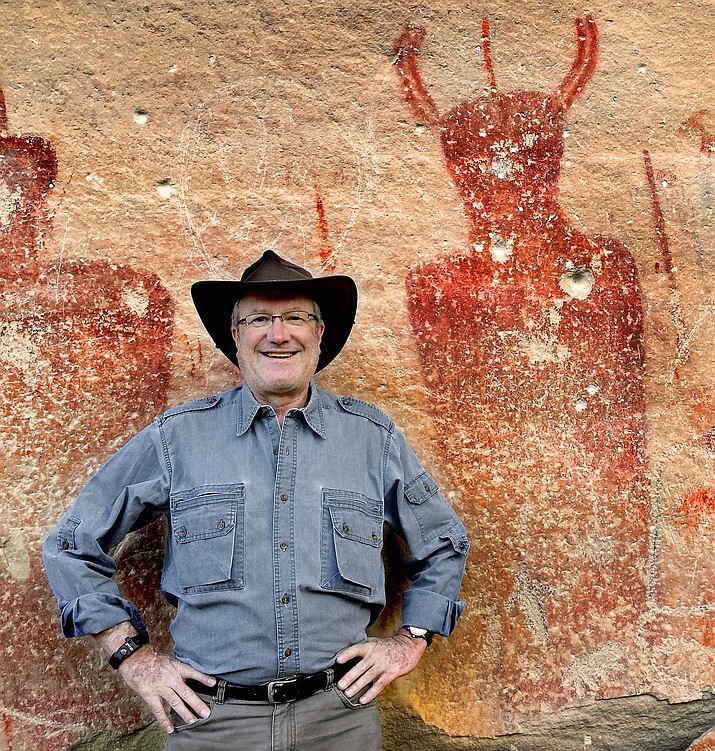 ---
---
Photographer and digital artist Dale O'Dell will exhibit his vibrant creations at the Village Gallery of Local Artists during the months of February and March.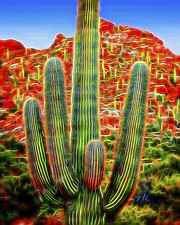 Dale O'Dell lives in Prescott and is a professional photographer and digital artist. He studied photography and philosophy in college and was granted a degree in 1982. Since 1979 he has exhibited in over two-hundred group and solo shows, his works have been published internationally and he's written for most of the leading photographic magazines and journals. He has published fifteen art books and is currently at work on number sixteen.
For this exhibition, Dale has chosen two Southwestern subjects: the saguaro cactus and ancient Native American rock-art petroglyphs and pictographs. He uses digital image processing to reinterpret these images, combining realism with a highly creative use of color, light and texture. The saguaro images are bright and decorative, and the rock art images have been modernized for the 21st century.
Dale's Southwestern petroglyph works begin with finding rock art sites in state or national parks and monuments, or from detailed maps. First, he normally processes the photographs. The next step is to retouch and remove signs of vandalism, decay or bullet-holes and bring it back to something close to what the original artist created. The final step is creative. Color is added, contrast is enhanced and then the images are processed through a heavily-edited Photoshop plugin. They are finally taken back for further, localized enhancement. Dale's digital paintings are printed with archival pigment on Moab Juniper Baryta 100 percent cotton rag paper.
Dale says; "For me, photography has become more of a mining expedition to collect photographic raw material for digital rearrangement. The straight photograph is no longer the final destination."
Receptions will be held on Friday, Feb. 2 and March 2 from 5-8pm. Refreshments will be served. The public is invited to meet Dale O'Dell, ask him about his process, and experience his captivating artwork. The Village Gallery is located 6512 Hwy 179 in the Village of Oak Creek at the roundabout on Hwy 179 and Cortez. For more information call 928-284-1416 or visit www.sedonalocalartists.com.