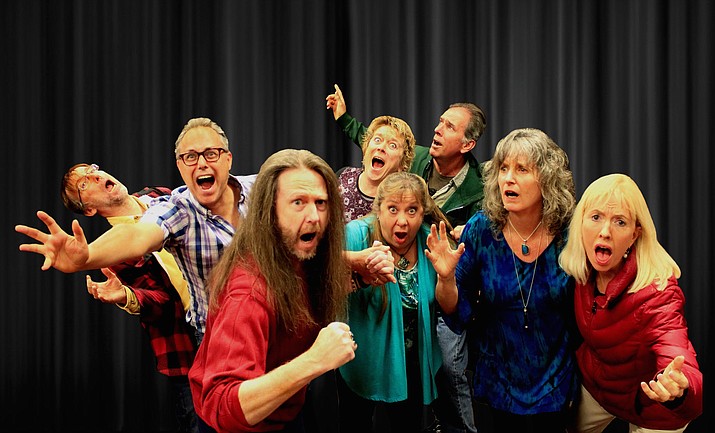 ---
---
Join us at the Hub on Thursday, Feb.1 at 7 p.m. for an out of the box "Wdya'Got?"  
IF YOU GO
• What: "Wdya'Got" Music/Spoken Word Performances and Improv
• When: Feb. 1 from 7-8:30 p.m. (Doors open at 6:45 p.m.)
• Where: Sedona Hub, 525 Posse Grounds Road
• How Much: Suggested donation is $5-10
• More Info: www.sedona.hub.org
Once a month, musicians and storytellers gather at the Hub to share new (or rarely heard) material in an informal setting where the focus is on the performer in an intimate personal space, followed by the Zenprov Comedy team creating a long-form improv based on what just happened. 
Setting the stage for the 2018 series is married couple Chris Huelsbeck and Tracy Sheppard.
They will be weaving their different forms together into one 40 minute performance, creating together in this way for the first time. They arrived in Sedona area last July from the North San Francisco Bay /Sonoma County and have been traveling in an RV for almost two years, documenting their journey as The Cruisin' Crew online and Youtube (www.thecruisincrew.com).  
Chris will play a selection of his music on Keyboard and iPad, featuring electronic melodies and visual projections from different areas they've visited while traveling. Expect to be transported on a musical journey through time and space. His music can be melodic, hypnotic, and inspiring.
Tracy will perform a drum and spoken word piece called "Life's Waltz," as well as a performance piece "Venus Speaks." Her pieces will captivate hearts and minds, bringing to the forefront ideas and emotions that cultivate positive change in the audience's perceptions.
This unique performance will challenge and inspire Zenprov to new heights of imagination and creativity, as they jump in to connect notable bits of story and musical themes into a one-of-kind, long-form improvised theatrical performance.
Zenprov has been making Sedona laugh and creating on the spur of the moment for years. The Wdya'Got collaborators each week are the creative group-mind talents of Derek Dujardin, Shaerie Richards, Shaunn Cochran, Mary Carder, Betty Testa, Chris Redish, Linda Roemer and Tom Shoemaker.
We invite you join the fun and share the energy as a series of creative, inventive, courageous performers share new work, new collaborations and ultimately new 'takes' with you. Ask the question – Wdya'Got? and then see what it is.