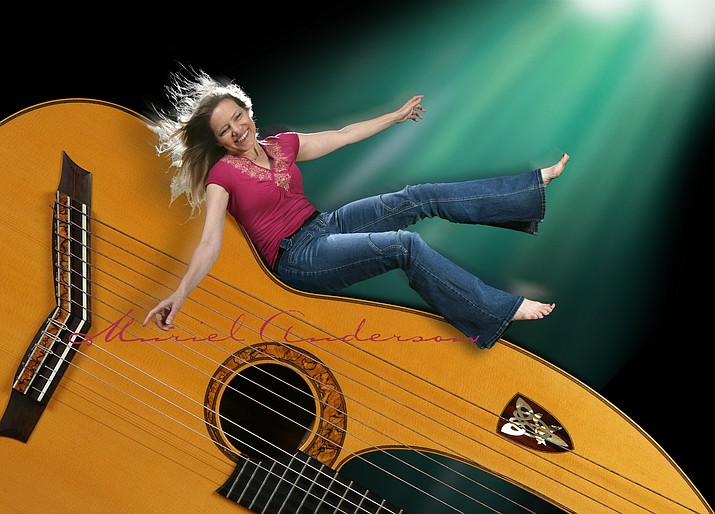 ---
---
One of the world's foremost fingerstyle guitarists and harp-guitarists, Muriel Anderson is the first woman to have won the National Fingerstyle Guitar Championship.
IF YOU GO
• What: Muriel Anderson "Wonderlust" in Concert
• When: Saturday, Feb. 3 at 7 p.m.
• Where: Old Town Center for the Arts, located at 5th and Main Street in Cottonwood
• How Much: $20 advance, $22 at door
• More Info: 928-634-0940
Muriel Anderson will perform for one night only, at the Old Town Center for the Arts, Saturday, Feb. 3 at 7 p.m. Muriel's "Wonderlust" concert is a virtual tour around the world in music and imagery. This special concert will be the release tour for Muriel's new "Eclipse" CD.
Muriel Anderson's new Audio-visual show,"Wonderlust" is a must-see as well as a must-hear. Her world-renowned guitar and harp guitar playing is highlighted by a backdrop of stunning visuals by celebrated photo-artist Bryan Allen. Their current show includes music from Muriel's new release "Eclipse" together with a visual re-enactment of the solar eclipse, and then brings you with them as they journey around the world in music, stories and images.
The first woman to win the National Fingerstyle Guitar Championship, Muriel has performed with country legend Chet Atkins, jazz great Les Paul, and continues to thrill audiences with her unique and joyous style.
Currently named by Guitar World as one of eight amazing female acoustic players, Muriel Anderson is one of the few international touring harp-guitarists. Her obvious joy of music, humor and her facility across the genres of folk, classical, jazz, bluegrass and international music is revered by guitarists worldwide. An engaging performer, Muriel's unique approach to the instrument virtually transforms the guitar into a lyrical choir, then a marching band, then a Japanese koto, then a Bluegrass band, one minute launching into a Beatles' tune and the next, a Rodrigo concerto.
Tickets are available online at showtix4u.com. Tickets are also available in Cottonwood at Desert Dancer, Mt. Hope, and at the door.