Originally Published: January 30, 2018 1:48 p.m.
COTTONWOOD – In Arizona, roughly 18 out of every 100 high school students move on to some sort of post-secondary education.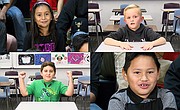 At Cottonwood-Oak Creek School District, children would like to triple that figure – and then some.
To help promote Arizona Governor Doug Ducey's Achieve60AZ initiative to make college a reality for 60 percent of Arizona high school graduates by 2030, the Cottonwood school district has partnered with Yavapai College's Clarkdale campus to create a video that features Cottonwood-Oak Creek students talking about their plans for the future.
At 2 p.m. Friday in the Cottonwood-Oak Creek School District gymnasium, Yavapai College President Dr. Penny Wills, Cottonwood-Oak Creek School District Superintendent Steve King and C-OC students will host the premiere of the video.
'One fantastic day'
With all grade levels and schools represented in the video, 100 Cottonwood-Oak Creek students participated in the project, according to Tricia Winters, executive assistant to District Superintendent Steve King.
Helen Stephenson, director of Yavapai College's film and media arts program, wrote and produced, and was script supervisor and talent coordinator on the video.
Says Stephenson, the idea and basic concept came from a similar video that Yavapai College President Dr. Penny Wills saw.
"I worked with President Wills, her executive assistant Karen Jones and Thatcher [Bohrman] on the tone and specific points we wanted to get across," Stephenson says. "I then worked with Steve King to coordinate getting the students to the campus and everyone was wonderful."
According to Bohrman, Teaching & eLearning Support Manager at Yavapai College, the video, which was filed on "one fantastic day," Nov. 6, clocks in at about three minutes. Filmed by Yavapai College's film students.
"They put this together, the logistics, permission slips. They filmed it and they edited it," Dr. Wills says. "I love how the film turned around to say 'will you support me?'"
Shorter versions at 30- and 60-seconds could be used for public service announcements or television commercials, King says.
Purpose
"You've got the film, I've got the kids," King told Dr. Wills prior to filming the video.
Though King says the video was "empowering" for the students to make, the purpose of the video is to "educate the public on the importance of post-secondary education and provide opportunities for our youngest learners to."
Says King, "every bit of research" indicates that "nearly all jobs" the next 20-to-30 years "will require" either certificate, an Associate's Degree, Bachelor's Degree "or more."
"So one of things we've been focusing on is building pipelines and collaborations to increase the post-secondary opportunities for future college attendees," King says. "Without the relationships developed in the College for Kids program, this would never have happened."
Dr. Wills says that "kids have to be ready to take those jobs" that a post-secondary education prepares them for.
"I just want them to be educated for the jobs in the world today," Dr. Wills says. "How do we invest now in the children to get to 60 percent? I'm adamant about this. It's why I got into education in the first place."
The Cottonwood-Oak Creek School District gymnasium is located at 1 N. Willard St. in Cottonwood. The video's premiere is open to the public. According to King, the district has invited students, parents, Yavapai College representatives, legislators, Governor Ducey's office and Achieve60AZ representatives to Friday's video premiere.
Call 928-634-2288 for more information.
-- Follow Bill Helm on Twitter @BillHelm42