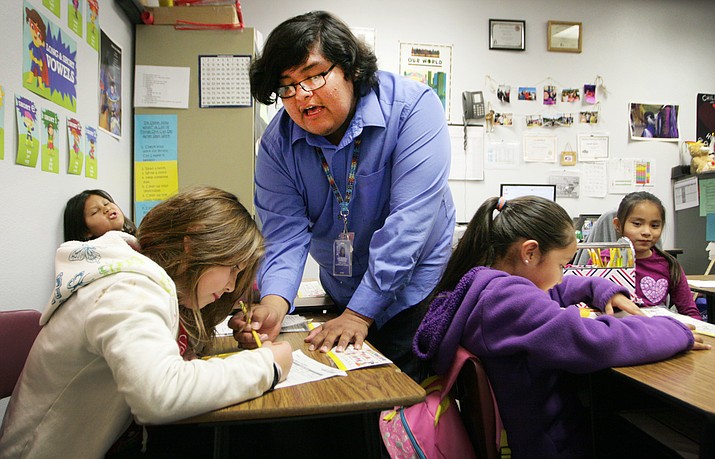 Originally Published: January 30, 2018 11:21 a.m.
CAMP VERDE – Ask Delmundo Cepress what he likes about teaching.
"Well, I wouldn't say 'like,' I would personally say what I love about teaching is that you would help these children who are coming into the school year knowing nothing about what is going to happen this year," says Cepress, the Johnson O'Malley Elementary Tutor at Camp Verde Elementary School.
Forward thinking, Cepress says his goal is to "try your best for these children, because you know that these children are going to become the leaders of tomorrow and you can help them reach that goal."
With two years in the education profession, Cepress has had a few epiphanies about teaching.
"When I was at Copper Rim Elementary in Globe was when the Vice Principal Mrs. T asked me to go down to the Kindergarten class to help read to the students and I would always go down to read to them," Cepress says.
"I think that was when I decided to become an educator."
Now that I think about this, I was told by my old high school counselor Mrs. Weir: 'I think you found you're calling. And that is to teach.' So right now I have my mind set on what I want to become.
"Working with my amazing and hardworking students is where I belong," he says.
"My goal is to have my students never give up and keep soaring for those stars and go beyond that," Cepress says.
"I hope that one day I would be there at their High School graduation and receiving that diploma. That is my goal for myself," he says.
"I would like to thank all my teachers, parents, Grandma Liz for never giving up on me."
TEACHING STYLE
"The teaching style I prefer is to have the students use verbal (using words for speech and writing), physical (hands on) and mental solving (thinking without using paper).
"In these methods I have seen many of my students succeed in their academic work."
NOTABLE
"Being recognized as one of the last people to hold onto the language, stories, history, songs and prayers. Being recognized by the Elders of the Yavapai-Apache Nation. Holding that kind of respect and responsibility as a young person. It is such a huge honor to be recognized by this opportunity.
"Right now I am in the process of receiving my degree in Elementary Education. I hope to someday become a teacher like the wonderful teachers that I work with."
QUOTABLE
"I believe each one of my students who come through my door can and will succeed. I understand that each student is very unique in their own way, but that is what makes them special to me.
"One of the quotes I love is by Walt Disney: 'The more you like yourself, the less you are like anyone else, which makes you unique.'"
DID YOU KNOW?
"When I became a little older, that was when I realized I wanted to be a doctor. But [when] I became older, I changed my mind again. But this time I thought, what about a teacher? I thought about all the times I would be play with my little cousin when I was younger she would have me be the teacher and I would teach her.