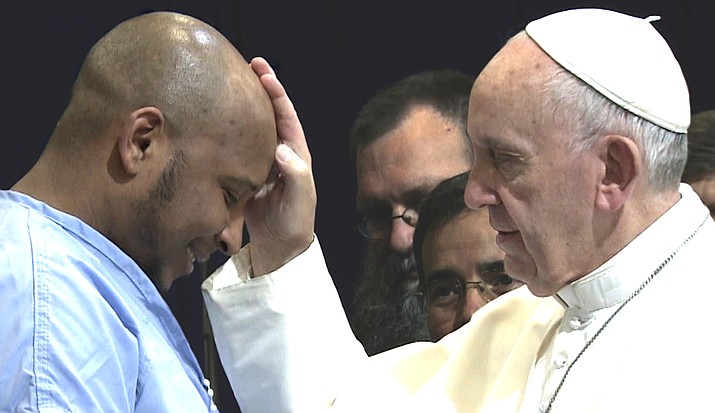 ---
---
The Sedona International Film Festival is hosting the Northern Arizona premiere of the critically-acclaimed new documentary "Pope Francis: A Man of His Word" — by acclaimed award-winning filmmaker Wim Wenders — showing July 13-18 at the Mary D. Fisher Theatre.
Hope is a universal message.
For the first time in history, experience an intimate conversation with the Pope about how to make a better world.
Wim Wenders' new documentary "Pope Francis: A Man of His Word" is intended to be a personal journey with Pope Francis, rather than a biographical documentary about him. The pope's ideas and his message are central to this documentary, which sets out to present his work of reform and his answers to today's global questions.
From his deep concern for the poor and wealth inequality, to his involvement in environmental issues and social justice, Pope Francis engages the audience face-to-face and calls for peace.
Wenders — the maker of "Wings of Desire" and documentaries such as "Buena Vista Social Club" and "Pina" — was given unprecedented access to Pope Francis over a two-year period for "A Man of His Word." The film revolves around a long dialogue with the pontiff, who answers questions about the chief global challenges facing the world today.
"I really hope that the film speaks to all sorts of Christians and non-Christians," Wenders says.
"Working with the pope," he added, "filled me with hope that religion could be taken more seriously again in many parts of the world as something open and as something helping humanity forward."
"Pope Frances: A Man of His Word" will be shown at the Mary D. Fisher Theatre July 13-18. Showtimes will be 4 p.m. on Friday, Saturday and Monday, July 13, 14 and 16; and 7 p.m. on Tuesday and Wednesday, July 17 and 18.
Tickets are $12, or $9 for Film Festival members. For tickets and more information, please call 928-282-1177. Both the theatre and film festival office are located at 2030 W. Hwy. 89A, in West Sedona. For more information, visit: www.SedonaFilmFestival.org.