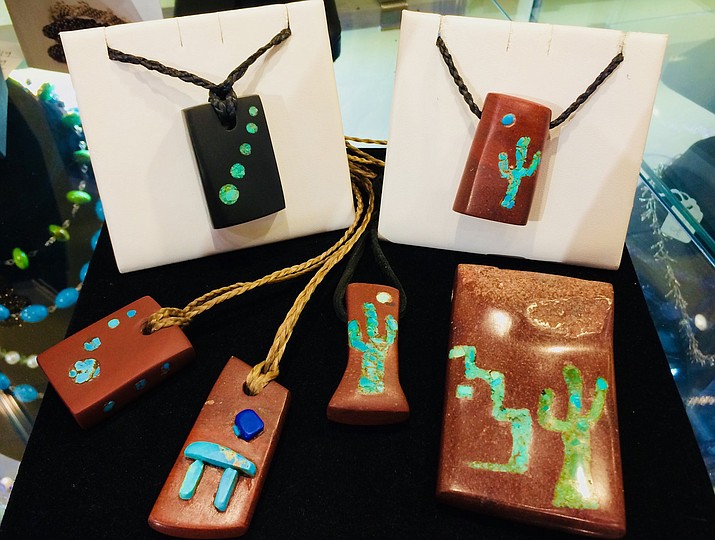 ---
---
As a boy growing up in the Verde Valley, Cheston Trammel was always captivated by nature and the surrounding environment. The history of the area, Native American mythology, Sedona's special geology, the mines of Jerome and more all held a living presence for Trammel that spoke to him deeply.  
As he grew, he was mentored from a young age by local carvers and found a real passion for stone. He was a young adult when he began carving small native stone fetishes that developed into a unique style of braided jewelry. The series, Spirit Bundles, which were woven with prayers, sold out at Goldenstein Gallery and was collected internationally.

Now, he has just debuted a new collection of these special pieces.
His handcrafted "Arizona Spirit Bundles" are adorned with hand-carved pendants inlaid with turquoise and lapis. Prayers and blessing are woven into each of these pieces. His distinctive and comfortable work is prized and worn by both men and women.   
In addition to his unique jewelry pieces he also has a stunning series of sculptural reclaimed metal bells have deep resonant tones and captures the essence of the high desert that he so loves.  "I've collected distinctive and antique metal pieces for years such as tools, gears and plow discs – many different unusual metal objects. Now I'm putting these interesting pieces into my sculptured bells. The bells tell the story in how they sound and what they are made of," says Cheston.
Cheston's bells are collected for their sculptural appeal and for their beautiful and uplifting resonance. He was commissioned to create the World Wisdom Bell for the World Wisdom Days Conference and a Peace Bell was commissioned for the Peace Garden at St. John Vianney church in Sedona. Multifaceted, he also creates one of a kind furniture pieces and architectural elements from native woods such as the ancient Alligator and Shaggy Bark Juniper.
"If these pieces could talk they could tell us the stories of past centuries," says Trammel.
The Juniper is valued for it's rich abstract grain patterns and golden highlights in which Cheston often inlays turquoise and other elements for added beauty and interest. One remarkable example of these pieces is the 21' long bar top at Etch Kitchen and Bar inside the acclaimed L'Auberge de Sedona Resort. You can also ring some of Cheston's reclaimed metal bells exhibited at L'Auberge.
Trammel's work, can be seen at Goldenstein Gallery and at locations throughout Sedona. For a complete listing of places to view his pieces please visit Goldenstein Gallery at or call 928-204-1765.
For more information on Goldenstein Gallery artists, artwork, Exhibits Sedona City Wide, Artists in Residence and events please visit GoldensteinArt.com. Sign up for their monthly E-zine, Instagram and Facebook or call 928-204-1765. Open daily, Goldenstein Gallery's address is 150 State Route 179, at the corner of SR179 and 89A. Voted Best Gallery in Sedona 10 years running and recently named the best place to shop in Sedona by USA Today 10 Best, Goldenstein Gallery is known for its diversity of world-renowned local and regional artists in all media and styles.