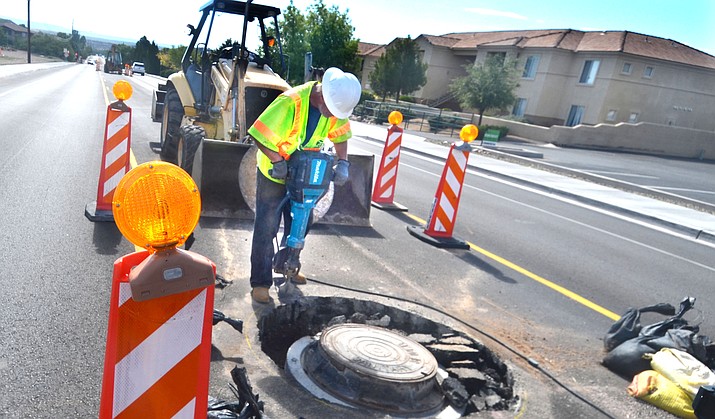 Originally Published: July 19, 2018 1:21 p.m.
There's good news and bad news concerning the behemoth known as the Mingus Avenue reconstruction project, according to Cottonwood City Engineer Robert Winiecke.
The good news is the project is almost complete. The bad news: the city will have to cough up more cash for the project's current phase.

Tuesday, Cottonwood City Council approved $300,000 in additional expenditures.
The Arizona Department of Transportation has been overseeing the current phase of the project and is responsible for design, inspections, material testing and contract administration, according to staff documents.
According to staff documents, this phase has been partially funded with more than $800,000 in federal funds. As per a contract agreement with the Arizona Department of Transportation, the city is not an authorized administrator for these funds and must pay 15 percent of the costs. Meaning, the city can't say no if it wants access to federal dollars, according to Cottonwood City Attorney Steve Horton at the meeting.
"We've bound ourselves and this isn't negotiable," he said. "They had us like they have any other local government that promised to pay any overages plus the administrative costs."

Horton said ADOT is "notoriously challenging" when working with local jurisdictions.
These additional funds are meant to cover cost overruns necessary to complete the project, according to staff documents. The estimated overage costs are approximately $243,000 but staff recommended $300,000 to be safe. The project was initially projected to cost just under $2.1 million.
Winiecke said in the future, the city can exchange federal funds for state dollars since the state recently reauthorized the Highway User Revenue Fund exchange.
"We can actually take advantage of that," he said. "Basically we lose ten cents on the dollar but we no longer have to deal with ADOT administrating our projects and we also get the option to incorporate business into our projects … we're trying to keep that control."
City Manager Doug Bartosh suggested writing a letter of concern to the director of ADOT.
"There was disappointment all throughout this project about how it was managed," he said. "We've become a scapegoat for a project that just didn't seem to be managed very well."
In the meantime, city staff is going to approach the Northern Arizona Council of Governments to help cover the additional $300,000 expenditure.

--On Twitter: @KelcieGrega