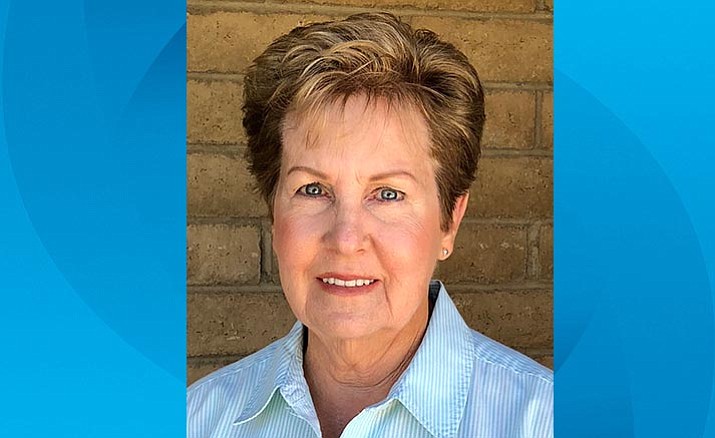 Originally Published: June 16, 2018 4:03 p.m.
• Age: To quote Eleonore Roosevelt, "A true lady never tells her age."
• Years in AZ/Verde Valley: Native Arizonan and 26 years in the Verde Valley
• Education: MA from ASU, BS from NAU
• Professional and Military History Educator for 31 years. Retired as an Assistant Dean from Yavapai College.
• Elective and Advisory History:   Camp Verde Town Council 7½ years, CV Planning and Zoning Commission, Faculty Advisory Committees, Student Leadership Advisory Committees, and others.
• Civic Involvement and Organizations: Served on two Education Committees, Library Endowment Board for 10 Years, Member American Legion Post 93, Church Finance Committee, Bell Ringer for the Salvation Army, Previous Tax Preparer for AARP, and Long Time Volunteer for Camp Verde Events.
Camp Verde now has a new library and soon will have a new sports complex. What do you view as the other major municipal needs of Camp Verde. Where should they be located? How should they be paid for?
The greatest need in Camp Verde is for the government to be responsive to its citizens. Our tax dollars should be spent more efficiently for the benefit of the citizens. Camp Verde has borrowed quite a bit of money in the last few years creating a large debt to income ratio. If this trend continues, someone will have to pay higher taxes. My preference would be to lower taxes not to increase them. Perhaps we need to look at ways to limit government and decrease the budget.
Camp Verde's history is something to be treasured and maintained. As we look for ways to increase our revenues, we need to make sure that we protect the small town atmosphere that we have all come to appreciate. The building of the new library is a real asset to the community and development of the community park (sports complex) will eventually provide more recreational opportunities for the entire community.

To summarize, a successful council term for me would mean that the citizens perceive our government as being transparent and actively serving the needs of the citizens.
How would you characterize the operations of Camp Verde's town government? What are the town's strengths and what are its most noticeable weaknesses?
The Camp Verde Town Government is the Town Council elected by the citizens. The true governing body of Camp Verde is its citizens. Many people I have spoken to seem to feel that they have little say in how town government operates. To help strengthen the bonds between the voters and those who represent them, we need to improve interaction and communication between the residents and the Council. It always helped when the paper would inform their readers of Council meeting times and agenda items up for discussion. The community would benefit from the Council and the media working together to ensure honesty and transparency from our government. Information is essential to democracy.
What involvement have you had with the Town of Camp Verde, and/or specific town issues, in the past, and how does that experience best qualify you to serve the citizens of Camp Verde?  
My service as a Council Member for 7 and ½ years and as a Planning and Zoning Commissioner has given me the experience to continue to serve the citizens of Camp Verde. During my career, I was responsible for preparing and managing budgets for large departments. My degrees are in business, and computer science and that has provided me with the knowledge base to effectively serve on the Council.