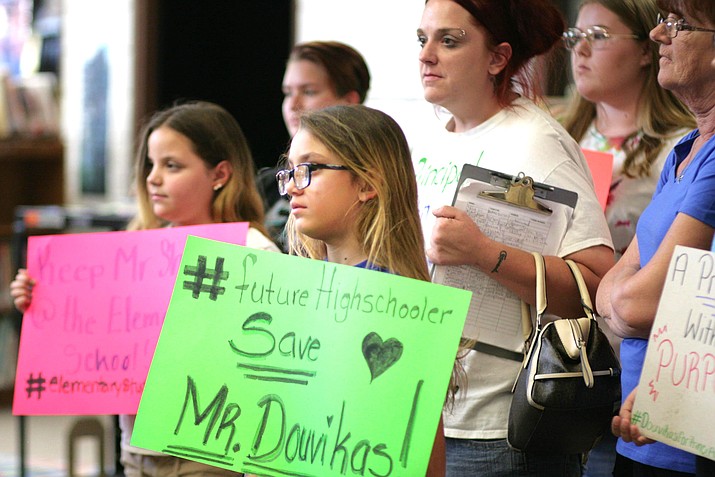 Originally Published: June 16, 2018 12:08 p.m.
My name is Rayanne Wetzel and I was one of the students who showed up to [the June 12] board meeting in support of keeping Mr. Douvikas at our school.
During my sophomore year, Mr. Douvikas' first year at CVHS, I have to say, I found him to be very interesting and quirky. I knew from the very start that he was different than any kind of staff member at this school district, and as time went on I saw how he had no problem making conversation with any student during lunch and inviting himself to their tables to talk.
Most students would probably find that weird or intimidating to have their principal come up and talk to them outside of class, seeing as most of the time you only spoke with your principal during lunch if you were in some kind of trouble or other school-related issues.
He always did his best to develop a relationship with the students, and had no problem showing it either. There has been many times where I have come to him for help and advice when I was going through a rough time and he always made an effort to check up on me and be there for me.
He'd come into my history class when he knew I was feeling a little uneasy just to 'compete' with me in order to encourage me to do my best in trying to beat him.
Even though I don't think I ever remember getting a higher score than him in history, it still motivated me to try my best. Math was a different subject though; he never saw it coming when I corrected him on a bellwork problem and rubbed it in his face later on because I was proud of myself.
In my time of getting to know Mr. D, I've developed a very close, personable relationship with him in which I knew I could always trust him. He also holds all of us accountable for our own actions, and as time went on I started to introduce him to my family as 'my dad at school.'
This man has helped so many students out and have encouraged them to be the best in so many ways. He fed us when he knew we hadn't eaten or if we just had no energy to get through the day because our tummies were growling.
He makes an effort to check up on us when he knows something is wrong, and he rewards us when we accomplish something, whether it be passing a test or winning a football game or whatever big event took place in your life that made you feel good about yourself.
He didn't judge based on the person's looks, heritage, academic talents, family, etc. He is an outstanding principal, and I would hate to see him go.
I told him that I don't know what I'm going to do without my school dad being there to encourage me to try harder every day.
In all honesty, I think the school needs to set their personal problems aside and let things go and move on. It's about forgiving and forgetting, and remembering that expectations do lead to resentments and as staff members and role models they should take that into consideration, not only for themselves but for us students.
Where do we get a say in any of this? You have over half the school that wants to keep him and have all made it pretty clear with the threats of a student walkout, and yet none of us get a say? Instead we get threatened to get in trouble because we want to stand up to help our principal?
I feel that people need to learn how to act like grown adults and quit holding specific people accountable and instead look at the situation from the others eyes and develop a strategy to make it work for both sides.
They talk about compromise in school and talk about being the better person and a responsible adult, but I don't see that happening with them as co-workers. Not saying all staff members are like that, but I know it's a problem that is there.
Not everyone is going to get along and you're not always going to meet eye to eye with your boss, but that is all a part of life. It is no reason to act childish in wrongfully pushing someone out of their position. They say that Mr. D is such a bad guy and he's done bad things for our school, but why is that when we ask nothing is ever said? No reasons are ever given? They just stick with their decision and disregard what everyone else has to say about it. They want us students/family members to stop all of this and to just let it be, yet they aren't willing to give a good enough reason as to why this is for the best?
One staff member told my mom over the phone that this is good because he is so good with us as far as test motivation so moving him to the elementary school will help the elementary schoolers with test motivation, but where does that make any sense?
Wouldn't you think that having motivation in passing your tests is more important in high school? We grow up all our lives hearing that high school is where it counts and that's where your future starts because colleges are going to look at everything you do in high school. Yet they want to get rid of the biggest motivation asset for high schoolers to help elementary schoolers with tests that aren't nearly as complicated as the ones they hand you in high school. 
Mr. D deserves to have his voice heard and we students deserve to have a say. It's our high school too, and I know we aren't all going to be here forever, but we know what's best for us students as a whole, and any oncoming students throughout the years.
In August, Rayanne Wetzel will be a senior at Camp Verde High School. Wetzel's letter opposes Camp Verde Unified School District's decision to reassign Jason Douvikas from principal at the high school to assistant principal at the elementary school, as well as the district's mentor teacher and test coordinator.