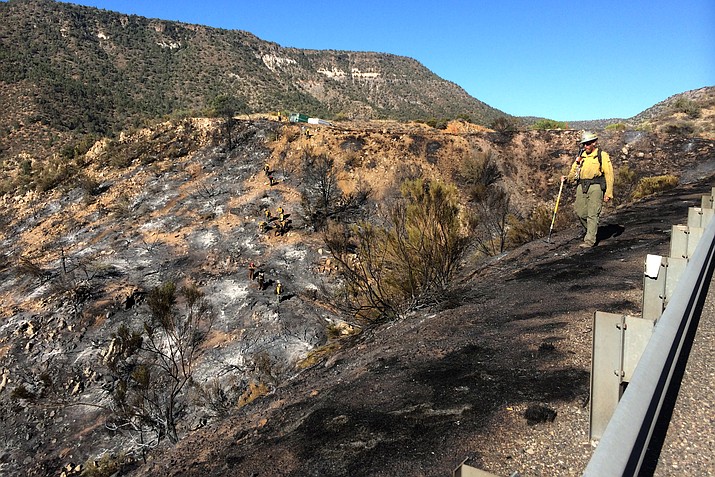 Photo by Vyto Starinskas.
Originally Published: June 27, 2018 10:53 a.m.
CAMP VERDE – The 106-acre fire that forced the temporary closure of I-17 between SR 260 and SR 169 is 25-percent contained, the US Forest Service said Wednesday in a press release.
What started Tuesday afternoon as two small brush fires just south of Camp Verde "should be 100-percent contained by late-Wednesday afternoon," said Debbie Maneely, Public Affairs officer for the Prescott National Forest.
Copper Canyon Fire and Medical Authority reached the fire shortly after 1:30 p.m. and "provided the initial attack" on the fire before firefighters from the US Forest Service arrived, Copper Canyon Fire Chief Terry Keller said.
Copper Canyon then lent support to the US Forest Service firefighters, Keller said.
"We kept two water tenders to support," Keller said.
Verde Valley Fire District, who also helped contain the fire, provided one water tender, Keller said.
What started as a three-acre and five-acre fire started about four miles south of SR 260 along I-17, the cause of the Copper Fire is still under investigation "though most likely caused by a vehicle, either brakes or a chain dragging," Maneely said.
"It's usually pretty hard in a situation like this to determine a cause," Maneely said.
With Tuesday's weather "dry, hot and windy," Maneely said it was "not a good combination to have a fire."
US Forest Service firefighters arrived at the Copper Fire on Wednesday morning and reported "smoke and some interior burning," the press release stated.
"They will remain on scene today securing the perimeter and extinguishing remaining hot spots," the release also stated. At this time, the fire is contained to the I-17 median, with "very little burning" on the east and west side of the interstate.
As a safety precaution, US Forest Service is encouraging motorists to drive slowly, obey all traffic signs, and to use caution when traveling near the fire as firefighters and fire-related traffic will be parked and walking on the shoulder.
US Forest Service also said to "check with your local fire department on specific fire restriction in your neighborhood and become familiar with the fire restrictions that exist across Yavapai County and Arizona State Lands."
Visit www.firerestrictions.us or call 1-877-864-6985 for current fire information and restrictions.
Other useful phone numbers and websites include the Prescott National Forest website https://www.fs.usda.gov/prescott, Arizona Fire Restrictions at https://firerestrictions.us/az, Public Lands in Arizona at www.wildlandfire.AZ.gov or 1-877-864-6985, and the Verde Ranger District at 928-567-4121.
-- Follow Bill Helm on Twitter @BillHelm42