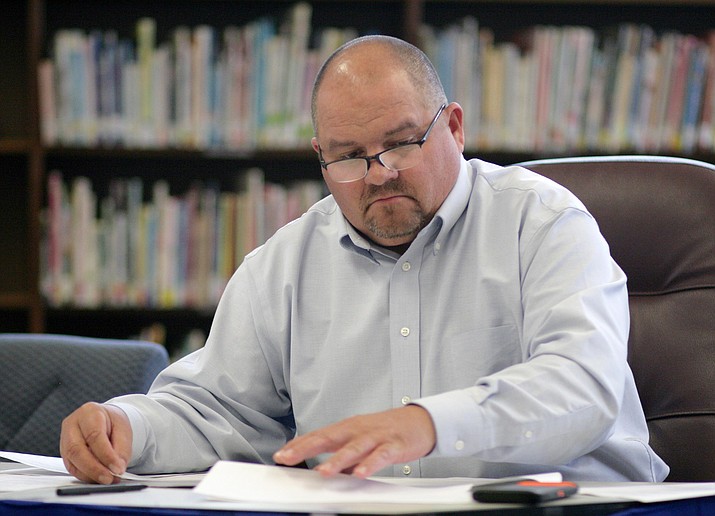 Originally Published: March 1, 2018 8:22 a.m.
CAMP VERDE – At 5 p.m. Thursday, Camp Verde School District's governing board will meet in a special actionable work session to decide how to move forward with its search for the district's next superintendent.
On Feb. 13, the district named Camp Verde Middle School Principal Danny Howe as the district's administrator-in-charge through June 30.
Thursday, the board could decide to extend Howe's appointment through the 2018-2019 school year.
The board will also consider how to move forward with plans to have Arizona School Boards Association help with the district's superintendent search.
Should the board choose to keep Howe as administrator-in-charge through the 2018-2019 school year, CVUSD would likely ask ASBA to commence its search in fall 2018.
If the CVUSD board decides to not extend Howe's duties beyond June 30, then it likely would sign an agreement with ASBA immediately.
On Feb. 13, the district's governing board decided that Superintendent Dr. Dennis Goodwin should be on home assignment for the duration of his contract, which expires on June 30.
In a letter District Governing Board President Tim Roth read on Feb. 13 that was subsequently given to Dr. Goodwin: "The governing board wishes to provide you the opportunity to complete your district obligations while [tending] to your future needs."
Dr. Goodwin has been superintendent of Camp Verde schools since July 1, 2015.
A copy of the Thursday agenda is available at: http://campverdeschools.org/board-agendas/3-1-18-actionable-work-session.
-- Follow Bill Helm on Twitter @BillHelm42
More like this story