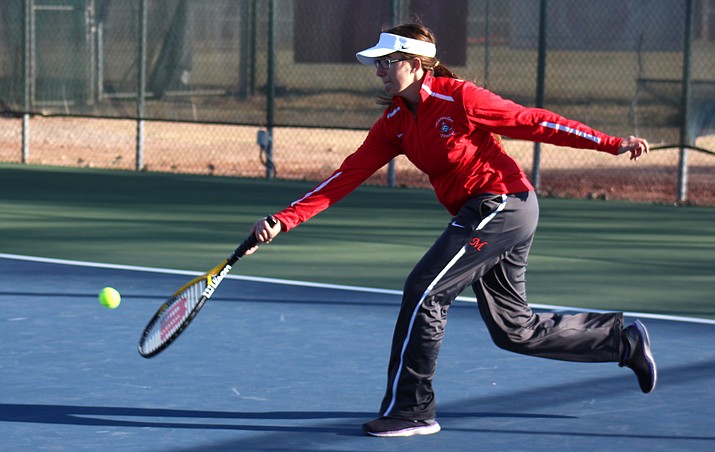 Originally Published: March 1, 2018 1:58 p.m.
Mingus Union girls tennis lost a key player but returns its No. 1 and features a promising freshman class.
The AIA ruled senior Emma Williams ineligible after she transferred back to Mingus Union after a stint at Northwest Christian.
"So that put a hole in our number two position," said Mingus head coach Andrea Meyer. "She's here helping us, she practices with us and
she's kind of a peer coach."
Although she transferred back from academic reason, because NC doesn't have a CNA program, the AIA ruled it a double transfer and denied her two appeals, Meyer said.
She wants to be a missionary nurse.
Williams' former partner on the No. 1 doubles team, senior Talon Whiteley has impressed with senior Pei-Wen Yang.
"Talon and Pei-Wen played really well together in that first match but again they're getting used to communicating and so on," Meyer said.
In singles, Whiteley is No. 1 and won her first doubles and singles matches of the year with aces.
"She won both of them on a new serve, that she was taught, a slice serve," Meyer said. "So I'm really, really proud of Talon and the way that she is trying to introduce some finesse and some sophistication into her shot selection."
The Marauders lost their first match 5-4 to Moon Valley and then their second was suspended due to rain.
Mingus Union has seven or eight freshmen, who have impressed Meyer. The Moon Valley was played on a very windy day but despite being new, they "served with courage."
"The team has a good nature about them and a willingness to work and an alacrity to work but they lack that experience," Meyer said. "So we've really been working on catching the ball in the strike zone so that we're hitting it at the optimal place but the girls are just learning their basics."
Senior Saya Federbush is in her second year of tennis and is the No. 5.
"She's acquiring a slice back hand, she's hitting with authority, couldn't ask for more from her," Meyer said.
Meyer said senior Kylie Densmore senior has "really stepped up her game."
"She's hitting through the ball, she's a defensive player and so my goal for her this year is to really become a queen of that defensive play, so that she's always pushing her opponent into the back court and she simply gets balls back over and over and over because she has such a nice topspin," Meyer said.
She also said Chelsea Clark has really stepped up her came, specifically when it comes to control.
"We coaches are working on relaxing her arm because she has that softball background and she's really made some improvements in her stroke," Meyer said.
The Marauders' next home match is Mar. 8 when they host Dysart at 3:30 p.m.
"I'm as happy as I can be as a coach," Meyer said.