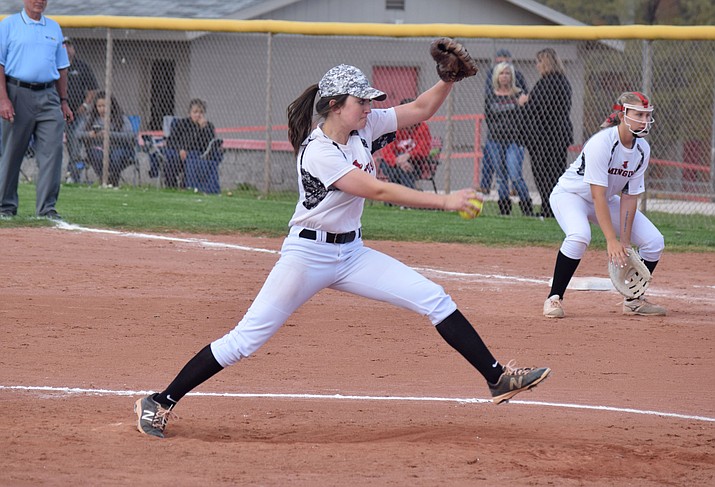 Originally Published: March 1, 2018 1:11 p.m.
Mingus Union senior softball player Kaycee Williams has been leading in the circle and at the plate this season so far.
Williams (1-0) took over the ace role this season and also hit a home run in the first game of the season.
She's headed to Mesa Community College next year.
VVN: How's the start of the season been for you?
Williams: The start of the season's going really good I mean we won our first game so we're looking pretty strong at this point.
VVN: How about for you personally?
Williams: Personally I know what I need to work on to improve my game and I'm ready to work hard and get there.
VVN: Has taking over as the ace been like you expected or a little different?
Williams: Well I mean I got a lot of playing time last year, so it wasn't like it was a huge change for me but I'm excited to be in that spot this year.
VVN: Did your responsibilities off the field change, like lead a little bit more, being a senior too?
Williams: I've always tried to be different than everybody else and try and be an example for all the younger girls.
VVN: What's your favorite part about playing softball?
Williams: Probably just the adrenaline rush you get like especially when you're in a really tight game and everyone's up on the fence and yelling and it's just all the energy and passion.
VVN: What's more fun, like to get a big strike out or to get a big hit like a home run or something?
Williams: I think for me getting a big hit for my team is more exciting than a strike out.
VVN: How's school been going for you?
Williams: School's been going really good, I mean it's senior year, four classes, but still there not easy, I gotta work hard every day.
VVN: Finally, do you know what you want to do after high school?
Williams: Yeah, I signed to Mesa Community College to play softball on a partial scholarship, so I'll be going there. I don't know my major yet.
More like this story