Originally Published: March 3, 2018 12:38 p.m.
Camp Verde High girls basketball filled up the All-Central Region teams, with five getting recognition.
Sophomore post Jacy Finley and sophomore guard Tanna Decker were selected to the first team. Sophomore point guard Amanda Lozanilla and junior guard Hope Ontiveros were on the second team.
Sophomore forward Destiny Dowdle was honorable mention.
Sedona Red Rock's Liza Westervelt, Jackie King and Jo Toscano were on the first team. Two other Scorpions, Mary Westervelt and Brittany Medel, were on the second team.
"I was pretty happy," said Camp Verde head coach Mark Showers. "I felt like the coaches in the Central Region got it right. I mean both Sedona and Camp Verde had basically our starting fives on the All-Central team, which was exactly the way it should've been."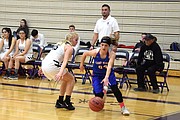 Sedona Red Rock's Dave Moncibaez was region coach of the year and Liza Westervelt was region player of the year.
Decker won Camp Verde's offensive player of the year award and Finley CV's defensive player of the year award. Lozanilla and sophomore guard Anna Peterson won the Cowboy Character Award.
"She's grown quite a bit," Showers said about Decker.
He said the CV coaches had a hard time picking both the offensive and defensive player of the year awards.
"Jacy is such a presence in the middle of the floor," Showers said.
The character award is for Cowboys who work hard, are good teammates, and exhibit ideal traits.
Showers said it was hard being a back up to two of the best guards in the region but Peterson excelled.
"She just maintained her composure and had a good attitude all year long," Showers said.
More like this story