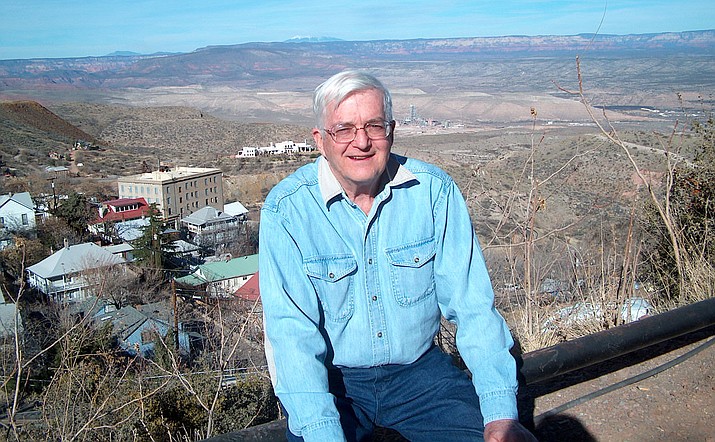 Originally Published: March 3, 2018 12:39 p.m.
Paul Atwill Handverger led a life full of exploration, discovery, and an uncommon love for his family, friends and community.
Paul passed away on Feb. 16, 2018, ten days shy of celebrating his 83rd birthday. Paul was born in Cambridge, Massachusetts on February 26, 1935 to Abraham and Cora Handverger and grew up in the small town of Medway where he met his future bride, Roberta Elaine Newton. They were married in 1957, celebrating their 60th joyful year together, this past August.
Education, and more specifically, the love of learning was ever present in Paul's life. Initially, he was focused on his love of rocks and minerals. His formal education included a degree in geology from Dartmouth College in 1956. He then went on to earn his Master of Science in 1963 from the University of Arizona in the same field.
Paul was Vice President and Chief Geologist for Verde Exploration, managing the mine and related properties in Jerome from 1963-1992. Over his thirty-year career, he consulted for over twenty different major mining companies throughout the western United States, northern Canada and Mexico. Together with his wife, he ran helicopter accessible field camps, living in Alaska for several years.
Paul wrote that "Everywhere, the book of rocks surrounds you presenting the story of our planet". He enjoyed his career in geology which allowed him to tell that story, publishing over a dozen articles in the field as well as sharing it in lectures and field trips. Paul served as faculty for the University of Arizona and more recently taught geology at Yavapai College.
But his passion for learning is better demonstrated by a glance at his notably eclectic and expansive library which was continually being added to as well as shared with others. Paul was an avid reader across a wide variety of genres, and easily engaged that joy with anyone who had an answer to his question, "What have you been reading?"
Lest one who had the misfortune of not knowing Paul, stereotype him as a cloistered bookworm, there was an entirely different side to him more akin to veritable mountain man; one who wore a full leather ensemble while winning the state championship in muzzle loading. He was a Marine (Semper Fi!), serving right out of college, and serving next with the Civil Air Patrol where he retired as a Colonel. He was scuba certified, a U.S. Distinguished Rifleman (1971) and a small craft pilot with over 3500 logged hours; mostly with his familiar red and white Cessna, and some with a more recent affection; an acrobatic bi-plane.
But there was another side of Paul that was deeply committed to and invested in the service of people and to the community around him. As a dedicated pilot, it was a natural fit for Paul to become involved in the Civil Air Patrol where he served for twenty-two years. He completed many search and rescue missions and Cadet orientation flights. He took on leadership positions at the Squadron, Group and State levels eventually becoming the Wing Commander of the State of Arizona. He was committed to serving and as with all his endeavors, he was faithful to doing it well.
Paul was also a contributing servant to the community of Clarkdale. He was a Town Councilman, an Assistant Fire Chief and a two term Vice Mayor. Over the half century spent in the Verde Valley, he collected many stories and photos of the area, eventually authoring a book, "Images of America: Clarkdale." His desire to share the importance of Clarkdale and its impact on the Verde Valley and beyond were perhaps his motivation to help establish photographical displays in the Clarkdale Historical Society Museum.
With all that he accomplished with his career, his service to others, all of his research and writing, and all of his passions, he made it clear that his family and dear friends were the most important in the world to him. He loved laughing and telling stories around the dinner table. He was proud and supportive of his children encouraging them to pursue their dreams and passions. Committed to continued education, he made provisions to aid all his grandchildren, insuring their option for higher education. His children and grandchildren will remember him as a joyful, committed husband of his beloved wife, who lived real life adventure stories with bears, bush camps and canoe trips down the Yukon.
Godspeed Colonel Handverger, Dad, Husband, Friend, #14 (Football and Hockey), Teacher and Community Servant.
Paul is survived by and will be very much missed by his wife Roberta; his three children Thomas Handverger (Ardell), Nancy McConlogue (Sean) and Judy Smith (Timothy); grandchildren Tucker, Ty, Patrick, Kevan, Erin, Meaghan, Quinlan, Zechariah and Asher. He is also survived by his many cousins in Massachusetts and St. Jean, Canada.
Closing with his words, easily evidenced by his life, "Seek discovery. Learn to recognize discovery. Discover yourself and discover the world. Oh! And on the way, listen to the music."
A private service will be held in Clarkdale. In lieu of flowers, donations may be made to the Clarkdale Historical Society either online at www.clarkdaleheritage.org/donate or sent to 900 N. 1st Street, Clarkdale, AZ 86324 or to the Civil Air Patrol Cadets, Sedona Squadron 205. Care of Vic LaSala, 119 East Tonto Drive, Sedona AZ 86351.
Information provided by survivors.
More like this story