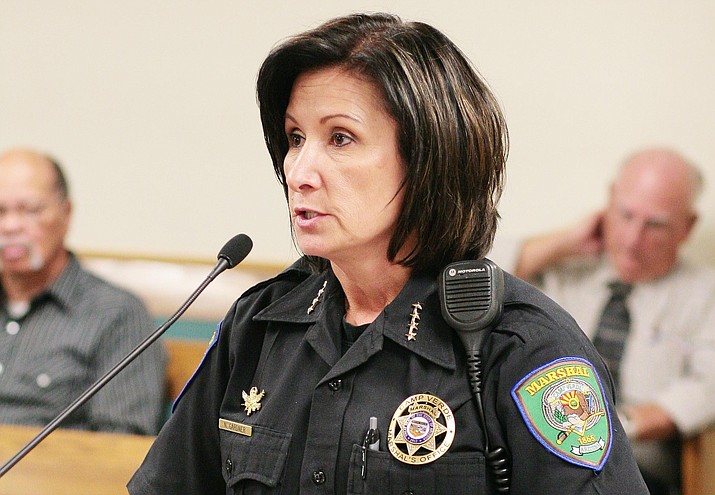 Originally Published: March 8, 2018 9:48 a.m.
CAMP VERDE – After a four-month investigation by Arizona Department of Public Safety, Camp Verde Town Manager Russ Martin has announced that Marshal Nancy Gardner resigned her position effective March 12.
Through the investigation, Arizona DPS determined that Gardner "created and pursued a personal policy of intimidation and fear amongst her subordinates in an attempt to maintain her position," Martin stated in a March 7 press release. "Her actions in some areas are unacceptable and warrant action to ensure proper professional culture at the Camp Verde Marshal's Office."
According to the investigative narrative of the professional standards complaint dated March 2, DPS summarizes that Martin first discussed with CVMO employees about their concerns with Marshal Gardner.
"By the end of [a summer 2017 meeting between Martin and five CVMO employees], Mr. Martin was near tears, and apologized to the employees because he felt very responsible for having no clue about the issues that had been going on at CVMO, in some cases for years, and the employees did not feel they could come forward with their concerns," the investigative narrative stated."
The Town of Camp Verde's personnel policy affords Gardner the opportunity to file an appeal to a hearing officer, the press release also stated.
Martin said that the decision to remove Gardner from her position was "not easy," as he struggled "hold back tears" when he told Camp Verde Marshal's Office employees.
"I'm a little frustrated," Martin said Thursday morning. "She's a very good lady and deserves a lot of accolades. To do something so difficult was – difficult."
A "pretty emotional day for me," Martin met with Gardner on Wednesday morning to discuss the findings of the DPS report.
"I was still back and forth," he said Thursday morning. "Ultimately, there's things that needed to be corrected."
Martin said the decision to remove Gardner from the Marshal's Office did not make him "feel good."
"But I did what I know was right," he said.
Commander Brian Armstrong will continue as interim marshal, Martin also said.
Gardner, who was placed on administrative leave with pay on Oct. 23, said Thursday that she plans to "participate in the appeal process."
"During my tenure, I am proud of the accomplishments that were made and I want to thank the council, citizens, employees, volunteers and local law enforcement agencies for their dedication and commitment to the Marshal's Office," Marshal Gardner said. "The allegations and reasons for my termination I feel are not justified."
Gardner, who joined the Camp Verde Marshal's Office in January 2012, said Thursday that it was "with great pleasure to serve the Town of Camp Verde as Marshal for the past six years."
"I worked to implement professional standards and high expectations of the employees and volunteers of the Marshal's Office," Gardner said. "I thank the citizens of Camp Verde for their support and the trust that they gave me. It is my hope that the Marshal's Office continues to improve and grow on the foundation created."
-- Follow Bill Helm on Twitter @BillHelm42