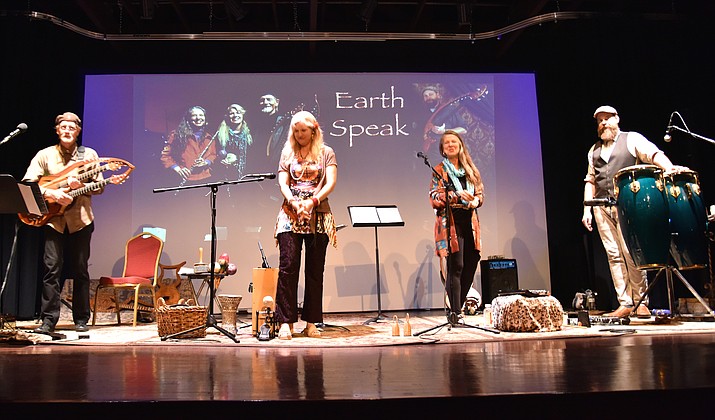 ---
---
If You Go ...
• What: Arvel Bird & Earth Speak in Concert
• When: Saturday, March 17, 7:00 PM
• Where: Old Town Center for the Arts, 5th Street & Main, Cottonwood
• How Much: $20 advance, $22 door, $25 priority seating
• More Info: Call (928) 634-0940 or email www.oldtowncenter.org
Internationally acclaimed Arvel Bird & Kimberly Kelley join with eco-music group Earth Speak to celebrate St. Patrick's Day and the Spring Equinox for a special concert at the Old Town Center for the Arts.
The concert will feature Celtic and new world music for an entertaining and enchanting evening to celebrate St. Patrick's Day and the earliest traditions of winter turning to spring.

Arvel Bird traces his roots to Celtic and Native musical styles to offer lively fiddle tunes and cedar flute songs, accompanied by his life partner Kimberly Kelley on the Irish bodhran and percussion.

Earth Speak's music is devoted to the natural environment and the miracle of Earth's planetary biosphere.  'Earth Speak' is connected to the rich oral tradition of our indigenous and contemporary ancestors and our mutual engagement in communicating with the plant, animal and elemental worlds.
In many cultures, the March Equinox marks a time of transition and new beginnings. The Spring Equinox is the beginning of the 'light' half of the year where the sun is strongest and the days are longer than the nights. Indigenous cultures for thousands of years have celebrated through music and ritual the beginning of spring and new fertility and growth. St. Patrick's Day grew out of these ancient traditions and was initially associated with the 'Green Man' an ancient Celtic symbol.

In Celtic mythology, the Green Man represents the god of spring and summer when vegetative or plant growth is at its height. He disappears and returns year after year, century after century, enacting the spiritual themes of death and resurrection, the ebb and flow of life and creativity.
Tickets are available online at www.showtix4u.com, in Cottonwood at Desert Dancer and Mount Hope Natural Foods; and in Sedona at The Literate Lizard.