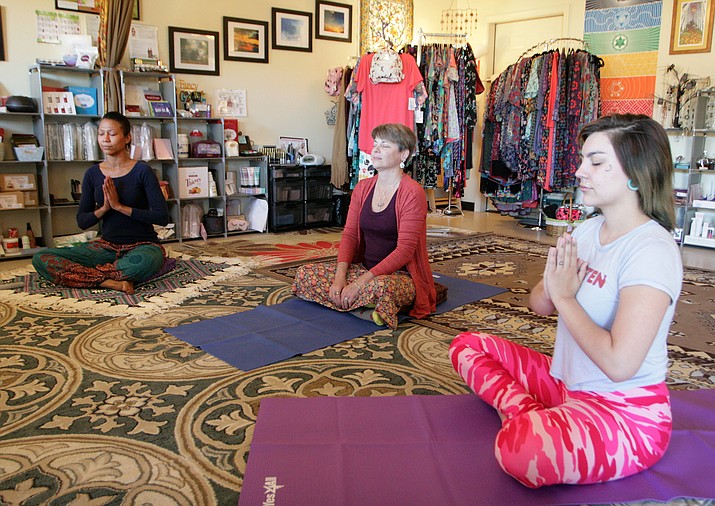 Originally Published: March 15, 2018 3:26 p.m.
When did you decide to open Emerald Waves Healing?
After many years of frustration with the direction which the mental health system was going, I was pretty disgusted," Dargon says. "People are prescribed pretty serious medications, given them too easily and present them as if this is the solution. There is so much more that can be done to help people and avoid side effects or even addiction.
How do you stand out in an industry with a lot of choices? "
I wanted to create a place where people could come to relax, and receive a wide variety of services at more economical levels," Dargon says. "Many people want yoga, massage, reiki and other treatments. So the main purpose of Emerald Waves is to provide Rimrock and the Verde Valley a comfortable healing and wellness center where they can just stop by and have tea, attended classes and receive an extensive array of services at affordable prices. When people want to be healthier, it should be affordable and not something that should cause more stress due to financial strain.
What do you like most about your work?
When I put the word out, the responses were incredible," Dargon says. "I have met fabulous people and now [I] have a team of practitioners who are amazing people and I am blessed to have them in my life.
Rimrock — At Rimrock's newest business, there are no set hours, says Christine Frydenborg Dargon.
But if you see the shade on the door up, it's pretty certain we are open," says Dargon, owner and manager of Emerald Waves Healing. "Our hours are going to be when people want to come in, so I guess 24/7.
Not to be confused with the Emerald Waves Healing in central Tokyo (thanks, Facebook), Dargon's new business – open since mid-January – employs a team of practitioners that offers Breema bodywork, coaching, counseling, cranial sacral, essential oils, guided hikes for all levels, herbs, massage, meditation, phototonic needleless acupuncture, reflexology, reiki and both gentle and restorative yoga for all levels.
But there's more – or there will be more – depending on what folks ask for.
"We want to hear what the community wants and [we] will offer it if we have a trained practitioner to do so," says Dargon.
Emerald Waves Healing is also a full retail space that offers products that Dargon says "help people with their well-being and just make you feel good."
Products available at Emerald Waves Healing include leggings, 100-percent all-pure oils, essential oil health products, organic bath products, facial products including cosmetics, jewelry, manicure and pedicure products, candles, reed diffusers, aromatherapy diffusers good for the home and the car as well as lave bracelets and pendants, teas, as well as healthy drink and snack mixes.
Recently, Dargon spoke with a couple who does yoga with their 15-month-old daughter.
"I asked if they would be interested if we offered parent-child yoga classes," Dargon says. "They replied yes. So I have been talking to one of our practitioners about offering such yoga classes."
Emerald Waves Healing has been open since Jan. 14. Dargon says the business has "sliding scale pricing" for most services.
Emerald Waves Healing is located at 3470 E. Beaver Creek Road, Suite A – between the old and new Robbie's Restaurant – call 603-321-7284 for more information.
Or visit the Emerald Waves Healing Facebook page.
Once the website is up and running, you can also visit www.emeraldwaveshealing.com.
-- Follow Bill Helm on Twitter @BillHelm42