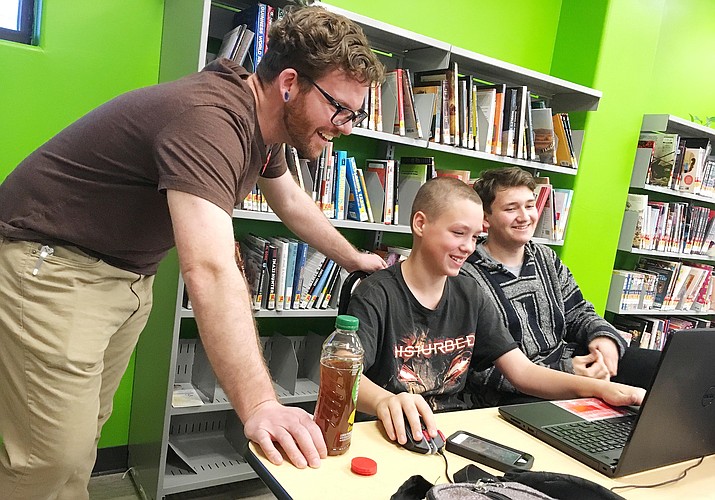 Originally Published: May 12, 2018 2:44 p.m.
CAMP VERDE – For the past couple of months, folks at the Camp Verde Community Library have been getting used to expanded hours in the teen library department.
Formerly a newspaper photojournalist, Zack Garcia said he jumped at the opportunity to work as the library's new Teen Librarian, even though the hours first offered were part-time.
But the Town of Camp Verde had room in its budget, so Town Council voted 7-0 on March 7 to offer Garcia full-time work, as well as to offer full-time status to Adult Programs Library Specialist Carson Ralston.
"Now I'm a full-fledged librarian," Garcia said.
To Brice Gorda and Jonah Ray, Garcia always was fully fledged.
Brice has utilized the Camp Verde library's services since it opened its two-story, 17,000 square-foot center in November 2016. To the 13-year-old Camp Verdean, Garcia is the "kind of person who always tries to make everything fun."
To Von Hatch, fun just might be an understatement. Hatch, the library's Teen Library Clerk, kids "respond to Zack's presence in ways they didn't respond before."
"The way he's assumed command of the facility, his relationship with the teens has grown tremendously," Hatch said.
'Safety and service perspective' Camp Verde Community Library Director Kathy Hellman said that both Garcia and Ralston "are fantastic people" and that she is "grateful to have them both."
But if either moved on to other employment, the library would "still need their positions to be filled at full-time rather than part-time to provide the coverage needed during library open hours from a safety and service perspective," Hellman said.
Hellman also said that by having two more full-time people at the library, staff can "consistently cover critical public service points" such as the PC Help Desk and Children's Library during lunch hours, as well as training, meetings and other staff absences.
"This alleviates stress on other staff and volunteers who find themselves pulled in too many directions," Hellman said.
In addition to his responsibility in Adult Programming, Ralston is now able to help cover at both the Reference Desk and the PC Help Desk when staff and volunteers go on lunch breaks, or are absent.
"I will also hopefully now have more time to explore what the adults in the community are looking for in the way of programs, and hopefully implement new adult programs at the library," Ralston said.
'More of a community center'
Ask Jonah Ray about the Camp Verde Community Library's Teen Center and it's his "home away from home."
"The kids here trust Zack very much," the 15-year-old said.
It's important to Garcia to remind folks that though the library has its fair share of books and other periodicals, it's still "your grandmother's library."
"While that's still true, this library is more of a community center," Garcia said. "Pick a day, somebody's putting on some sort of workshop or something."
Growing up in Michigan, Garcia said he had no idea what he'd grow up to become. One thing was certain, he "didn't have a library like this."
Leaving his previous career for an opportunity to impact the lives of the community's youth is what Garcia said is "the best career decision I've ever made."
"We're not trying to make a profit," he said. "We're trying to fulfill people's lives."
-- Follow Bill Helm on Twitter @BillHelm42