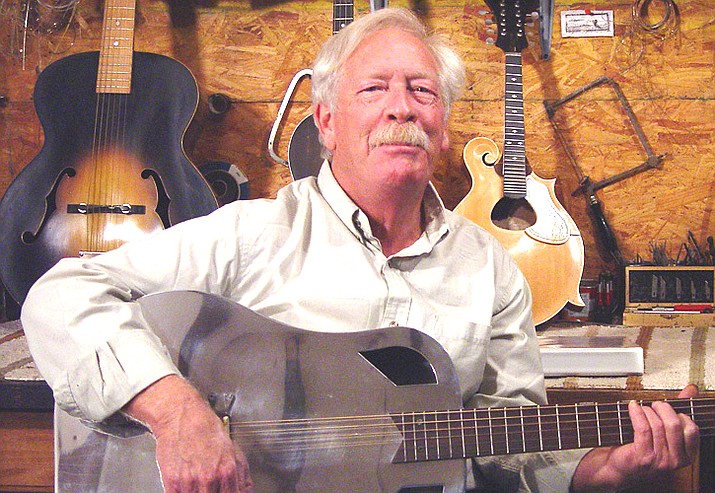 ---
---
Clear Creek Winery and Estate Vineyard, is hosting the performance of Ed Dowling, at their weekly "Saturday Afternoon Wine and Music", event. This Saturday on May 12th from 1:00 until 4:00 p.m. Dowling is returning to Clear Creek Winery, by popular demand.

Dowling, will entertain you with his rich vocals and talent on the following list of instruments: Dowling, is an accomplished musician in the open tuning style of guitar, Dobro, 5 string banjo, and slide guitar. Dowling began playing Guitar almost 50 years ago, when Tom Rush showed him how to play in open E tuning. He now plays 6- and 12-string guitar, mandolin, 5-string banjo and National and Dobro resophonic guitars.
His CDs include" Reliable Transportation" and "Home Comfort" as well as two live recordings at the Spirit Room in Jerome - "Organic Boogie Music" and "The Innocent Bystanders".
Dowling's musical goal is to affect and motivate people with upbeat and emotionally powerful music. He calls some of his upbeat music "organic boogie music." Join this virtuoso musician and let his music touch you.
Ed Dowling builds and plays leading edge acoustic guitars. He is shown with "ET" - the first of his Technophonic guitars
Clear Creek Winery and Estate Vineyard is home to the award-winning Rio Claro Wines. Ignacio Mesa, proprietor, will be speaking about the creation of his winery and estate vineyard throughout the day. He welcomes you to his "Saturday Afternoon Wine and Music" event.
Please come and taste the wines, relax and enjoy the great music at Clear Creek Winery and Estate Vineyard. We are located at 4053 E. Highway 260 Camp Verde, AZ, 86322.
Although we love children and pets we cannot accommodate them at the winery. No children. Licensed service dogs welcomed.
Musicians and artists that are interested in performing or displaying their art of all mediums, please contact Debra at email address shay639roselyn@gmail.com.