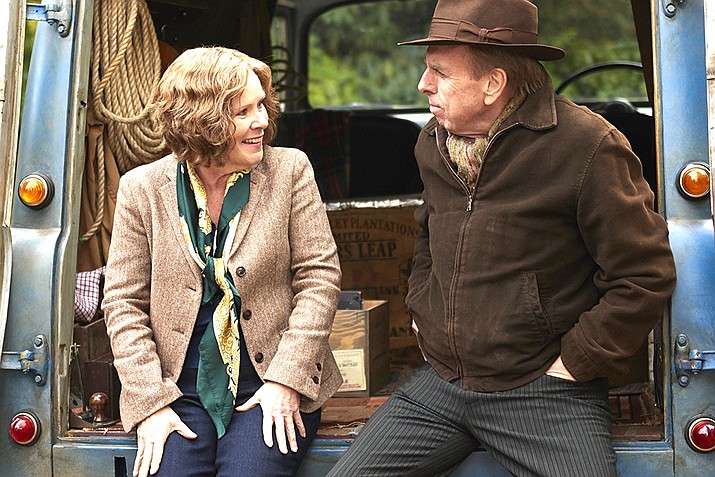 ---
---
Finding Your Feet is a British film that gives us a very great deal of pleasure. It achieves a rank of excellence to match The Best Exotic Marigold Hotel (1 & 2) for its humor, its melodrama, its appealing and lovable characters. And the main characters are played by two British actresses I adore — Imelda Staunton and Celia Imrie
Imelda Staunton is Sandra. She has been married for 35 years to Mike Abbot, a wealthy politician who is retiring. Sandra is a stuck-up royalty type who refers to herself as Lady Abbot. At the very well attended retirement party for Mike, Sandra is trying to find Mike — and finally does. He's in a dark room of their mansion, making love to Sandra's best friend. Now confronted, they admit it has been going on for 5 years.

Sandra bolts! She packs a bag and goes off to her sister's house. From an upscale neighborhood with one estate after another, she takes a taxi to a place that is definitely lower class and poverty stricken. That's where her older sister, Bif, lives. They have not been together in many years although they were close as children.
Sandra moves in with Bif (Celia Imre). They are complete opposites in personality and outlook. Sandra is a snob with no tolerance for people of lesser stature. Bif is freewheeling, not concerned about finance, surrounded by many friends at the same social level. All of them are lovable and kind to each other and they love to have fun.
Bif has a couple of especially close pals, including Charlie. He's an appliance mechanic and he is helpful to all his friends. Sandra has nothing but contempt for Charlie and the vacuous personality she sees in him and many of the others.
The group all gather regularly for a dance, managed by a teacher. They do some social dancing, like the waltz, and some Latin numbers and some line dancing. Sandra attends the sessions, but she is not interested and considers it slum activity. She does get to dance with Charlie and she recalls how good a dancer she was when she was young and their relationship softens, and warms.
The dance group is taken to perform a 'mashup' in a London square and they are heartily applauded. They get an invitation to perform in a competition in Rome, Italy and we get a highlight as we see the group of middle-aged happy folks tear up the stage.
The story in the film is not original or new. We've seen it before. What makes it special is the British sense of timing and above all, the performances of the players. Imelda Staunton, who often plays a mousy servant or obnoxious lady once before showed us her talent as the lead character in the film Vera Drake (2004).
Celia Imrie still has the spark and charm, as she did in The Best Exotic Marigold Hotel, to be a convincing Bif. Charlie is played by Timothy Spall, winning Sandra's, and our, affection throughout the story.
This is a film that can make you laugh, cry and applaud.
Finding Your Feet is at Harkins Sedona 6 Theater.