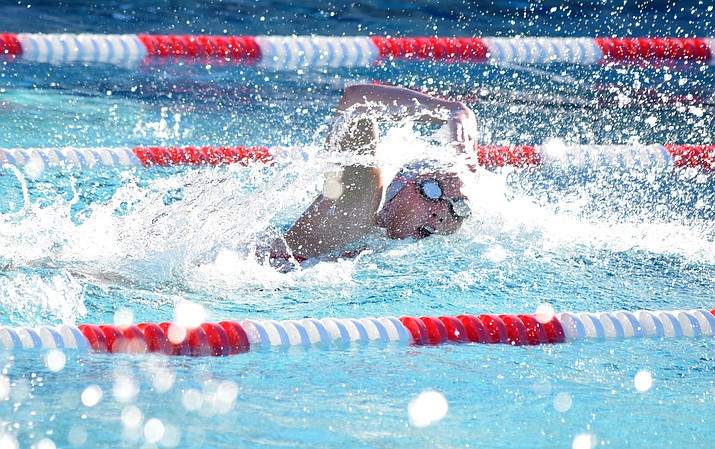 Originally Published: November 1, 2018 2:04 p.m.
Updated as of Thursday, November 1, 2018 2:04 PM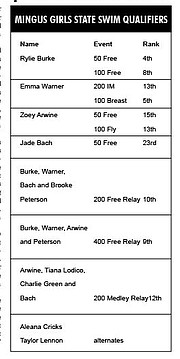 A larger-than-normal group of Mingus Union swimmers are headed to the state meet.
On Friday and Saturday the Marauders will compete at the Division III state championships at Phoenix Country Day School Dady Aquatic Center in Paradise Valley.
The preliminaries will start at 3:30 p.m. on Friday and the finals will start at 2:30 p.m. on Saturday.
Mingus Union will have 14 swimmers compete in 17 events, 11 individual and in six relays.
"It's especially a larger group of individual qualifiers," Mingus head coach Gretchen Wesbrock said. "For the last couple of years we've had all three of our boys relays and all three of our girls relays qualify for state but this year we had far more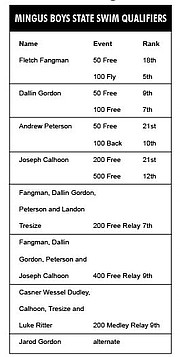 individuals who qualified in individual events."
Wesbrock is excited about all the swimmers going but thinks senior Rylie Burke, senior Dallin Gordon, senior Fletch Fangman, junior Andrew Peterson and junior Zoey Arwine can do really well.
Swimmers are limited to two individual events and two relays or three relays and one individual so the Marauders will send out their A relays in the 4x50 Free and the 4x100 Free. However, Wesbrock thinks the medley relay teams can also do damage.
"So many of our kids qualified in individuals that we've got swimmers swimming in those medleys that didn't qualify those medleys but they got a strong shot at doing really well as well," Wesbrock said. "We've got great depth on this team this year."
The Marauders also will be sending a lot of experienced swimmers into the State pool. Wesbrock said their high-level experience will help out a lot in such a mental sport.
"They've put in the time, they've put in the training, the details are there, so just having that mental focus, that's what it's gonna be about," Wesbrock said.
More like this story