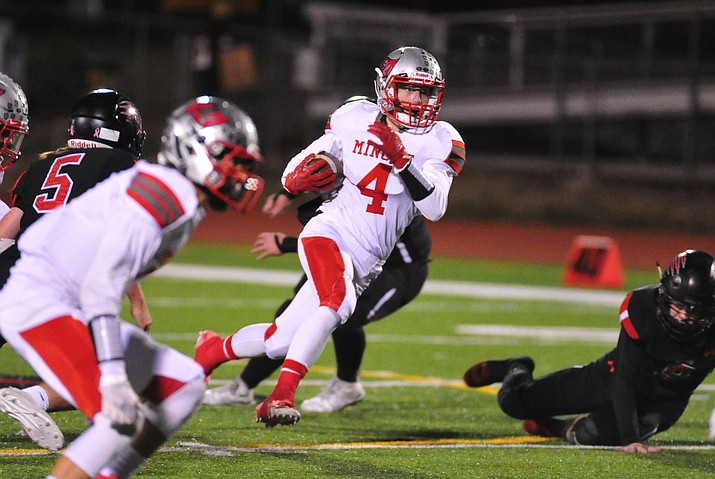 Originally Published: November 8, 2018 1:25 p.m.
Updated as of Thursday, November 8, 2018 1:25 PM
After opening the state tournament with a familiar opponent, Mingus Union football faces new, powerful foe.
On Friday at 7 p.m. the No. 9 Marauders (9-2) play No. 1 Tucson Salpointe Catholic (11-0) on the road in the 4A quarterfinals.
The appearance in the elite eight is Mingus Union's first since 2012.
"All in all I think this season's been pretty awesome," said first-year Mingus head coach Robert Ortiz. "I think it's cool that we can kinda bring some of those things back but we wouldn't be able to do anything of theses things if it wasn't for these boys and them going through what they've gone through with all the changes and what not."
After last week's 21-17 win at Bradshaw Mountain, people came up to Ortiz to shake his hand and say it was their first Mingus Union football game.
"I think there's a little bit more of an excitement, there's a little bit more of a follow," Ortiz said. "I think there's a buzz, there's a little bit of excitement and that's a testament to our players, they've done a great job of getting it all, putting it all together."
The Marauders head to Tucson riding a six-game winning streak, having not lost since mid September.
"I think right now we're pretty much at the top of our game," Ortiz said. "I think a lot of people, including rankings or whatever you want to say, a lot of people didn't really expect us to be here. So I think where we're at as far as continually fighting, playing football at the highest of levels and working through our mistakes we're playing about as best as we can right now."
Salpointe meanwhile has won 11 in a row and the last game they won by less than 16 points was in August. The Lancers opened the playoffs with a 56-7 win over Apache Junction.
Last season the Lancers finished second in the state, losing to Scottsdale Saguaro in the title game.
SCHS junior Bijan Robinson has rushed for 1,825 yards this season, third in the state. MUHS senior Alex Nelson has run for 1,727, fourth most in the state.
Robinson has received scholarship offers from the likes of Oklahoma, UCLA, Alabama, UA and ASU.
"They have a pretty good running back, a pretty good receiver/free safety and another pretty good receiver along with that," Ortiz said. "They interchange quarterbacks who are both pretty good and their o-line is pretty good. All around they have a pretty good football team. You can expect to see a lot of runs, a very fast football team that executes pretty well."
Mingus Union goes into the game without any injuries.
Last season the Marauders faced Saguaro in the playoffs and though they lost 45-13, they were outscored just 13-7 in the second half.
"I think with this (senior) group specifically the odds have always been stacked against them, from day one, going back to last year," Ortiz said. "They have experience playing against a big fast football team. They were young then so they know what it's like, now it's about piecing it all together so I think that's been the biggest message this week was: 'you've been counted out before, you have experience, let's take all that and kinda put it together for this one.'"