Originally Published: November 13, 2018 10:17 a.m.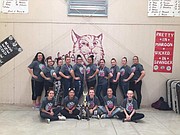 Mrs. Allie Wheeler led the faculty in a Crisis Prevention Intervention training. The training helps teachers to reduce the likelihood of behavioral crises in the classroom.
There is a strong emphasis on understanding behavior and helping kids to self-regulate their emotions.
Our preschool through fifth grade students and teachers have been learning patriotic songs to share with our community. Each year our teachers take the time to show students the sacrifices made by those who have served and the significance of those sacrifices to our daily lives.
We are excited to hear that Beaver Creek School District has received a grant from Association of Arizona Food Banks that will give us the funds – $5,000 – to fix the walk in cooler used for our food bank.
Mr. Jeff Clarke has been organizing and planning with Mr. Rich Leever from the Verde Valley Cyclist Coalition to start a mountain bike club. Their hard work has paid off and the bikes have arrived.
Mr. Clarke and the kids can't wait to begin using them.
Our volleyball team won second place in the Verde Valley League tournament. They were also invited to play in the state tournament at Clarkdale Jerome School. 
Mr. Rick Ward and Mr. Carl Garitson have been teaching our fifth through eighth grade students how to decorate cakes as part of a culinary unit in College and Career Readiness.
The beautiful cakes were sold at our Veterans Day Concert.
Great Things are happening in Beaver Creek School District.
--By Beaver Creek School District's administration