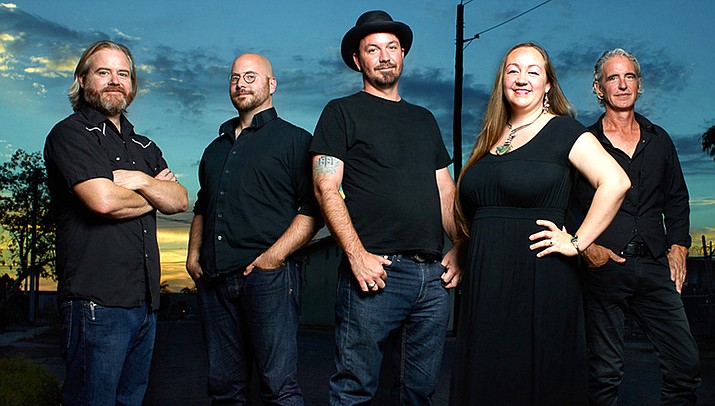 ---
---
The Phillip England Center for the Performing Arts Foundation has announced that the inaugural Camp Verde Blues Project will take place on October 13 at 7 p.m.
This is a benefit concert to raise funds for upgrades to this school facility in audio, video and lighting. The Phillip England Center for the Performing Arts is located at 210 Camp Lincoln Road in Camp Verde.
The concert begins with Bluesman Mike and the Blues Review Band. The Blues Review Band was formed out of Bluesman Mike's passion for the blues. In 2007 he decided to go back to his roots by spending his birthday gift on a bass guitar and soon started jamming with a great friend and co-founder of the band, Doug Hill. It was one of those evenings while they're jamming that they decided to form The Blues Review Band.
They perform all over the Phoenix area doing their love and passion - playing the blues and becoming one of the hottest blues bands out. Bluesman Mike is jamming and doing gigs with Bobby Nealy, a seasoned and veteran keyboard player from Phoenix who has been playing for the last 30+ years including playing with the likes of Archie Bell and the Drells, along with his new lead guitar player, Sugar Bear from Philadelphia, who is another veteran who has been performing for the last 20+ years as a studio.
To round out, and keeping the band on the one, is his new but also a veteran drummer, Tim Robinson. Tim was born in Germany and has been playing drums all his life. He played with Koko Taylor, Joey DeFrancisco, and Darlene Love.
The concert will close with a Verde Valley favorite -- the Sugar Thieves. The Sugar Thieves have a sultry blues roots foundation, and powerhouse delta sound that will take you back in time. They also come equipped with a fresh new style, high-energy showmanship, and an original song list that brings music enthusiasts, of any age, to their feet. In 2008 and 2009, The Sugar Thieves won the Phoenix Blues Society's AZ Blues Showdown and were voted best blues band in the state.
They went on to compete in the International Blues Challenge in Memphis where they were voted one of the top ten unsigned blues bands in the world in 2009, and won the "People's Choice" award at the Old Daisy Theatre in 2010.
The Sugar Thieves were also voted best Americana band in 2009 by the Phoenix New Times' "Summer of Sound Series", and nominated for Best Local Band in Phoenix as well.
The singular vision that drives this band is their plight to reintroduce what some call a dying genre, blues music, to younger generations and those that have simply forgotten. The Thieves put on a show that's worth writing home about.
The Phillip England Center for the Performing Arts Foundation is a nonprofit performing arts organization. Its mission is to support the Phillip England Center for the Performing Arts in presenting a rich array of culturally diverse arts programming for the Town of Camp Verde and North Central Arizona in order to educate, enlighten, enrich and entertain students, residents and patrons of all ages, while providing leadership and support to advance cultural/performing arts and nourish appreciation for various art forms in the community. For additional information on the Foundation and to purchase tickets, visit their website at PECPAF.com or by email at pecpaf@pecpaf.com.