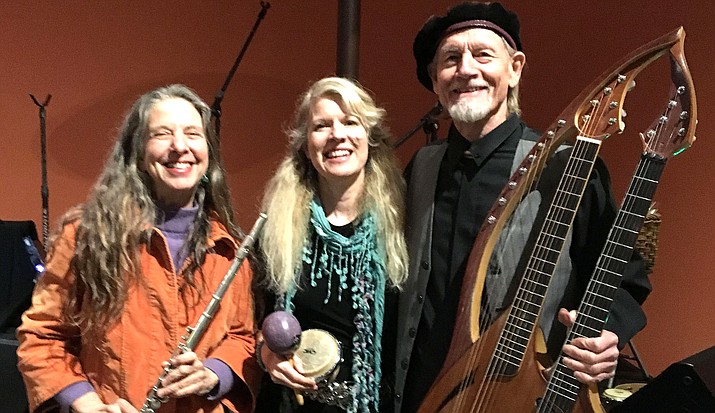 ---
---
Continuous live music is an integral part of the 28th annual Sedona Arts Festival Oct. 13-14.
This year's selection offers special musical performances by two innovative groups whose music is inspired by the natural environment: William Eaton and his group, Earth Speak and Rick Cyge with Meadowlark. Performances take place 10 a.m. to 5 p.m. Saturday and 10 a.m. to 3 p.m. on Sunday.
William Eaton, a four-time Grammy nominee, has recorded 16 albums for Canyon Records and tours nationally and internationally. Acknowledged as one of the world's leading designers of stringed instruments, his innovative multi-stringed instruments and harp guitars have appeared in exhibits, magazines, books and posters. Earth Speak with flutist-vocalist Claudia Tulip offers a soundscape fusion of folk, new age, world music and jazz, blending original and familiar songs.
Fingerstyle guitarist Rick Cyge's discography includes three solo CDs and nine releases with his group, Meadowlark. The ensemble performs a vibrant, colorful mix of world-influenced music inspired by the beauty of natural places. Cyge and flutist Lynn Trombetta meld influences as diverse as Celtic, African, and Mediterranean to create captivating, organic music as distinctive in sound as it is diverse in scope. Visit www.MeadowlarkMusic.com for more info.
In addition, both Eaton and Cyge will offer up solo performances during the festival. Recordings will be available at the event.
The Sedona Arts Festival is held on the campus of Sedona Red Rock High School, 990 Upper Red Rock Loop Road in West Sedona.