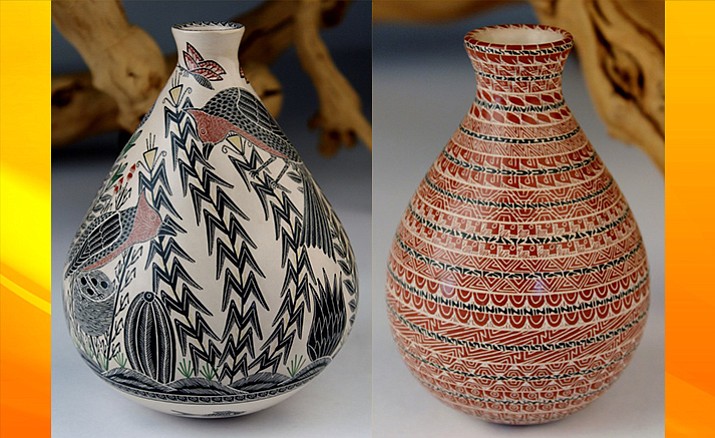 ---
---
Held against the backdrop of Sedona's breathtaking red rock vistas, the Sedona Arts Festival will present its 28th annual fine art festival Saturday, Oct. 13, and Sunday, Oct. 14. 
Attracting artists from across the country, this renowned festival will showcase a diverse line up of over 100 juried artists as well as live music, food and art fun for the kids. 
The Sedona Arts Festival is held on the campus of Sedona Red Rock High School, 995 Upper Red Rock Loop Road in West Sedona.
Previous Best of Show winners displaying their works at Sedona's oldest and largest premier arts event will be Jeff & Donna Tousley (Rio Rico, AZ, ceramics), Virginia Kerr (Phoenix, AZ, Fiber), Michael McKee (Fountain Hills, AZ, drawing/paper), Melissa Hollis (Hayden, ID, metal), Pamela Williamson (Mancos, CO, glass) Brian Lensink (Phoenix, AZ, wood) and William and Barbara Fickinger from Sagle, Idaho, the 2017 Overall Best of Show honoree for their handcrafted metal sculptures.
This year's Sedona Arts Festival will also see the return of Mata Ortiz pottery with featured Master Potters Laura Bugarini Cota and Hector Gallegos Martinez.  This husband-and-wife team are two of the best second-generation potters from Mata Ortiz, Mexico, learning the art of Mata Ortiz Pottery from their incredibly talented parents. 
Laura's first inspirations were the ancient Paquime designs and her initial pots sold for $5 to the tourists who visited the village of Mata Ortiz.  Laura noticed that most of the potters were using similar designs, so she began experimenting with something totally different. After a year of practice she was able to create her own finely detailed band work design, a design that would come to be known as the Bugarini Style.
Today Laura is one of the most sought after artists in Mata Ortiz.  Hector Gallegos was born to Master Potters famous for the amazing quality and artistry of their work. Hector learned from both of his parents but quickly moved away from his parents' precise geometric style in favor of etched sgraffito work, incorporating finely detailed animal designs.  
Hector and Laura have taken home numerous prizes over the years, including the top two prizes at the 2013 Mata Ortiz pottery competition with Hector winning the Best in Show Award and Laura winning the Excellence Award.
This year's festival will also feature a first-time collaboration with The Melting Point, a Sedona-based gallery and learning space for glass artists.  In addition to providing classes to give anyone an opportunity to learn the art of glass blowing, they have created a postive space where glass artists can gather, create and be inspired. 
This year, the Sedona Arts Festival has partnered with The Melting Point to bring their glass creations to the Festival.  The Melting Point, in turn, has generously created and donated a signature glass piece for SAF to sell at the Festival, all proceeds of which will benefit the Sedona Arts Festival's Scholarships and Grants Program. 
Since its inception in 1989, this giving program has awarded nearly $300,000 to arts education groups in Sedona and the Verde Valley, as well as to graduating seniors pursuing higher education in the arts.
Festival hours are 9 a.m. to 5 p.m. on Saturday, Oct. 13 and 10 a.m. to 4 p.m. on Sunday, Oct. 14.
Tickets can be purchased for $10 online in advance at www.sedonaartsfestival.org.  Admission at the gate is $12.  Children 12 and under are free.  Coupons for a $2 discount may be used at the gate and are available at all local hotels and the Sedona Chamber of Commerce Visitor Center.
The Sedona Arts Festival is supported by the City of Sedona, Sedona Chamber of Commerce and the Arizona Commission on the Arts.
Due to the location on public school property, the Sedona Arts Festival is a smoke-free event and only service animals are allowed. 
For information, visit www.sedonaartsfestival.org or call 928-204-9456.