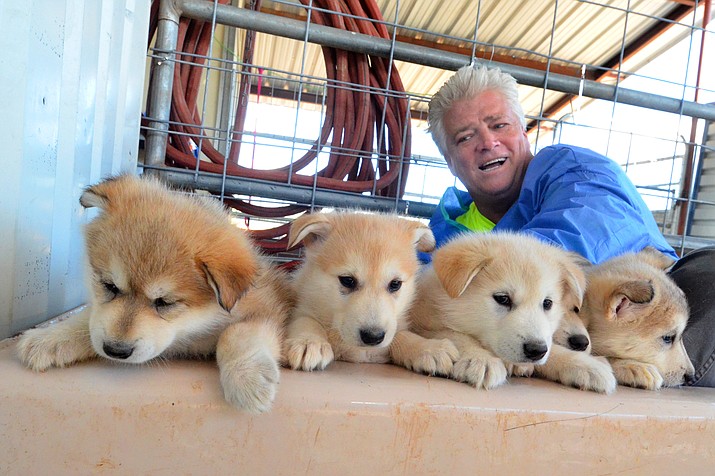 Originally Published: October 14, 2018 7:14 a.m.
The volunteers at Pets Return Home resembled a MASH unit as they lifted the 35 wolf dogs from an RV retrofitted with kennels in Clarkdale last week.
The wolf dogs had just made the long trip from Northern California after being rescued from a breeder and were on a kill list.
Volunteers in Clarkdale put on surgical gowns, processed each wolf dog for health and medical issues and relocated them into their new sanctuary off Sycamore Canyon Road.
There were six wolf dog mothers with 26 puppies and three were pregnant. One has since given birth to eight more puppies while in Clarkdale.
The massive rescue was coordinated by Pets Return Home in Clarkdale, PlanB Foundation in Sedona, Apex Protection Project in California and several other rescue organizations, according to Mark Happe, founder of Pets Return Home.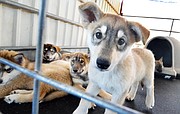 These wolf dogs were scheduled to be euthanized by the county government in California after more than 160 wolf dogs were determined to be living at one breeder's facility, Happe said.
The local dog shelter, behavioral rehabilitation facility and sanctuary was doubled to take in the wolf dogs. Normally, it has about 30 dogs.
The Pets Return Home facilities were literally built by Happe from the ground up and takes in high-risk dogs from local humane societies' kill lists that are deemed not trainable or undesirable. Happe works to retrain and rehabilitate them, or he offers them sanctuary,
Pets Return Home has one staff person and several regular volunteers, but now needs many more to help with the wolf dogs, Happe said. "We need help. We need volunteers. We need donations big time."
These dogs are not dangerous, but are not currently social with humans, explains Happe. They were not around many people at the breeders in California. They were just around other dogs.
Happe believes the canines are most likely "low-content" wolf, referring to wolf-to-dog ratio.
"It's going to be a challenge," explained Happe, when asked how difficult it will be to adopt so many wolf dogs. It will not only involve Arizona, but a national effort. He will also work with other rescues and attend adoption events.
"These dogs are not aggressive," he emphasized. "You can walk up to any of them. But they are fearful."
People who adopt one of the wolf dogs are going to need to have at least a six-foot fence,  Happe said. They will require a lot of "patience" because they are fearful of people.
There is still the question of what will happen to the remaining dogs with the breeder in California, Happe said. A few dogs have gone to another state, but many still are in need of a home.
Happe said if he could build out his facility and hire more people, he would consider taking the other dogs, but that is not possible right now.
Happe and his volunteers have reconstructed his horse stables into a home for the dogs with fencing and dog igloos. The horse tach room has become a quarantined room to treat the dogs with Parvovirus under the direction of a Cottonwood veterinarian.
Volunteers must step in a disinfectant solution when entering the stall area and wear protective clothing when handing the pups, if their mother doesn't object. Some pups are 3 days old, some 3weeks old.
Happe said people interested in adopting the wolf dogs or seeing them should visit his website and make an appointment because they have schedules for feeding, cleaning and training.
His operation also needs financial donations. The vet costs are very high, Happe said. Each puppy needs to be fixed, neutered and micro-chipped. This includes the 26 puppies that were transported, the eight that were just born and two more mothers that will possibly give birth to 16 more puppies.
"They have worms. They have fleas. Three puppies have Parvo. We are doing more Parvo tests this Friday to determine who has it. They also have to have vaccinations."
The average food budget for his 30 dogs is about $1,200 a month, but with the wolf dogs, that will increase to about $2,800 a month, Happe said.
Happe said he has about five volunteers that come to his facility in Clarkdale on a regular basis during the week, but that number swells to 20 when he shows up to adoption events such as the recent Clarktoberfest or at Tractor Supply Co. in Cottonwood.
He said many people don't like to drive out to Sycamore Canyon Road, but it's only 15 minutes from Cottonwood, and some of his volunteers come all the way from Flagstaff and Phoenix.
The shelter is a dream project that Happe has constructed on a small four-acre ranch on Sycamore Canyon Road over the past several years. With a bulldozer, elbow grease and volunteers, he has constructed kennels, fenced play yards, work yards, medical room and training areas near the Verde River.
Betsy Klein, co-founder of PlanB in Sedona, said her non-profit has been working on this massive rescue of wolf dogs for several months and has appeared herself in court in California to ask for an extension of the euthanasia order which was granted.
However, they now only have until Nov. 6 to get the rest of the dogs out.
PlanB is a wolf and non-profit wolf dog fundraising organization for sanctuaries and rescues across the nation that also does education events like Sedona Wolf Week and Call of the Wild, a public art mural that will travel across the country (See the Oct. 17 edition of Kudos for more on Call of the Wild).
There is an extensive national rescue network for wolf dogs, she said, because many people bring wolf dogs to shelters after they realize they are not dogs and don't understand them. "So many are euthanized in humane societies," she said.
The breeder in California is under a court order to remove almost of her 160 wolf dogs or they will be euthanized on Nov. 6, Klein said. The breeder agreed to allow Apex rescue and PlanB to take dogs from her property, Klein said. The breeder will get to keep about 25.
She said the breeder was breeding low-content wolf dog puppies and selling them as wolf dogs. The breeding was so diluted she's hesitant to say they are all wolf dogs, said Klein.
 "They generally breed with northern breeds, so that would be your husky, your Malamamute, your shepherd. It's a situation that had gotten out of hand and going on for years," she said.
"Their solution to shutting her down is to seize all of the dogs and euthanize them," Klein said, until seven weeks ago when PlanB  stepped in with another woman, Susan Weidel and WOLF Sanctuary.
"We have about 60 left to place and we have about 22 days," Klein pointed out. "Yesterday we put out a major plea to rescues and groups again."
PlanB is helping Pets Return home with funding for the wolf dogs from California. Klein said interested people can donate directly to Pets Return Home or can donate to PlanB at www.planb.foundation. All donation their recent donations have gone to the California rescue, she said, "Because it's so massive. This rescue is a logistical nightmare. She lives in the middle of nowhere."
If you want to adopt a wolf dog or another dog at Pets Return Home, go to the website at www.petsreturnhome.com and press the adoption button. You can set up an appointment to visit or see the dogs. When you adopt, there is an adoption fee and a home visit involved.
If you want to donate to the wolf dog rescue and hit the donate button, go to https://www.petsreturnhome.org