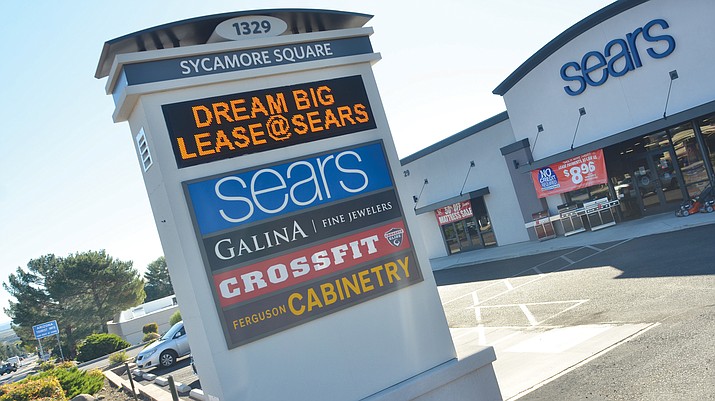 Originally Published: October 18, 2018 2:44 p.m.
COTTONWOOD – Local patrons may be relieved to know that the Sears Hometown Store in Cottonwood isn't going to be impacted by Sears' bankruptcy filing.
"We're rockin' and rolling and not going anywhere," said store manager Gina Buck.
The store's Facebook page said it is still "business as usual."
"We look forward to continuing to provide you with outstanding service, value and convenience."
Sears Holdings announced Monday that it is filing Chapter 11 bankruptcy. On top of the recently announced 46 store closures, the company said it will close 142 of its 700 remaining stores by the end of this year.
According to a statement released by Sears Hometown and Outlet Stores Inc., the company separated from Sears Holdings in 2012.
"It remains business as usual at all of our locations, which include more than 750 retail stores in 49 states across the nation, which are operated by us, our dealer owners and franchisees," according to the statement. "We currently operate stores under various brand names including Sears Hometown, Sears Appliance & Hardware, Sears Home Appliance Showroom, Sears Outlet and Ruddy's Home Furnishings franchise."
Sears Holdings was once the largest retailer in the nation before the rise of major retailers like Walmart and Amazon, according to an article by USA Today.
The 125-year-old company once operated almost 900 stores with more than 200,000 workers and generated an annual revenue of $31 Billion.
Fast forward to today: the store slashed employees to 90,000 – fewer than half of the amount of employees in 2004 when Eddie Lampert bought the company and merged it with Kmart.
The annual revenue also dwindled to $16.7 billion. Lampert stepped down as the company's CEO but still remains chairman. Lampert, who invested billions of his own money in the company still remains the largest investor.
To many retail analysts, the bankruptcy seemed imminent and the announcement is just another nail in the coffin for the declining corporation.
In the 2015 Wagner College research report, Why Sears Holding Corp. Will Go Bankrupt, the authors state, "It is our opinion that Sears will eventually devolve into an equity 'death spiral.'
Edward Jones REIT analyst Matt Kopsky said in an Oct. 10 Forbes article that the "most exposed to a potential Sears liquidation are lower-tier malls and subpar shopping centers…owned by small, private guys."
More like this story