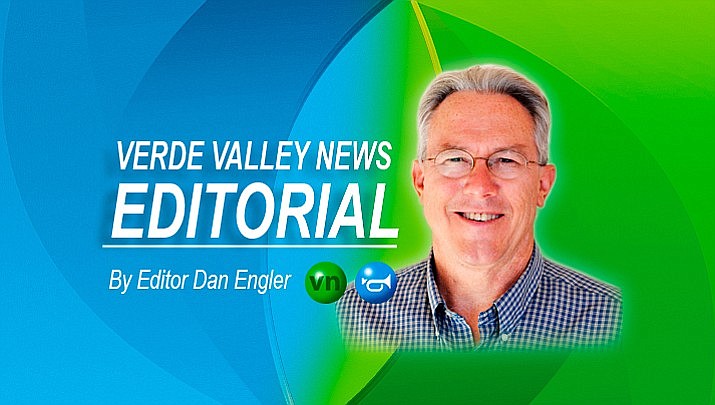 Originally Published: October 30, 2018 12:09 p.m.
Like the dutiful parent whose child comes home with a lousy report card, the Mingus Union School Board grounded Superintendent Penny Hargrove last week.
Ten days. Home assignment work only. With an admonishment to keep her mouth shut.
Spoken or unspoken, that gag-order admonishment seems to be the marching orders for everyone at Mingus, school board members and staff alike. No one at Mingus is talking.
As Mingus attorney Susan Segal quipped Saturday, "At last I have a client who is taking my advice."
Segal has been tasked with researching what exactly went wrong during Mingus' much-discussed technology meltdown last spring when students were taking the AzMERIT test. Further, she will investigate how Hargrove dealt with the problem and if her due diligence measures up to the expectations of the MUHS board.
At this point there are more questions than answers. Segal did confirm Saturday that this problem was not unique to Mingus. The extent to which it occurred throughout the state, she said, was one of the questions she would pose to the Arizona Department of Education this week.
This is not new territory for Segal. Public education is among her legal areas of expertise, both with local school districts and the Arizona State Board of Education. She will be thorough in this investigation.
When finished, we should have answers to some key questions.
One of the more obvious is who exactly is in charge of information technology at Mingus? Was this dumped on Hargrove by the school board, or was it her responsibility to make sure the school's IT capabilities were in the hands of solid professionals.
A review of Mingus' staff directory on the MUHS website only lists one person assigned to IT responsibilities. The Mingus directory does not list a director of technology position on its staff roster.
By comparison, across town at Cottonwood-Oak Creek School, the four-campus elementary district has a director of technology position on its staff roster, and that person has three employees, according to the C-OC website.
Another key question about Hargrove's grounding is "why now?" It's not like this issue has been a big secret in Cottonwood. In speaking with the press over the past several several months, Hargrove openly referred to it as "last spring's big debacle." In August, as reported in the Verde Independent, Principal Genie Gee gave the Mingus School Board a detailed report on the AzMERIT scores that showed a 7-percent decrease in the percentage of students who passed the AzMERIT's English Language Arts component the previous year, and a 13-percent decrease for the mathematics component.
"In the past," Gee said in August, "our AzMERIT testing schedule was spread over three weeks. With more computers available and in a hope to reduce testing fatigue, we opted to try for a smaller testing window with school-wide testing administered over fewer days."
That choice backfired badly for Mingus. As Gee explained, "Unfortunately, our scores reflect a technology failure."
Ultimately, the high school received a "D."
Because AzMERIT scores weigh so heavily in the Arizona Department of Education letter grades, the handwriting was on the wall for months in advance that things were not looking good for Mingus.
It's only fair to ask why Mingus board members were less concerned with this issue then, and concerned to the point of placing the superintendent on paid administrative leave now.
Time will tell if this action by the school board is only a slap on the hand for Hargrove, or a precursor to another changing of the guard at Mingus. If it is the latter, it will mean Mingus will be searching for its 13th superintendent in the 25 years since Ron Barber retired in 1993.
For the record, the Mingus board signed Hargrove to a three-year contract extension in April at a base salary of $116,280 per year.